BARFLY TOP TEN: Off The Hip label and shop owner and drummer Mickster Baty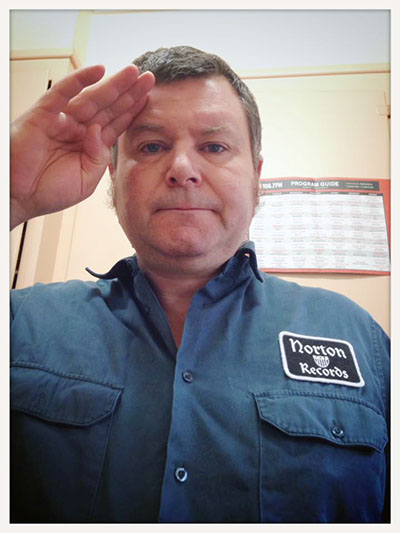 Top Ten, in alphabetical order:
Datura4 @ Cherry Bar, Melbourne:
Holy moly, what an amazing show!! Twin guitar action plus rock'n'roll swagger.
Golden Rail -"Electric Trails From Nowhere" album:
Sweet jangle pop, includes the hit single "Oh My".
Grinding Eyes "self titled" album:
Hi-fi heavy psych, reminds me of Motocaster.
Los Tones - "What Happened" album:
I love the haunting-garage sound of this record.
Mod Vigil "self titled" album:
Great punk record in a Wire vein, recorded on a trusty old four-track machine.
Powerline Sneakers - "disasterpiece" album:
Lo-fi future classic from Melbourne stalwarts Sly and John.
RSD2017 in-store @ Off The Hip:
One helluva crazy party, including drag set from Kill Dirty Youth = EPIC.
Stiff Richards "Debut" album:
Honest rock'n'roll, no frills, no artwork, just great fun on wax.
Undertones @ The Corner Hotel, Richmond:
Way, way better than I was hoping for!! Bonus killer support from Tyrannamen.
Wesley Fuller - "Inner City Dream" album:
If T-Rex and Sloan made an album together.
This year I didn't get out to as many gigs as I would have liked. Hoping to correct that in 2018. The albums listed are the ones I played the most through the year.
Cheers,
Mickster
Off The Hip Records, drummer for The Beat Taboo, The Fiction, The Stoneage Hearts, The Crusaders and The Finkers
Tags: los tones, powerline sneakers, mickster, grinding eyes, undertones, mod-vigil, golden rail, stiff richards