THE PRETTY THINGS IN SYDNEY
70 something is the new 40, or something. Watching Dick Taylor hunched over his guitar ripping out amazing licks and lead with consummate ease, you'd be forgiven for thinking so. A great night of blues, rhythm and blues and psychedelia. The drum solo did go on and on for a bit, a minor quibble.
BENEFIT FOR STEWY LEADFINGER CUNNINGHAM
A top night to help out a top person. Great music, good cause, giant task bringing the night together. Well done, Mark Horne.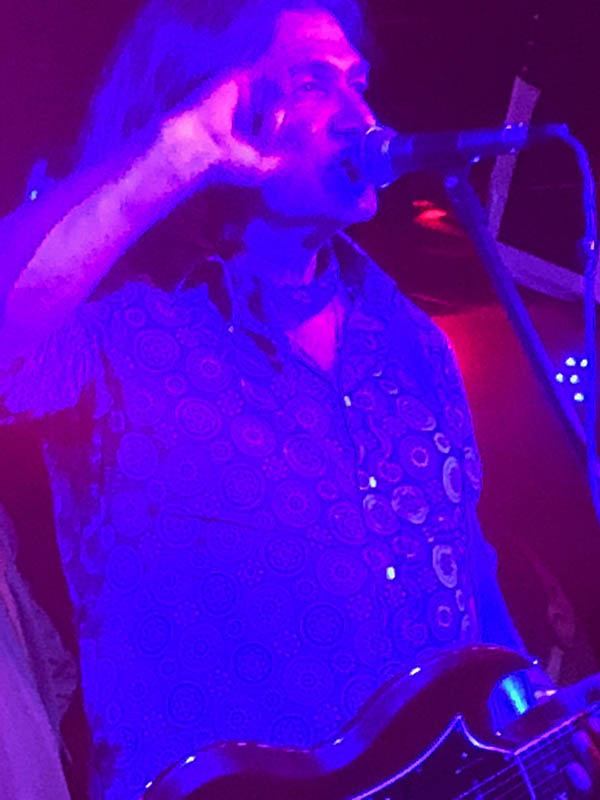 Dom Mariani of The Stems.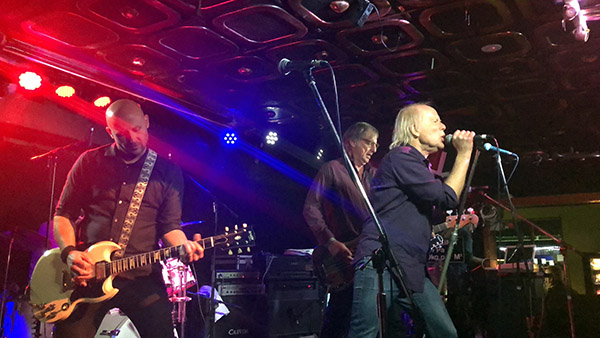 The New Christs in support.
THE STEMS
At a sold out Marrickville Bowlo, a great set of songs. That man Davey Lane on form again too! Great support from The New Christs.
THE TRIAD/THE GRAPES
I planned a mid year road trip/sojourn around this gig being on. I wasn't disappointed. It's no secret I'm a bit of an Ashley Naylor tragic and here he was, in TWO BANDS on the SAME NIGHT, one of them playing many of my favourite Byrds' songs! Lady Friend, Turn Turn Turn, She Don't Care About Time (vocals by Matt Palmer). Bliss! I didn't know much about The Grapes but they were an interesting mixture of Americana, classic 70s AM sounds and some 60s influences. Highlight of the night? Members of both bands combined to play "I'll Feel A Whole Lot Better". Cue your humble correspondent melting into a pool of happiness.
ASHLEY NAYLOR SOLO
Once in March at the Golden Barley where, among many treats, his versions of Thirteen and The Rain Song were absolutely spellbinding.
Later in the year, he was back as a support act to Darren Middleton (he was also in Darren's band), at the Factory Floor, playing to about a dozen people. There was more emphasis on EVEN material this time. Still sublime.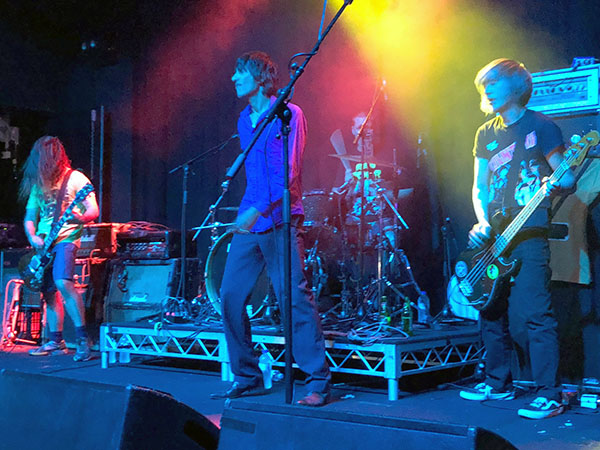 Hard-Ons.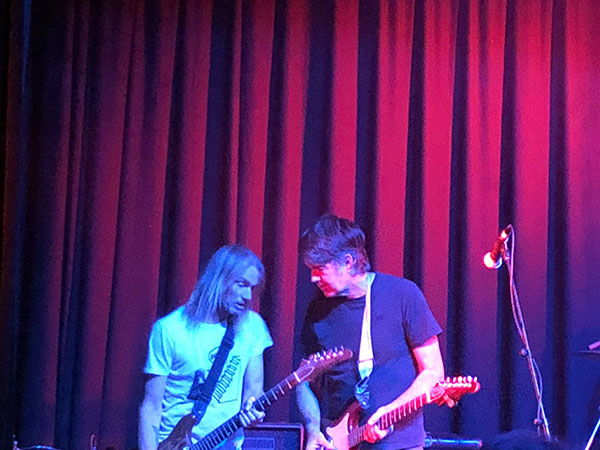 Kent and Pauly.
LET THERE BE ROCK- ANDREW GILLIES MEMORIAL
The Hard Ons, The New Christs, The Celibate Rifles and northern NSW legends The Bombed Alaskans combined to honour his memory. The Rifles ,in particular, made it one to remember with guests Rob Younger, Brent Williams and Nik Reith. Paul Larsen (pictured) got to get out out from behind the kit and play guitar for a change. Is there nothing he can't do?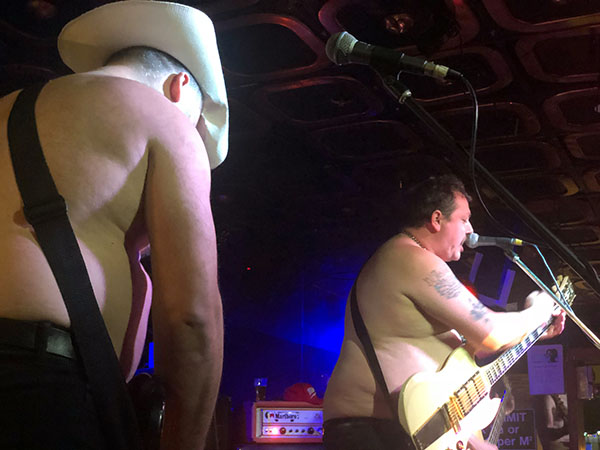 Grindhouse undress the flesh.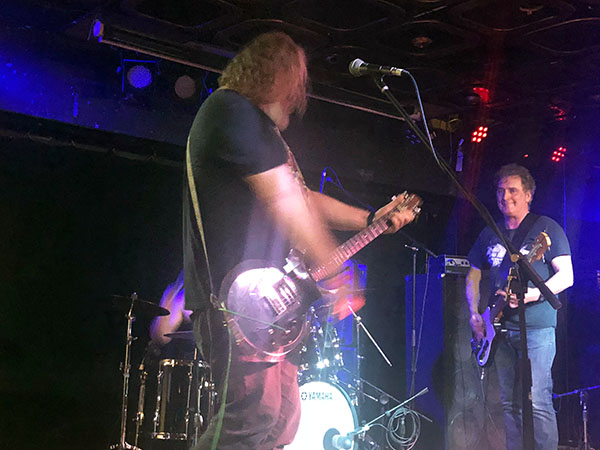 Aberration at Born Out of Time #1.


BORN OUT OF TIME #1 IN SYDNEY
A feast of rocking, fuzzed garage sounds. Aberration and The Beat Taboo were particularly strong but no one could match Grindhouse Ifor visual impact!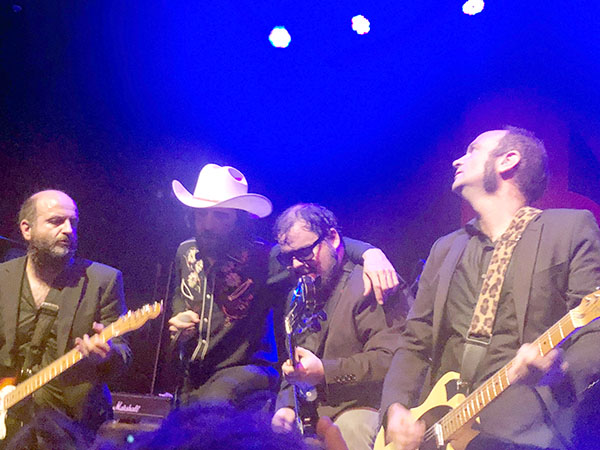 Los Chicos supporting Radio Birdman.
SENOR NO/LOS CHICOS
The cultural exchange programme continues. Even in a short support spot with Radio Birdman, Los Chicos (pictured) floored audiences with their great songs, spirit of fun and constant movement. I only saw Senor No the once at the Stew Cunningham benefit show but was mightily impressed. Please come back!
That man Ashley Naylor.
EVEN
Not Naylor again! Yes, again. This time with his long time comrades, promoting their recent Satin Returns album. A mixture of EVEN favourites and two of the best tracks from the new album were the highlights, with the legendary Murray Cook joining in for some guitar duelling and tasteful rhythm work, especially on Return To Stardust.
BUMMER OF THE YEAR
The deaths of too many people involved in music, be it onstage, behind the scenes or in the crowd. Less of this in 2019, please.