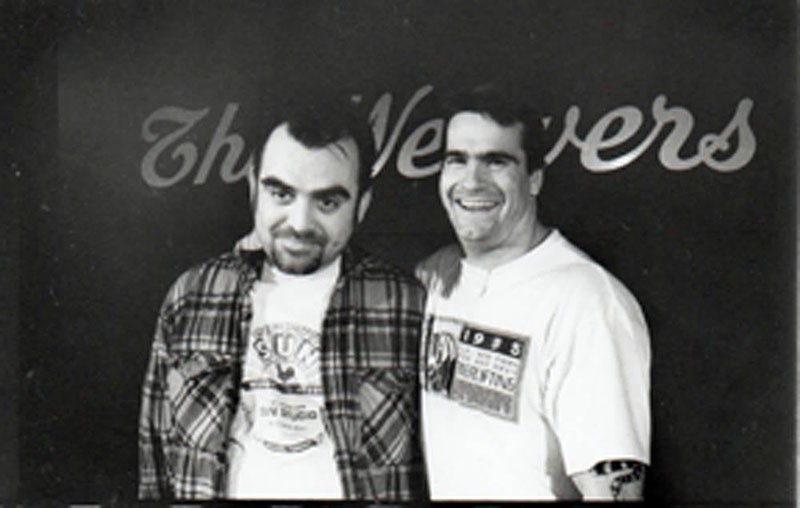 One of these people is part-animal, part-machine., The other is Henry Rollins.
7. HARD-ONS – "I'M SORRY SIR, THAT RIFF'S BEEN TAKEN"
Now, I've never really been that much of a fan of You Am I, but the Hard-Ons had the perfect opportunity to come back with a clean slate and, God love 'em, they made a really good fist of it. Few bands come up with an album this inspired so far into their career. But what now? Do they continue down this route, or use their next project as another chance to throw everything into the air and see how it lands?
6. THE SCIENTISTS – "NEGATIVITY"
Similarly, Salmon, Thewlis, Cowie and Sujdovic have been conducting some pretty weird and wonderful experiments in the lab on this one. They said they were never gonna make another album and now they have, the dirty rotters. Still sinister, but much of their resident evil has now been further cut with their always present warped humour.
5. LIPSTICK KILLERS – "STRANGE FLASH - STUDIO & LIVE '78-'81"
In 40 years, I've made do with very little Killers stuff to listen to. So presented with this, I had no option to dive in and you know? The year just got far more exciting from here. Compilation of the year (if you don't count The Hawks' Obviously 5 Believers).
4. DESPERATE MEASURES – "RINSED"
Birthed in the early 80s Christchurch scene, the Measures have finally been reborn in 21st Century England. Like that film "The Navigator" in reverse. A supergroup of sorts, featuring the drummer from 90s noiseniks Done Lying Down and a bass-player who's been in… where do I fuckin' start?! – and still fronted by founder Eugene Butcher, their debut mini-album fuses punk, post-punk, rock'n'roll and powerpop, all in six tracks!
3. SMALLTOWN TIGERS – "LIVE AT RED VELVET CORAZON"
The girls from Rimini, started 2021 on a high with a raft of rave reviews for their debut "Five Things", and an invitation to open for The Damned on their original line-up reunion tour. That's been postponed, for now, but they've kept their spirits up with a track on Heavy Medication's excellent New Bomb Turks tribute "Defiled", while they put their minds to generating a bucketful of new ball-tearers, three of which, still dripping with mucus, appear on this just-surfaced boot from a September show.
2. BURNING HEADS – "UNDER THE(IR) INFLUENCE"
Brought to you by Nineteen Something, the label that introduced us (well, me anyway) to the magnificent Zero Gain, French punk legends get a rebirth, taking on a bunch of covers from the likes of Naked Raygun, UK Subs, Descendents, The Clash, Dag Nasty, Hard-Ons, Bad Brains, Bad Religion and more with guest vocals by singers from the current French scene. Full of aggro, attitude, energy and barrowfload of fun, it's the punk party album of the decade!
1. MAD DADDY – "MAD DADDY"
Hailing from the Isle of Man – that tax-haven between Britain and Ireland best known for the annual TT bike races and the internment of German and Italian nationals during World War 2 – Mad Daddy came seemingly out of nowhere with a self-titled debut album accompanied by a handful of superb videos making the most of their Cheap Trick aesthetic ie.. two cool blokes in aviator shades vs two cartoon gluebag punks. It's a winner. Musically they sound like they look: high-energy rock'n'roll fused with, er, cartoon gluebag punk. It's not strikingly original but like the Jim Jones Revue before them, or even AC/DC when they arrived at The Red Cow in '76, BUT it underlines one of life's great conundrums: if bands can sound like this, why don't they all do it?
Gerry Ranson owns Mule Freedom PR, a London based music publicity firm.