A lot to love about this dog's life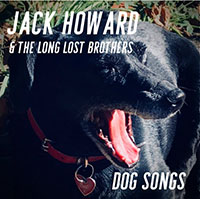 Dog Songs - Jack Howard and the Long Lost Brothers (self-released)
This from the press release:
"'Dog Songs' is a 'best of' Jack's Dog's Bar residency with his mighty band of Long Lost Brothers - and sisters. It features some powerful new songs, like 'Reason to Believe', and 'Panic in the City', plus ripper versions of some of Jack's great older tunes like 'Let Me Live' and 'City Lights'. The band features some of Melbourne's finest in absolutely stellar form - Ed Bates on pedal steel guitar, Nick Del Rey on guitar, Cal McAlpine on drums, Rob Walker on bass, Fiona Lee Maynard on backing vocals and percussion, and Amy Valent Curtis on percussion. Production from Craig Harnath at Hothouse Audio captures the band's live energy and power without sacrificing the rich warmth and depth of a studio recording.'"
Well, you don't need me, really, do you?
Off you go and buy "Dog Songs".
No? Still here?
What's that?
"Do some fucking work, Robert" ...?
Bastards, the lot of you.
Right then, let's assume you've never heard Jack Howard's solo work. First off, he's got a damn good voice, his phrasing in songs like "Reason to Believe" reminiscent of Chris Wilson, with crisp delivery, no mangled syntax in the lyrics, no flubbed delivery - everything's clear as an ice-melt stream in the morning.
Second, there's not a dud song here and, whether you're new to Jack or not, there's an air of familiarity about all the songs here. Take the second song, "Let Me Live", a punchy, groovy song which (among other things) looks at how the past and present mingle, and our struggle to get through the week. I love the way that Melbourne's past as well as its vivid present come to a vivid, droll life here.
Comparisons with Hunters and Collectors are inevitable (and yes, there are a few here I'd love to hear Hunnas interpret) but really, that's not the point. We have here an exceptionally talented Australian bringing together a sharp, crystal-tight bunch of musicians who reflect the nature of our being Australian via Jack's keen observance and intelligence. That said, in some ways, you don't have to squint too hard to wonder if Jack's songs could have lead Hunnas in a less grandstanding direction.
Oh, sure, you Sydneysiders will think, bloody Melbourne. And Jack's a horn player. It'll probably be like Dizzy Gillespie or Miles Fucking Davis or ... well, no. And no, Jack isn't hell-bent on making lock up yer daughters give the finger to the man rawcous rauc'n'raul.
Jack's songs are real songs, with a real soul and mojo. "City Lights", for example, is as much a classic as any - the songs "Melbourne" and "Simple Men" I find extremely evocative - but then hell, they're all this good. "Restlessness" could be straight out of a Hollywood movie - or one of those streaming TV series. "Panic In the City" and "Frankenstein", too ...
Guitars swoop and ricochet, percussion strikes that reflective, press-on vibe, the horns, well ... you know. Jack expert weaves his horn into view - he's had plenty of experience as either side or lead instrument - and the result is just so good.
Did I mention how the lyrics manage to blend the Australian everyday with a touch of literary self-awareness? This whole package is just so well-balanced. As we all know, the key failing of most 'solo' musicians is where that one instrument or singer could just become a rocket to nowhere, all flame and cloud and bugger all substance.
I cannot emphasise this strongly enough, Jack Howard's songs are crafted, take you into your emotional self without being soppy or slappy, and do it effortlessly. Jack Howard shares his innermost feelings, sometimes as a series of vignettes and metaphors, an effortless camaraderie borne of hanging out with so many of us. "Frankenstein" is such a familiar character that the unexpectedly sympathetic sketch brings tears to the eyes.
Have any members of Hunnas seen Epic Brass?
A few of the blokes have been along. John Archer even jumped up on bass one night. As far as I can tell, they've enjoyed it. There's no old time weirdness there.
Bazz, Doug and John from Hunnas, plus former member Greg Perano, have all played with Epic Brass. John is one of our two regular bass players alongside Steve Hadley.
Who's the dog on the CD cover?
Our beloved 16 -ear-old pooch Jet. She and my old Jack Russell, Pippie, were also on the cover of "Day Of The Dog" a few years ago. We love our dogs.
Now, listen up folks. Jack also has his book out - "Small Moments of Glory" (Simon and Schuster). I haven't read it yet, but you lot are going to be interested, so I pestered Jack a bit more...
Fame seems to have surrounded you without forcing you into the full glare. People are fascinated with the famous, yet I suspect it's such a heady and bizarre alteration of life that it would be extremely difficult to keep your head straight. You've had an excellent view as you've made your track ... how has that affected you? What are the actual benefits of fame - and some of the less comprehended negatives?
Hmm, a fame question. I don't normally get asked those. I guess there are different tiers, aren't there? What I want, and possibly crave, is recognition.
The lead singers and lead guitarists generally get the lion's share of the attention but I want it too. I think that you'll find that most band players want it in some form. Some are happy to just play but I think that most want it.
The benefits? Success brings good band riders and good hotels and better travel. All of those mean a lot! It's nice to see your face in a magazine and hear your songs on the radio. I've probably had the correct dose of fame. Enough to be flattering but not enough to be damaging. It's pretty easy to abuse.
Second, how on earth do you juggle being a parent and being in a band? How does the offspring handle it? If you could speak to your teenage self, could you give any advice? Would it change your track?
Another of the lesser asked questions! My sons are now in their 20's so that's a distant past question. I became a parent when we could afford to fly our families around and when we had quite long breaks between tours so I didn't miss out on too much quality time with the kiddies.
Funnily, almost the first time that the bands' children saw H & C properly was at the 2009 Sound Relief concert going off to 80,000 punters. I think they finally got it. So that's what dad was doing. Advice to my teenage self (or my current self, same advice) – pay attention!!
Third - and last for now - who do you admire the most?
Another 'hmm' question – at this point, anyone who's still out there making original music and having a crack. I generally go for music that avoids the obvious genres, whatever they may be.
What do you teach? at a school? music? geography? telekinesis..?
I teach trumpet mainly. I also run some bands at the school that I teach at. I taught for a few years in the mid-80s as Hunnas were taking off, then I came back to it after the band broke up in 1998. Generally, it's a very satisfying and complementary job. For a while, I just felt like the 'cool' band guy around the place and it took me awhile to convince myself I was a decent teacher.
I've noticed quite a few musicians make a successful transition to teacher, I sometimes wonder how being a performer influences the ability to teach effectively. A friend of mine plays flamenco guitar, and he teaches kids as well. He's really good at it, because the kids respond to him a bit like he's a kid as well...
With the bands that I run, mostly I just act like I'm in another band. We jam and write songs and I get them gigs. I direct traffic. Those students certainly own the project which is a very worthwhile feeling. I'm not very teacherly. I avoid wearing a tie as much as possible. Being a performer does earn you a level of respect from your students – but you still need to be able to teach well.
Tell me, what was your first instrument - how did that go for you? How did you pick your current horn - what kind is it, by the by - and have you always had the same one?
Flugel horn in brass bands and trumpet in orchestras. I play a Bach Stradivarius 43 trumpet (I've played them since 1987) and a really beautiful Conn Vintage Flugel horn. I picked it up quickly and got heavily involved in all things brassy and musical at school and university.
When did you join Hunters and Collectors? What were you doing until then?
You should read my new book! That will reveal all. I joined the band in 1981. Up until then, I was incredibly busy playing in orchestras, musicals, brass quintets, big bands, etc. I also completed my music degree around then.
You've played with the Oils recently - how did that come about? Was there a great camaraderie between H&C and the Oils - they seem, at first glance, to be poles apart to me, but ... are they?
The two bands have been very closely involved over the years. From shows at Melbourne Uni and Kooyong in the early days to touring the world together in 1990. The horn section also played with The Oils every night on that tour so it was a hell of an experience. I also play (or played - the band have kind of broken up) in the psychedelic surf band The Break, with Jim, Rob and Martin from the The Oils. The bands are very different in many musical and lyrical ways but we both had that mega-live thing going. We were both regarded as really great live bands. There was, there is, a lot of mutual respect between the bands.
For many people, both H&C and the Oils are legendary bands - why is that, exactly? Is it just that particular age bracket/ era, or does the music still resonate with a younger, more critical crowd?
I've probably just answered that. Our live shows are big and full of power and energy. With H & C, as we've played on in the last few comebacks, people really love the spectacle – the horns right up front, great rhythm section, a huge video show, big sound and Mark and Baz blazing away on guitar. It definitely still resonates with younger crowds. Holy Grail, Throw Your Arms and others have kept us on the radio and, more relevantly, on young peoples' party playlists.
How hard was it to write? Did you have to edit out assorted embarrassing incidents? Was it difficult to start? What did you want to write about but found too difficult?
I'd already written a Facebook blog about the 2017 Oils tour so that gave me a kind of template for the book. Also, I realised after a bit that I didn't have to re-invent the wheel. I just had to dress up the hoary old tales that I've been talking about for the last two decades! So most of it actually came pretty easily. I forced myself to write about some relatively ugly or unhappy times. It wasn't all beer and skittles, of course.
What was easy to write about, and gave you great pleasure? How much research did you need to do (hell, my memory can be vague, so how did you recall so much?) - did you keep a diary?
I enjoyed writing about the records that H & C made. I went back and listened to everything and wrote, I hope, fairly insightful and interesting words about them. I'm also pleased to be able to have stories and details from outside H & C or The Oils in print and on the record.
The less well-known musical endeavours that I've been involved in. Re the research side of things - I have boxes full of old journals, full mostly of cringeworthy relationship guff but with plenty of tour-related info in there too. Plus dates! It was great to be able to cite a fair degree of accuracy to when things happened, if not exactly how.
Given that Mark Seymour has already written his account of Hunnas, did you feel you had to match his stories?
Not at all.
What were the most surprising things that happened to Hunnas? What were the most disappointing..?
Umm, read the book!
How did being a dad affect you - short term as well as long term..?
My boys are everything to me. I've written many songs that are heavily, if indirectly, influenced by my family life - from mum and dad to sisters to wife to dogs and cats; and to sons.
You can get Jack's book from the publisher here or pester your local bookshop. You can get the CD here. Failing that, harass the man here.


Tags: jack howard, hunters and collectors, jack howard's epic brass, Jack Howard and the Long Lost Brothers, dog songs