Arctic Circles come in from the cold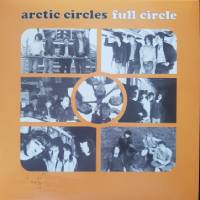 Full Circle - Arctic Circles (Buttercup Records)
With a scant recorded legacy, it would be easy to forget Arctic Circles, a '60s-inspired band that kicked around Melbourne's underground music scene in the second half of the 1980's. A 45 ("Angel" b/w "My Baby Said That") and a mini-LP, "Time", was the sum total until a posthumous live seven-inch on Buttercup Records in 2014.
Six years later, Buttercup has upped the ante with "Full Circle", a vinyl compilation of Arctic Circles' entire output, supplemented by live tracks and a bonus CD of demo's and live cuts. It's in a limited run of 200 copies.
Arctic Circles did bother the Australian independent chart compilers but never scaled the heights of a very crowded field. "Full Circle" shows that could have been a different story, had fate dealt a superior hand.
Their sound was a fusion of garage punk, beat and psychedelia and - with the right guidance and a few more hooks brought to the surface - it could have given the early Stems or Hoodoo Gurus a run for their money. The live version of "Time" on the bonus CD recalls an early Died Pretty, albeit without the same intensity.
Arctic Circles started in a similar place to contemporaries The Bo-Weevils and ended up at a nearby destination without being nearly as prolific with their recordings. Maybe the outcome might have been different if ,instead of Melbourne, they'd come from Sydney, where the '60s arguably held greater sway.
There were four line-ups of Arctic Circles but the core of guitarist Alex Plegt, singer Leo Kelly, bassist Greg Baxter and drummer Istvan Danko went most of the distance. The addition of keyboardist Dave Hannan in '86 produced a marked sonic shift. Working through these 39 songs shows a group that expanded its outlook rapidly.
Early tracks like the Lobby Loyde-recorded "Angel" have a rough-edged charm that makes the band's garage influences obvious. The flip side, "My Baby Said That", adds some groovy handclaps to the chunky R&B sound. Contrast that to the warped and worthwhile live version of the Stones' "2000 Light Years From Home", committed to tape at a 1987 university show, and you'll appreciate the progression.
The CD's highlight is a seven-track set recorded live-in-the-studio for ABC radio in1985, before the band added keyboards. It's overflowing with an energy that some of the studio tracks just didn't capture. The three appended demos that follow have a wild edge as well.
It's the usual well-appointed Buttercup job, well mastered and accompanied by an insert summarising the line-ups with a snapshot of band ephemera.

3/4
Tags: psychedelic, garage, arctic circles, buttercup records, bo-weevils