Call it whatever you like, it's very good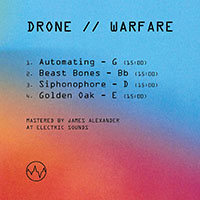 "Drone Warfare" (Iceage Productions)
Which is the band and which is the title? No idea. Doesn't matter, either.
Actually, the EP-thing is four tracks by four different Melbourne artists. The Bandcamp page says so, so it must be true. But none of the artists' names appear, which reminds me a little of the fake dance LP by the Silicon Teens (aka Daniel Miller of Mute Records fame). So, is this another bunch of guises behind which the head honcho of Iceage lurks?
I have no idea, and it simply doesn't matter.
Just quickly, you can't really dance to this, not unless you're out of it. You shouldn't try. Shove the volume up and lie on the floor and you'll be taken away to somewhere entirely different.
I listened to this in the car - the first track, "Automating – G" starting with a loooong slow synth groan which made me think there was something wrong with the engine, possibly another misguided possum, but no.
This EP with each track at exactly 15 minutes - and each with the key as part of the title - is simply magnificent.
Reminded me of when I first realised the beauty of sustained notes morphing and warping into different tonalities - aged about 8, in a cathedral with a rather whopping organ (stop sniggering at the back there, not every cathedral has a whopper). It was when the organist was being self-indulgent that the best sounds came out, these lengthy barrages of sound whorling and resinating [sic] all over the vast hall. Thinking back, I recall Fats Waller on the organ as well; Thelonious Monk striving to get the most sustain out of a note that he can, and as for those early music consorts... words fail me.
Now, machines don't have minds or identities, not yet anyway. We'll be in the poo when they figure it out, because as soon as our creations realise how utterly crap and dangerous we are we will be as superfluous as nappies to a teenager. Think of that, Biblical dimbulbs, God's creation declared a pestilence by its own machinery.
However, listening to "Drone Warfare" is eerie. Are these the voices of the machines? Such spectacular, rising, creeping, falling crescendos ... Each piece is completely unique, evoking a profoundly different mood/ space/ landscape/ language. 'Beast Bones - Bb', the second piece, writhes like a soul in torment ...
Now, alright. You're saying that computers don't convey much emotion. That they're cold.
Hockey pucks. Take mid-period John Foxx - his work is so glassily pristine, so crystalline, so utterly icy and magnetic that ... well, you're drawn to its antiseptic beauty, but then you consider that surely the man making this austere, sweeping floodplain of sound is doing so from an utter fear of intimacy, a fear of knowing himself, and his work bears hallmarks of grief and longing... Sad, tragic, magnificent...
But while "Warfare" has aspects of this, (see the third track, for example, "Siphonophore – D"), it also bears the pawprints of violence, humour, despair and love. It's a damn complex EP - or, given the length, I suppose it's technically a four-song LP (too long for two sides of vinyl, though, it'd have to be a double 12" EP ffs) - which you'd swear the machines have made themselves.
Most folks have heard of Cornelius by now; equally creative are Chris 'Spud' Wylie, Adam 'Gzutt' Blake, and Chris 'Toe' Cashel here in Adelaide - and there are millions of similarly-inclined folks around the world. We live in a golden age of music... so of course we can't hear it all.
But this. "Drone Warfare" is wonderful.

Tags: adelaide, iceage productions, drone warfare