Full Support of the Board – The Toss (self released)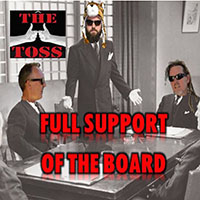 Elbows flying, kicking goals and full of humour, The Toss have been around for 10 years, five studio albums and two live records. "Full Support of The Board" is their sixth effort.
This is a record for Australian Football lovers everywhere; it's full of wit and riffs. There are anthems on this, just waiting for a good drunken session of singing along.
Hell, they set the bar stool high by kicking off with fucking "Rumble" (Link Wray) and they do it HEAVY. "All For One" just rolls in next, perfectly, Then there's the first anthem, "Going To The Footy". What a song!
"Best To Trust In Beer", "Comfortable Satisfaction" and "My Kitsch Rules (Anthem Number Two) have new drummer Brett "Chappy" Chapman working his backside off and banging away. He locks in with Chris (bass and vocals) with Tony Toss (guitar and vocals) along for the ride. These guys are WEST ADELAIDE supporters? Oh well. This song just goes off, anyway.
"Coming Home" and "King For a Day" keep this album rocking along and then, I shit you not, they unleash one sick song that is Anthem Number Three: Truck Stop Tranny". I can't explain it to you, you will have to listen for yourself and make up your own mind as to just how sick these footy loving freaks are. Apparently, they have a urinal lolly song that's even sicker. I will have to check that one out…
"Bright Lights" and "Trade Bait" keep the keep the footyspeak going. Title track "FSOB" a blues-infused, riff-riding hell-of-a-song that gets my full support. It is a killer track Anthem Number Four.
So after 10 years and a hundred drummers, this serious band with a game plan for world domination (if only footy seasons didn't keep getting in the way) has delivered (in the words of Tony Toss) "a game changer". Recorded in just four days in the Adelaide Hills, "Full Support of The Board" is one great Australian rock 'n' roll record.






Six beers and a Four 'n' Twenty pie with sauce,thanks Barman
Tags: the toss, full support of the board, tony toss