Get messed up with JJ and The Real Jerks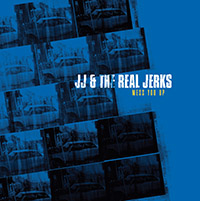 Mess You Up – JJ and The Real Jerks (Heavy Medication Records)
The lines are so blurred these days that you can't guess where most bands applying a defibrillator to rock and roll's ailing heart come from. So-called scenes are fragmented and the means of production rest in many sets of hands, thanks to technology and the information democracy of the Internet.
Wind back the clock a couple of decades and JJ and The Real Jerks could be from snowed-in Sweden or inner-city Sydney rather than sprawling Los Angeles.
This 12-inch, eight-song EP is razor sharp, fun garage rock and roll in the style of The Hives crossed with Dead Boys. Big twin guitars and occasional sax punctuate the songs, which throw up plenty of hooks.
No surprise then that JJ and his (uncredited and presumably rotating cast of) friends have graced the likes of Dead Beat and Pat Todd's Rankoutsider Records over their dozen years of existence.

Opening cut "Built To Blast" sets the scene to a breakneck tempo with a melodic guitar and throaty organ roar. Probably the pick of the litter, but there are others not placed far behind.
No mistaking the blaring guitars and their Thundersesque touch in the title track. It's the same sonic approach that LA predecessors The Joneses used to good effect. Throw in some singalong "heys" and a Joe "JJ" Jennings vocal that's a threat to your physical welfare and you're good to go. Another LA band, The Humpers, springs to mind.
The baseball reference in "Ten Cent Beer Night" might be lost on this simple, cricket-following Aussie but JJ's snarling drawl and those cast iron guitars aren't. "I Don't Know" sounds like latter day Ramones or Manitoba's Wild Kingdom..
"Sinking Blues" eases off the pedal just a touch at the end and evokes the New York Dolls more than any other song here, with Jennings taking his vocal lead from David Johansen's bluesman howl.

There's absolutely no reason not to dive into this if you're a fan of any of the above-mentioned influences. It's all we can do to fly the flag and support the cause of Real Rock and Roll.



Tags: los angeles, heavy medication records, jj and the real jerks, mess you up