JD Hangover - JD Hangover (Annibale Records)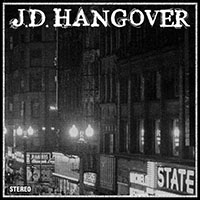 Bleak, industrial blues. That's what you'll immerse yourself in on this six-track EP. It's one part Suicide, one part Delta blues, and fuck any compact with the Devil - if that was a soul left behind at the negotiating table in return for a bus ticket to the crossroads, it sounds like it's being picked over by vultures.
Written on the road and recorded with minimal affectations, it's a collaboration between Anglo-Italo blues rocker Stiv Cantarelli and studio collaborator Roberto Villa. And a drum machine.
This was originally intended as a side-project to Cantarelli's regular band, The Silent Strangers, and was destined to be a gig give-away, but Florence-based Annibale Records had other ideas and wanted to issue it digitally. The rest of the backstory is short and sweet.
Says Cantarelli:
We sat in a room with an old friend, a 1972 Roland TR77 electronic drummer and an 8 tracks 1" tape Studer recorder. We drank, played music, listened to Alan Vega and Lightnin' Hopkins and we created a sort of alter ego.. A man with no birthplace and no country, who didn't have ties with anyone but his music. We called him James Dean Hangover.
The label doesn't lie when it calls it "no wave blues". It's very Suicide in sound and feel - with the addition of creeping bass-lines, occasional spooky piano, wheezy harmonica and regimented beats.
Cantarelli's visceral guitar - especially on the closing "Down At The Public House" - recalls Rowland S Howard. Cantarelli's bleak vocal just adds to the impact.
It's moody and dank. It has a backbeat, of sorts, but you can't dance to it. It's just the fodder for late-night musing over a bottle (of Jack Daniels, of course) while you wait for the sun to greet the next day.
You can cop a download at this Bandcamp link.





1/2
Tags: stiv cantarelli, Roberto villa, jd hangover, Annibale records