Kamikaze - Tokyo Beef (self released)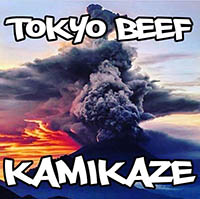 Detroit rock? It never sounded so Australian as this Queensland band. Tokyo Beef slams out nine original songs on their second album and it reeks of Fourex pots and durries on a Gold Coast Saturday arvo down at the old Birdwatcher's Bar on Cavill Avenue.
The cover imagery is a Japanese Zero winging it past a burning wreck and it's apt enough. These songs are above mid-tempo punk rock with no safety net. Played live in the studio, theyy're first or second takes, for the most part. One guitar, bass, drums and a stand-and-deliver drawl.
Guitarist Punk (yep, that's his band name and for all I know it's the tag that his cellmate gave him) doesn't stand for subtlety and his tightly-coiled leads and sharp licks are all over these songs, free of overdubs.
Graeme at the mic sounds like a less laconic Damien Lovelock as he bangs on about any number of things. I can imagine him with a dozen schooners on board, getting within an inch of your ear as he makes his point at the pub. Except he's amplified. And the similarly mononymous engine room of Rusty (drums) and Jonny (bass) locks in nicely.
Songs about mass media ("F.E.A.R."), luuurve ("Sunsets"), death ("On The Streets"), hiding the sausage ("Davey's Farm") and bust-ups ("On Fire") that are pretty good, even when the occasional one could have done with a haircut.
"Where's The Party" is a wry dig at the sort of people who are "flicking pills like M and Ms" with an ironic twist in the tail. In short, you party too hard and The Man gets his way. In a similar vein, "Chaos" rips into politicians while "Rock 'n' Roll" ruminates about Friday nights. These blokes like to spend it making a noise.
Which neatly segues to this: When you boil it down, Tokyo Beef are no spring chickens. Cop a gander at their pictures on the CD booklet. I've seen better heads on a warm Budweiser, so these Tokyo Beefcakes have no chance of making it onto the next Splendour in the Grass bill or nudging it for an interview on Triple J. Too old, too ugly.
But listening to "Kamikaze", there's the instant recall of a Celibate Rifles lyric: "A typical bunch of blokes." They're weekend warriors with wives/ex-wives, mortgages/rent bills and day jobs. They're in rock and roll for fun. And it shows.
"Kamikaze" won't alter your consciousness, make you rich, change your life or make Steven Hawking's published papers about theoretical physics any easier to understand. But you might enjoy its sound of four blokes slamming nine songs to tape in a day. It's not always pretty but neither is life the over development on the Gold Coast.



1/2
Tags: punk, australian, tokyo beef, celibate rifles, burleigh heads, gold coast, kamikaze