Ten years later, Boris reissued "Absolutego" in a "Special Low Frequency Version'"… see, Boris like songs, but they do like the sonics to, sometimes, take over - which means that sometimes they go for longer than your favourite wuntoofreefor chainsaw churn. Boris seem to think they're a surfer on a high sea. That huge surf is always there, always crashing down. Boris just get on it and ride... Most times this works, and brilliantly. "Absolutego", for example.
Can you name any band which can consistently perform a song over an hour in length and not only hold your attention but having you regret the song finishing? But a glance at their work-rate reveals some 25 studio LPs (not counting some 14 collaborations and a number of split recordings ...) so what is unsurprising is that sometimes you don't get where Boris are right now. Mind you, I can only respond to them: I have no idea what engine drives them. All I can tell you is that it's one big bastard creature, and they suck me in every time.
Tracks: "Away From You"; "Coma"; "EVOL"; "uzume"; "LOVE'", "In the Pain(t)"; and "Shadow of Skull". So let's have a listen.
First, I've not heard the last few Boris LPs, and while context is important in a band (particularly one so fecund as this one), I really believe that either the music gets you or it doesn't. Second, music either gets you or it doesn't.
"Away From You" is simply beautiful, utilising a '70s harmonic with a background scratchy feedback (think, perhaps, The Celibate Rifles' "Pretty Pictures", but more so). In many ways, despite their enormous skill in harnessing sonic innerscapes, "Away From You" is a commercial song.
Dig the lyrics (translated, of course):
Away from you
I'm tired of saying
I've had enough
Away from you
I still feel affection for you
Each and every night
And then it's gone
I pursue you
The song positively ripples with pain, and it's an excruciating beauty.
"Coma" is purely huge, brutalising doom ... although I confess I find "doom" a horribly limiting term, like most labels. Drone Metal, psychedelia blah blah blah all too easy to wave at Boris. Who simply go about what the fuck it is that they do with dangerous delight. Label them if you must, just don't take earplugs, risk the tinnitus.
Nah, "Coma" is a wretched earsore, while a coma itself is hardly quiet, but an absence of interaction filled with eerie events happening around you; there are aspects of "Coma" which remind me of "The Friendcatcher'" but hey. This is Boris at play, and speaking of playing, lay this down at your funeral, VERY LOUD, and you'll have the two-faced bastards who were banging on about how super you were running for fucking cover.
Okay, just adjusted my will. Onwards.
"EVOL" (over 16 minutes) itself is something Boris do so very well indeed. A massive relentless juggernaut rising and falling with guitar spectacles galore and shards of ugly primitivism. Which then... er, seems to borrow from either Foetus or Roberto Delgardo, and then ...well, I won't give the game away. So far "Love and EVOL" comes across like a huge grieving process for a titanic love which is slowing breaking apart.
Here's a few more lyrics;
Everything's been said, many times over
Of this resignation and anxiety
But you've let go
March with confidence, to the beat of your heart
Unwavering, over the horizon
What are you afraid of?
I've loved you from the start
Let's raise this flag
And wave it towards a distant sky
Now, "uzume" - which I think is Japanese for 'goddess' ... oh, did I mention that 1) Boris are a 3-piece, and that 2) the guitarist, Wata, is a married mum who makes the most out-there-heavy-enough-for-ya? guitar romps you'll ever hear. "uzume" is, like most of the tracks here and every other Boris LP, an experience rather than a song or musical piece.
The volume helps of course. But that's not it. I know Boris spend a lot of time working their songs out - but they really are a mighty force of nature. If you haven't figured out that if you like really heavy rock you need all Boris' records, then I can't help you. In fact, see yourself out, the sad old man's $4 vodka shop is just around the corner.
Let's quote Pitchfork again:
"Wata's solos, like the one that leads the lumbering "LOVE" out of its torpor, still streak across these tracks like a rainbow somehow appearing against a moonless night sky—few guitarists sound so rapturous with a trick so simple. And in its ascendant second half, 'EVOL' recreates the band's most disorienting and beautiful effect—the ability to drop down in tempo, key, and distortion and still shoot for the stars, as if the rules of gravity have been temporarily reversed."
Sigh. Look, Boris don't do "torpor". They do heavy. And sometimes slow and fast both at once (as here). It's called, "mood". And they are experts, artists who took what is mostly a craft and transcended genres, cultural expectations and generally rose above. Other Boris influences are Deep Purple and Black Sabbath - not taking anything away from DP and BS, but Boris are ... several steps beyond, if not positively devotional. In fact, while you're here, I'll say that Boris often remind me of the heavy beauty of a Te Deum triple LP, beguiling, hypnotically beautiful and reaching right into your core. '
"EVOL" is a perfectly balanced piece, thanks, and you will either get it straight away or... yeah, well.
I'm going to leave the review here, then. You should have the idea by now that no, "anaemic" isn't the right word for "Love and EVOL". Perhaps, if all you do is listen to noise metal, you might be persuaded that that might be the case. But that's not what I do.
I think the chap at Pitchfork has become somewhat jaded, expecting the impossible of bands. (ED: Pitchfork is full of clueless hipsters.) There's no way "Love and EVOL" won't grab you.
And, it's every bit as important (and better) than Sonic Youth's "EVOL" (as are, I'm afraid, most Boris LPs). Hell, Neil Young would kill to be in Boris. Boris will be remembered with awe and disbelief in the 22nd century; I doubt Neil Young will be remembered at all. But hey. Opnions, arseholes, you know?
In closing, if you're not familiar with Boris, this is probably your best entry point ... play extremely loud...
Oh, and if you're still around when I have my funeral, don't bring earplugs.
Try before you buy here.
- - - - -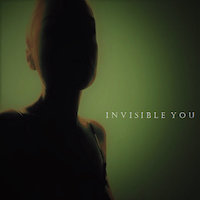 J.P. Shilo is a multi-instrumentalist who is, perhaps, best known for his work on Rowland S. Howard's "Pop Crimes'" album (2009), and with Mick Harvey. However, the first band he was in, Hungry Ghosts, caught the attention of Rowland S. Howard, who became hugely enthusiastic about them and produced their first LP (self-titled, released on Reliant Records in 1999).
Their second LP, "Alone Alone" was initially issued in 2000 on Smells Like Records - SLR is Steve Shelley's label; after hearing their first LP he responded with enthusiasm, to the point where Shelley asked Shilo if he had anything else; Shilo sent him some demos, "made on borrowed equipment, often candlelight in a cellar at Tara Institude, Melbourne Australia between March 2001 and March 2004" (according to Discogs). Shilo's first solo CD, "As Happy As Sad is Blue" (2006) was released.
Hungry Ghosts doesn't have an entry in Wikipedia (there's a HK band though), nor does J.P. Shilo. The music is up on Bandcamp, though. .
A word of explanation. To quote a blog: "Hungry ghosts are the demon-like creatures described in Buddhist, Taoist, Hindu, Sikh, and Jain texts as the remnants of the dead who are afflicted with insatiable desire, hunger or thirst as a result of bad deeds or evil intent carried out in their life times." Now, that pretty much describes what I call the creative imperative, something I know Rowland had, and which I know both Mick Harvey and JP Shilo have.
Mick and J.P. are currently on tour in Europe, alternating Mick's Serge Gainsbourg shows with J.P.'s "Invisible You'"shows. Mick's playing organ; the other members of the band include J.P.'s wife, vocalist and photographer Lyndelle-Jayne Shilo, Glenn A. Lewis on bass (The Cambodian Space Project) and Steve Shelley on drums (Sonic Youth).
"Invisible You" also features Kim Salmon on slide guitar and Phil Kakulas on bass.
"Invisible You" is utterly J.P. His dark whimsy ricochets around the album, his aching sense of beauty, pain and love and yearning and regret and joy all rotating around an extraordinary core.
"Kid King Kong" opens, very New York no wave, or perhaps lounge Cramps, but Shilo's vocal takes us right to an imaginary knives-in-the-drain '50s, where you can imagine a real zoo-music girl jiving in a murky basement to a beat-up record player while sodden hoods stub out too-fat cigars on ...
But also, there's a moody, soaked humour working here, perhaps Mickey Spillane meets acid-drenched Hunter S. Thompson ...
While the LP will have old coots like me spotting assorted nods to The Birthday Party and Nick Cave (and that's not all by any stretch, so I'll leave the rest to the trainspotters) we need to remember that a nod is nothing more than a brief homage, a humorous tweak of the alert listener's ear. I'm sure Mick had a chuckle when he saw these hypnotic new contexts.
In fact, aside from having fun with the songs, Shilo is an astute observer (if he ever writes a book, buy it). Meanwhile, you'll have to make do with this. Though you'll hear whiffs of reference - it would be lazy to compare him with anyone - though you will read reviews who can't help themselves lashing Shilo to one whipping tree or another. "Where the Water Tastes Like Wine'"is a curling, slow-grooving creature that builds to a a brief apocalypse.
Snakes don't die
it's just the skin that's peeling
Please don't cry
I've lost that lovin' feeling
Meanwhile
I've moved across the sky in aeroplanes
But in time it all ends in
Time
"Voodoo Talking" continues this loping groove, shot through with tiny hooks and claws. You might think, aha! Rowland S. Howard! You might think: Bossa Nova! But it doesn't really matter; what matters is the song, the groove, the breadth and scope of self-deprecatory melancholy:
It wasn't you it was the Voodoo talking
It's not you, it's me
I took a wrong turn down this road I'm walking
it turned into a dead-end street
That's what you say when your Love goes wrong
Certain things'll make you feel so (…)
'Widow's Peak', well, Americans should be covering this one. What's the name of that red-haired little fucker? Yeah, you know the one. He'd murder his granny to have written this one,. it's sharp and has a country and western pulse.
Then there's "Snowstorms in Hawaii" which wouldn't be out of place on a Hoodoo Gurus LP. It's bitter, hammering and after the first half of the album, you'll be roused and stamping round the room. But the lyrics...
Alone at night
I feel the world inside me
Close my eyes and think of snowstorms in Hawaii
She's all white a rosebud smashed inside me
Her face, her hands, her heart all history behind me.
I mean, FUCK.
Hey J.P.: Release "Snowstorms in Hawaii" as a single. Get a clip done.
There are two cover versions on "Invisible You"; the first is a song from 1966 which shot out of obscurity in the 1970s via Kenny Everett's "World's Worst Records Show". 'And "The Mechanical Man" was originally by Bent Bolt and The Nuts, I found this on the Interwebs on the WMFU blog:
"Bent Bolt was actually a pseudonym for Teddy Randazzo who died in 2003 but was a 50's rock icon who co-wrote over 800 songs that were covered by such luminaries as Frank Sinatra and Dionne Warwick. Jonathan More, one half of Coldcut, introduced this to me in the mid nineties when he used to cheekily drop it into his club sets and watch the amazement of the crowd as the tune unfolded. People try to dance to this but it has more clunk than funk and I love the way he's trying to imitate some sort of vocoder without actually using one, must have hurt his throat."
J.P.'s version is simply, brilliant. It's HUGE, treats the subject dead seriously (albeit with that dark deadpan humour). And this, yeah, is another single ... comedy always rubs shoulders with tragedy, and Shilo is such an expert at dancing on that fine, fine line... his vocal is so much more textured... dear god.
I won't ruin "Misty Light" by explaining. The title track, "Invisible You" ... I'm swooning.
The record ends with a cover of "I Hear a New World", originally by Joe Meek in 1960 (the youtube clip features comments like, 'that this exists means that the next big genre of the next 10-20 years is out there some where you just have to find it'; and 'This is why I'll never get married' ... ), but unfortunately also by These Might Be Giants, who I somewhat like but don't love (they remind me of a goofier version of Sparks, I'm afraid, with not as much wit or substance). Shilo's version is utterly gorgeous, hugely resonant, so beautiful...
The lyric to "I Hear a New World" is simple - almost Ramones-like, in fact:
I hear a new world (I hear a new world)
Calling me (calling me)
How can I tell them (how can I tell them)
What's in store for me? (what's in store for me?)
Not to bring you all down or anything but these words speak of depression and the inarticulation of the modern world (the refrain, "calling me, calling me" instantly brings to mind the telephone, and how useless the bloody thing can be as an aid to communication). The uselessness of communication is a sub-theme to the LP, by the by.
It is, quite simply, a hell of a way to go out, and "Invisible You" is a hell of an album; imagine a bowl containing the audio equivalent of peach halves, axle grease, red cordial, sequins, clotted cream, tin robots, Tequila and arterial blood and you're getting there. Shilo handles pace and power with the aplomb of the veteran musician he is, and you'll be drawn in, and you'll find it hard not either waltz
around the room, tear up, or jump up and down.
"Invisible You" is fucking sublime, and, hell, to fuck to, and has the best love songs I've heard in what seems a very, very long time.
If they could hear it, Dolly Parton, Kenny Rogers, Johnny Cash, Townes Van Zandt would all fall for this LP.
Here's a link to the Bandcamp page; where you used to be able to buy the record fully signed...
Having noticed that the "Pop Crimes" show has been put together again, this time for a gig in London, and perhaps Europe, I was delighted to see that The Corner Hotel has been booked for the 26th January 2020. If you live in London, or Melbourne, you know what to do.
_ _ _ _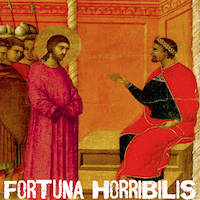 Now, for Adelaide's Vomit of the Universe's "Fortuna Horribilis". If you live in London, Melbourne, Sydney, you know what to do. Book Vomit of the Universe and have them empty your wedding, bar mitzvah or 60th.
More beer and prawns for you, right?
Instructions for use: PLAY LOUD and OFTEN
I do love this band. This outing, the first song, "Cardiomyopathy" recalls Boris at their most heavy and ear-hurty. You may recall VoU from a review what I did a little while back. Jordy on drums, Adam on guitar. Both ex-Smallpox Confidential, so look what I was missing. Damn. No lyrics or vocalist, either. Doesn't matter.
Whorls and snarls of man-trap guitar. Feedback which is both affecting and ugly and beautiful and ... oh, that's three things. Well, it's greater than the sum of it's parts. Jordy's drums perfectly intuit into Adam's brutal mesh. And then... there's a sharp, gentle scene change ... and, once you've got used to that ... we're somewhere else, soaring and scything into mountains like the great god Troy. No, the great god Thor. Always get them mixed up.
"Oedema" follows, and ... oh, fuck this is just huge. What a monstrous sound. Mountainous weasels copulating in a bubble-bath. The unearthly sound of a storm. Some gargantuan plasmatic mesh wrapping itself about the globe. A chthulu of sound. God almighty.
"Erratum" and "Mortem" follow. By now I can't type, this is just too overwhelming an experience. A bit like what I imagine being mortared might be like. Except I'm here voluntarily. Shattering, but in a glorious way.
Vomit of the Universe comprise a man who loves the extraordinary sounds he can scrape and gouge out of a guitar (with lots of attendant volume), and a man who loves bashing the living fuck out of his kit. There's humour, of course, but right now there's an urgency out there: the world needs bands like Vomit of the Universe, and that's a fact.
Realistically, that's all you need to know.
The fact that there's so much depth and variety within the music is nothing short of wonderful. God, though, I'd love to book this band into somewhere utterly inappropriate.
Get it here.




- Boris, and JP Shilo: Both a magnificent 7 bottles out of 5.



- Vomit of the Universe: At least, 6 bottles. Stunning.