Mingus amazes with weighty new album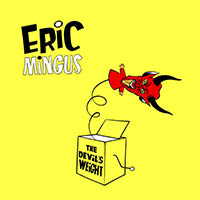 The Devil's Weight - Eric Mingus (Ouch! Records)
I first saw Eric Mingus on stage at Her Majesty's Theatre in Adelaide a few years ago, masterminding (with producer Hal Willner) a production of The Who's 'Tommy' ... which I confess I didn't expect to work. But, not only did it work, it took my breath away.
If you don't feel like reading the full review, on the night I described Eric on the night as an "offhand, casual narrator with a fabulous, rich voice with a gobsmacking range who sets us up for a mischievous, powerful story, more human because it's all happening right in front of us. What for some was a rather stilted and peculiar concept LP has become an alive, twisting, emotional creature; the story is instantly in us. His later (all too brief) scat singing is incredible, just amazing".
I'm still reeling from "The Devil's Weight". The music is huge, and Mingus' voice is ... incredible. What a vocal range... hear this and you'll wonder how the man is only one man. He's multi-tracked his own vocals, with his own backing vocals - some of which do not sound like him at all; all this and he's played every instrument on the LP as well.
The recording and production are simply immense. The kind of warmth you should get from a Stones covers LP, but ... no, let's not go there. Eric Mingus is the real deal.
But before we start the review, after heavy rotation, I ventured to ask Eric a few questions.
RB: Just how many of these songs are hugely personal - that's how they come across to me. There's a vivid sense of intimacy here. Some extraordinary things in "The Devil's Weight" - a nasty relationship - what's that one about? same as "The Elephant in the Room"?
EM: All these songs are hugely personal to me. They are abstract slices of reality and fantasy. All spawned from what makes me, me. When I listen back, sometimes moments expose themselves that I hadn't considered or I feel a connection to something that wasn't intended or it is a story of fiction influenced by the life I have lead. The meaning I have in mind is kind of immaterial. Once you put something out there, the meaning belongs to the listener.
The tune, "The Devil's Weight" is (in part) a nod to the long relationship the devil has had as a character in blues music. Sometimes I think he is scapegoated in order excuse bad behaviour that he had no hand in. For that matter, so is God! We all have had some sort of struggle with regards to what we believe or don't believe. I am swinging a big stick at lots of demons on this one!
Here's a blurb I wrote about "The Elephant in The Room" for a director (there may be an actual video made for this tune);
''The Elephant In The Room' is about layers. Layers of sound and meaning. So much in life can often go noticed but unmentioned. Damage done and never acknowledged. It can be a family dynamic, a societal dynamic. We quietly go on as if the horrors never happened. Act as though everything is fine, while these ghosts surround us and we don't address what we all share out of fear or shame and guilt.
From a sound and song perspective, I experimented with the lead vocal track to create additional elements in the song. I routed the main vocal into several different channel strips loaded with effects that respond to the line I sang in different ways and it created an almost ethereal choir.
RB: I'm assuming your partner Catherine is doing some of the backing vocals - but that you've done everything else, including the recording/ production? It's quite a sound! And your guitar has a nasty squeal...
EM: This record is 100 percent me. I did everything except the mastering for the CDs, vinyl and cassettes. What you are hearing in the digital file is how I sent it to the label. I am very proud of this recording.
RB: If you're the one doing the recording and production, how did you get interested in that? It's not for every musician, that's for sure.
EM: I was always interested and enjoyed recording, but that was mainly to put down ideas and to make demos of my music. It was Hal Willner who said to me that the songs on my demos had quality that got lost once other influences got involved. He encouraged me to do what I have done with 'The Devil's Weight'.
RB: Do you have favourite pedals? Details!
EM: I do love my Ampeg Opti-Comp and Scrambler for bass, though the Opti Comp is great for guitar too. I am a huge fan of the Fender Blender. I also have an electro-harmonix LumberJack log overdrive that got a whole pint of stout spilt on it and after I cleaned and dried it out it sounds amazing!
But on this recording I owe my guitar sound to Guitar Rig 6 for guitar and I used a tweaked U2 Renaissance Channel plugin setting for my Fender Jaguar Bass.
RB: "Mournin' Wreck We Um" reads very much like a song at least partly about your dad ... am I wrong?
EM: You are not wrong. He is very much at the root of the tune. It is also for all the folks I have lost since then (1979), it is sadly a very long list and with recent losses, I felt I needed to sing on it. It helped. Reminded me of connections I hadn't thought of in a while.
RB: I almost don't dare ask if "You'll Say Anything" is about someone you know or Trump!
EM: HA! Well, it is more aimed at politicians and religious leaders in general. But he's in there!
RB: Just curious... why did you move to Ireland..?
EM: We had an opportunity that allowed us to come to Ireland and it became a musical sabbatical for me. So it worked out. We are however, moving back to the states.
So... to the LP itself...
"Waitin' on a Saint" opens, and it's a classic - blues and spiritual fans will love it, as will anyone who loves a good song. The sound is rounded, cavernous and sonorous. Here we have Eric's love of his own roots; now if I call it rhythm and blues, that's both descriptive and an acknowledgement of George Nelson's attitude; this ain't Dr Feelgood but where they really come from. The Animals would recognise this as the very wonderstuff that made them tick, the Stones would want to cover it (even in their shed), and you, gentle reader, will be rootling through your old Blues Brothers LPs to discover... it ain't there, even if it should be.
The title track (presumably a pun on how long we're going to have to wait until we get some sort of normality into our lives - Eric lives in Ireland) makes me think of a found radio show filtered through modern psych (via, perhaps, The Who's operatic phase and/or a rather unpleasant episode of "The Twilight Zone'" Old school rap ... Incidentally, the Soundcloud link I followed has the single descriptor 'Blues', which, well... yeah, it is. Definitely. But the Germans will tick Eric off for not following the "prescribed formulae"... and Eric will be in good company - the Germans have grouched at everyone from Hugo Race to the aforementioned The Animals for the same thing. Stupid buggers. Tin ears, almost all of 'em.
"Mournin' Wreck We Um'"- cross the "Viking" TV series theme song with a Te Deum and a cotton-field holler and that should give you a clue. Mingus has the kind of voice to die for, truly; so evocative. Captures that ghastly truth of so much of African-American vocal music, so very evocative, borne of unspeakable suffering and tolerating apparently insurmountable stupidity. I could see my very religious mum loving this in her cathedral. In another sense, straight outta Rikers Island. The linguistic joke in the title is surely a reference to his father (via his LP, "Mingus Ah Um").
"The Elephant in the Room" ends the first side and I had to check the computer to see if iTunes hadn't popped on someone rendering an unfamiliar but rather beautiful Nick Cave song by mistake. And no... Jesus, this is wonderful.
Side B opens with a distinctly religious feel in "No More of This" with... that opening unaccompanied vocal, with the other voices joining in ... and minimalist (organ? bass?)
"Gun Shy Boy" is a dead-set rocker, complete with wicked feedback guitar, and if the media get ahold of it Eric will be on some late night music show wowing the audience and making the host cry. "You can't handle my truth".
Gawd, "You'll Say Anything". Imagine Yello playing to Boris Johnson practice-whispering another denial speech - with Eric's commentary: "You'll say anything/ to get out of this/ twist the truth ... you'll say anything/ just to keep talking' 'head or feet first?…it seems like you can't enjoy a single thing in your life". Great last line, too.
"Rats and Tattle Tales'"draws the LP to a close, and it's another instant hit. A cracker. You'd think that John Lee Hooker is surely one of the influences here, but let's not forget one of Eric's huge influences, to whom he dedicates 'The Devil's Weight": Hubert Sumlin, guitarist in Howlin' Wolf's band.
A bit of broader context here: Sumlin influenced Captain Beefheart's guitar players (whether they liked it or not), as well as a host of others. Wikipoodia explains that he was again nominated for a Grammy Award (which sounds to me like you get given a real life Granma to put on your shelf) in 2006, for his solo LP "About Them Shoes" (which features performances by Keith Richards, Eric Clapton, Levon Helm, David Johansen and James Cotton) and that in 2011, Mick and Keef paid for Sumlin's funeral expenses. That aside, you may recall Sumlin's name cropping up in a previous interview I did with Eric:
I had the honour of touring with Hubert Sumlin with Elliott Sharp's Terraplane (and did several gigs with Hubert as his singer). Watching and hearing him play was an education in sound in fingers. It didn't matter what guitar he played. He got his sound out of it. One time a young girl about 10 or so I guess, came backstage to meet Hubert and have him sign her 'Hello Kitty' guitar. Not only did he sign it, but he plugged it in and played a tune for her. I was blown away at how good it sounded and how he got his sound on that thing.'
I know there's a heap of musical influences on here, but I find myself wondering whether to mention the ones which seem obvious, and then ask Eric for the others ... or not - partly because I think the record works so well without referencing other performers.
Eric: "I bet you hear influences I didn't knowingly put in there. I just go where the music takes me in the moment. The analysis comes after. I hear some things in there now that I am done and started listening to other people's music again. If that makes sense…"
"The Devil's Weight" is a fantastic LP with so many different aspects, approaches, facets which effortlessly braid together, with all the hallmarks of a classic.




Tags: eric mingus, the devils weight, ouch! records