One re-issue that does justice to the legend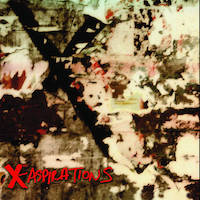 X-Aspirations - X (SL Express)
The (mild) hype accompanying the 40th anniversary edition was deserved and - and then some. This is as essential an Australian "punk" album as the Radio Birdman and Saints debuts - even if comparatively few people noticed at the time.
The reputation of "X-Aspirations" as the ultimate in primal, spontaneous and minimally brutal music fron this part of the world (Australia) has grown with every re-issue, and this re-mastered vinyl version is surely the last word.
Sydney-reared and as street-level as a band could be, X had all but been destroyed by reputation and reality by the time they went into Trafalgar Studios in 1979. Venue owners despised them and the crowd they attracted. Gigs inevitably ended with a full house, physical damage, spilled blood and a warning for the band not to come back.
The death of original guitarist Ian Krahe through lifestyle-related misadventure after one such gig at the Bondi Lifesaver just about put paid to the band. X's survivors experimented with replacements but ultimately carried on - as they were. Singer Steve Lucas was thrust into Krahe's job, with only rudimentary fretboard skills. Lobby Loyde produced the session with the intention of it yielding a couple of songs for a single. Three-and-a-half hours later, "X-Aspirations" was birthed to tape.
There was nothing like X at the time. They radiated danger - like an uncapped syringe, if you'll pardon a crude but not entirely inappropriate analogy. The unschooled, serrated-edged guitar playing and howl of Steve Lucas, towering over a scarf-draped microphone, the rambunctious feels of powerhouse drummer Steve Cafeiro, masquerading as a clean-shaven Brutus Beefcake, and the B-double truck sized bass-lines of the equally larger-than-life Ian Rilen were the ingredients.
X was adopted by the punks but they were a rock and roll band in reality, presaged by all manner of conventional influences. The Easybeats and Del Shannon for two. It was the the unique chemistry that the quartet - and subsequent trio(s) - produced that made them unique.
The songs they wrote were similarly special. Light on for chords, blessed with a fearsome energy and spattered with wry, observational lyrics that took inspiration, for the most part, from the mundane: Corporate power, copping drugs, a pretty girl in a green outfit, blowjobs, TV and a gift of opp shop clothing all got the X treatment. These were stories from the Darlinghurst streets delivered by Australian rock and roll's ultimate outsiders.
Not a note was wasted on "X-Aspirations". Sometimes X was. They were volatile. How the subsequent line-up ended up on a major label is anyone's guess but a marriage like that was never going to last.
But enough reflection. If you want more, go here. The "new" take on this classic LP sounds magnificent. Gil Mathews mastered it from a baked, safety copy tape and it fairly jumps out of the speakers. It belts you around the ears without enough spatial separation to give it breadth.
Rilen's bass sounds like it's trying to cave your face in by aural force alone on "Suck Suck". On "Waiting", Lucas sings like a surgeon is ripping out his tonsils without anaesthetic. Odds are you know the songs. It's such a stone classic that a track-by-track dissertation is redundant. If you've never heard "X-Aspirations" then you need to. Now.
It's wrapped in a gatefold sleeve and the front cover has been colourised - although not in a sacrilegious way. Autographed and hand-numbered by sole survivor Steve Lucas, it also includes a poster. The run of 350 was crowd-sourced, so who knows if it will be re-pressed?

Tags: ian rilen, steve lucas, lobby loyde, steve cafeiro, x band, x-aspirations, trafalgar studios