Rage, eccentricity and passion in three varied packages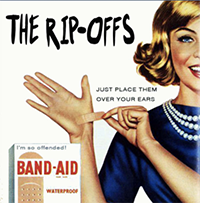 Live at the Forest- The Rip Offs (Ladymann)
Elektrosphincter - Geezergosis (self-released)
Red Desert Rain - The Systemaddicts (self-released)

The Rip Offs are made of: Sarah, guitar & vocals; Hermann, bass and standing stillish; and Michael, drums and expressions.
(The Barman wishes me to tell you that I know them all and love them dearly. Needless to say this CD wouldn't appear on here if I thought it were not up to snuff. Oh, and, erm. Probably adults only, OK?)
I saw them at a recent gig at the Grace in Adelaide, supporting Fear and Loathing (1980- present); they're damned forceful and completely intoxicating. And - their two covers are bloody good.
The Rip Offs are as punk garage as it gets. They're heavy too; you get the feeling that the needles keep flicking into the red. The wonder is that Chris Wiley has managed to snare so much of the band with such clarity. And they're one of a long line of Adelaide bands which typify the underground here.
Apart from making your feet twitch into dancing without your noticing it, the songs are often about the stupid things women have to endure, and unleashing bottled-up rage. I confess I prefer The Rip Offs to Sarah's other outfit, Lucy, but that I think is my own taste rather than anything else.
Curiously, songs such as "Problem Child" would be pop hits with almost anyone else (think the style of Ike'n'Tina Turner); here the honesty and malevolence spills over. So what I think is pretty damn good, you may not think is groovy enough (Lucy are dead groovy, BTW. Think a damned angry Joan Jett, perhaps, only just retaining control of her rage. "Bitch" is a classic example of that rage plunging out in barely coherent form. It's great. Then there's "Cunt Force Trauma" which ... OK, you need to hear this one.
"Red Tent" is about the closest you'll get to the band being populist; great guitar lines recall the '60s and Hermann's bass sets Sarah's vocals off beautifully. "Groodles of DOOM", on the other hand is another direction entirely - for about 30 seconds. It's a fucking hoot.
The kind of CD you put on when you're really quite pissed off, covers and all.
Stream it here.. Get it! If you feel like an actual CD, complete with a sticker or two, pester the band on their Facebook page.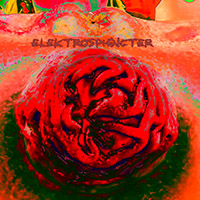 Geezergosis is Adam 'Mondayitis' Blake, whose public message to you all is: "Recorded in the Jack Shack over the last two months, except for Track 1 which was recorded some time last year. Pucker up baby!"
If the image on the front cover doesn't put you off entirely (it's not a rose) you may well be in for a treat. Er, but adults only, I think.
As regular readers of this column will know, I'm rather in awe of Adam, whose talent alone leaves most musicians whimpering on the pavement. That he sets his spacecraft in this particular direction tells us a lot - here, he's basically enjoying himself, secure in the knowledge that few people are paying attention. I'd very much like that to change, because aside from the obvious dark humour the man exudes, the songs/musical pieces are pretty damn good. That said, I can't in all conscience give the LP more than four bottles - and yes, it is because the bloody record tries my patience. But hey, so do Jimmy Barnes and numerous other oiks.
"Mastiff Man Randy Samoyed" opens with a huge, harsh blast of wrenched music ... if you like Faust ... and Adam's contemptuous wrestler-schtick heavily treated vocals... I don't want to give anything away here, that's the point.
Like the rest of the album, "Mastiff Man" is somewhere between full-on schlock and intense, and intensely funny. Like being smacked in the face with a custard pie. It hurts, and it's uncomfortable, but you end up laughing hysterically.
"Sandy Hanitizer" had me pissing my pants with laughter. Dirty Milliganesque.
The opening effects of "The Little Man Fell Out of the Boat" are vivid beyond belief. There's a lot going on here, quite a bit of it we don't want to hear, but having heard it... we're lugged along like herring in a net. Ever hear "The Gift" by the Velvet Underground? A bit like that, but more annoying. And also like being dipped in a bath of vinegar.
"The Erotic Lasagne" is similar in those senses, but we end up so far from the safety of home it's just ridiculous. And I suppose that's part of the point, that we find ourselves looking at things from a completely different place, and find our mood altering considerably.
The closing track is "For The Love of God Enough With The Incest Porn Already", which I take to refer to the increasing number of porn channels using 'daddy' and 'stepmom' and 'stepsister' type stuff. Why that has to be a fantasy, I don't know, but it always makes me squirm. Ugly and selfish, reductive and stupid. Adam's take is ... sardonic and powerful to say the least. I love it.
On the face of it, Geezergosis is really for the hardcore, but for me it's an incredible journey into possibility and psychosis. Certainly won't be everyone's cup of chowder (indeed, some may find it self-indulgent), but it is mine (and frankly, aren't most musicians somewhat self-indulgent?)

The Systemaddicts describe themselves as "garage punk". Apart from the vocals, they're way off with this (compare them to the Rip Offs above). "Red Desert Rain" opens with "Behind the Wire" which is crossover Australian rock'n'roll at its finest, and then continues to lay down stunning song after stunning song, often singalong anthems that make your heart leap. Simple as that.
The Systemaddicts are at least as Australian, as real, and as nuanced as Midnight Oil or Hunters & Collectors, and in my opinion they are the band for our times. As with the Oils and Hunnas, the horns add such a distinctive vibe and tone that you're basically swept off your feet into a convincing cinematic landscape. The piano and organ are fat, perfectly placed and serve as fingernails around your poor old heart. And that scouring voice. I wish I had a voice like that.
Nice bit of controversy with "Won't see me at your Australia Day bbq", the band have got their finger on the modern pulse. They're also justifiably angry - particularly at being deliberately mislead by the history most of us have been taught. Balance in Australia is frustratingly easy to achieve, but as always the stumbling block is that old chestnut "it's always been this way". Hateful.
Jeez, this reviewing lark is difficult. These magnificent songs keep coming, tumbling over each other, rushing me away like a riptide. Really, the difficulty is in picking the song which is "not quite as good as the last one", and that is damned hard. The last song, "St James Infirmary", is a well-known classic, and to say that they do it justice would be to understate the case. Do you get it?
Comparisons? Pfffft, well. Oddly they remind me most of the Saints' third LP, and later Screaming Believers; they're definitely on a par with the former, and eclipse the latter with a standing start. Perhaps the Sonics? But I never thought of the Sonics as a garage band, so ...
"Red Desert Rain" is a total cracker, and you'll be slapping it on for years to come. The Systemaddicts belong to a wider world, and they deserve fame, riches and the love of millions. Don't believe me? Like I give a shit.
More down to earth, though, there are many things to love about this band. You don't have to agree with their opinions. But you have to admire their sincerity, the power and self-belief they project. Addictively Australian. Inclusive, with the tendency to call out bullshit, which is what we should all aspire to.


Tags: systemaddicts, geezergosis, the rip offs, live at the forest, Elektrosphincter, red desert rain