Raining Treasure (Australian Indie Gold Covers Vol 1) – John Kennedy's '68 Comeback Special (MGM)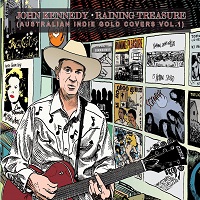 It's a brilliant idea so why didn't someone do it before?
What's that? you say. Record a bunch of iconic, mostly Sydney, underground songs in a way that honours the originals but makes them their own – at least for a few minutes.
UK-born, Brisbane-bred John Kennedy became a fixture on Sydney inner-city scene in the 1980s after cutting his musical teeth in his hometown. His distinctive "urban western" songs, and his bands JFK and The Cuban Crisis and John Kennedy's Love Gone Wrong, earned him a healthy niche in a city that back then was groaning with musical talent.
John Kennedy was always backed by excellent bands and inevitably joined his peers in spreading their versions of the word on the national touring circuit, before moving overseas for a time. He and various line-ups of his John Kennedy's '68 Comeback Special have been kicking around the now skeletal Sydney scene (read: Inner-Western Delta) for the last decade or so.
Nostalgia ain't what it used to be. The Bar gets its share of brickbats for looking back too often. Reality is that most of the stuff we review is brand spankin' new and you can find plenty of gems if you're willing to take a chance and dig. The decline of the Sydney live circuit, though, is a sticking point, and a reason to be jealous of Melbourne.
It would be a pity if the audience for "Raining Treasure" was confined to old farts reminiscing about their salad days –that time before they had a credit history and their biggest ambition was to be swept out of the Sydney Trade Union Club, along with all the cigarette butts, at 5am.
"Raining Treasure" is a minor masterpiece that deserves to be heard. Kennedy and band "own" these songs and, in most cases, give them fresh life with a change of direction.
Classics from Le Hoodoo Gurus, Hard-Ons, Sardine v and the Scientists are among those given the '68 Comeback Special treatment. Kennedy has a top-flight band – bassist Phil Hall (Dropbears, Sardine v, Lime Spiders), founding Love Gone Wrong drummer Peter Timmerman and guitarist Murray Cook (The Transistors, Finger Guns, The Soul Movers and The Wiggles) - and they get right inside the tunes.
"Leilani" leaves the jungle behind and puts on some country and western style, with more swing than the door of an outback pub's outside dunny. "Swampland" is suitably put through a fuzz wringer although Kennedy's trademark sonorous voice puts it on wholly different ground. "Girl in a Sweater" goes even more pop and doesn't lose anything, except its buzzsaw sound, and with Sardine v bass player Phil Hall aboard, "Stuck On You" gets fresh musical legs and a second verse that different from the first. At a guess (and of course, if he was around) Ian Rilen would approve.
Kennedy is no Radio Birdman fan and had his work cut out finding a song that he liked enough to cover (yes, I know, it's hard to believe), but made amends with a version of the Fun Things' homage to the Radios, "When the Birdmen Fly". More Strum and Twang than Sturm und Drang, it takes on a charm that's hard to resist.
If there's a risk to being self-referential, Kennedy shrugs it off with a re-casting of his own "King Street". It sounds super-charged with horns underneath it. Welding "Brisbane Security City" to "Electrical Storm" was an inspired idea that no Kuepper/Saints fan could quibble with and the '68 Comeback Special's spin on the Sacred Cowboys' mighty "Nothing Grows In Texas" prickles with fresh guitar licks and a spooky air.
The Zimmermen's "Don't Go to Sydney" might have been a cautionary tale about trying to make it somewhere else but sounds sunny in these hands. "Lee Remick" (Go Betweens), a storming version of the Atlantics' "Cmon" (covered by Wet Taxis), The Triffids' "Raining Pleasure" and Paul Kelly's "St Kilda to Kings Cross" (re-arranged with horns) should keep you busy, not only drawing comparisons to the originals but realising what great songs they still are.
There's no Screaming Tribesmen, Died Pretty or New Christs songs but there's always Volume 2.



1/2
Tags: hard-ons, saints, ian rilen, paul kelly, john kennedy, jfk, raining treasures, sardine v, murray cook, peter timmerman, phil hall