Return of the Dilettante - Peter Simpson (Verified Records)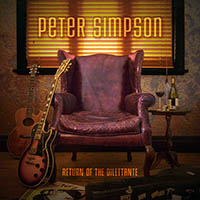 As far as dipping a toe back in the water, this EP is just short of complete immersion at the deep end for Peter Simpson. You can hear the Dubrovkniks guitarist-vocalist has put a lot of himself into these five songs and it mostly pays off.
It seems like a million years ago (it's actually 37) since Simpson arrived in Sydney from Perth in a briefly successful but long-forgotten band called Teeny Weeny. He went on to play in the Dubrovniks (via The Spectre's Revenge), experiencing fame if not fortune.
The Dubrovniks were a super group when people gave a shit about such things, drawing bloodlines from the Scientists, Le Hoodoo Gurus, The Johnnys and the Beasts of Bourbon. Signed to a major, made a dent in Europe and scraped the middle of the mainstream Australian charts - you know how the story goes. They were the acceptable although eventually over-polished face of the Sydney underground.
Peter will always have the dubious honour of being the recipient of the on-stage punch from Roddy Ray'da that precipitated the latter's departure from (another) band. Chris Masuak produced their debut album and Simpson hung in there until 1991, before seeking a life of normality.
Reformation tours of Europe by the Dubrovniks in the 2000s re-energised Simpson to want to do more than wander around the house playing snatches of songs. "Return of the Dilettante" is the result.
"Return…" Is a class act, from the theatrical cover art to the music within. It's also partly a family affair with contributions from Peter's offpsring Dom Simpson (drums, keyboards, engineering and production) and Vo Simpson (guitars).
"All My Tomorrows" is a punchy opener with Simpson's rueful vocal and distinctive guitar standing out. It's a little reminiscent of the mid-period Dubrovniks, as is the raw and more ragged-around-the-edges, "Stain In The Sand".
The ringing chords and resigned vocal of "She's Gone" sounds like the early '70s Stones on an acoustic pop bent. "Stare At The Sun" is the jewel, another song of regret but with a tough hook and some gritty rock asthetics. Closer "Every Time We Say Goodbye" adds cello and is both arresting and effective in its simplicity.
Peter's kid did fine on the knob twiddling, too. Metalhead, you say? He has good ears.
So when's the full-length album out?



3/4

Tags: dubrovniks, peter simpson, return of the dilletante, the spectre's revenge