Rigid With Desire's retrospective nightlife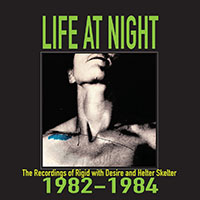 Life At Night 1982-1984 – Rigid With Desire/Helter Skelter (Method Records and Music)
For every band that made an impact on Sydney's fevered 1980's underground music scene, there are a thousand that left a fleeting impression.
Rigid With Desire was the next vehicle for Fast Cars singer-guitarist Di Levi after the first, mod-pop incarnation of that band dissolved. RWD melded ubiquitous (and very underlying) '60s melodies with a thick applique of fashionable post-punk, neo-Goth sounds. Their impression was more than fleeting and they made a mark on the then-serious Australian indepdent charts.
"Life At Night" compiles their five recordings, including the indie chart single "Nightlife", and two by Helter Skelter, their re-jigged, latter-day line-up.
There's a crystalline, icy yet dry feel to most of the tracks that would have been at home on Factory Records. You can hear nods to Siouxsie, The Cure and even Magazine, without the abrasiveness of the latter. There's also a whiff of The Members, without their rough edges.
Di Levi's imperious vocal is the key. Andrew Southam's precise drumming imparts fluidity, while bassist Peter Bennett sits in a groove, allowing the guitars of Levi and Chris Vaughan (ex-The Introverts) to skate around on top.
Confession Time: In those early '80s times of irrepressible youth, Rigid With Desire would not have been my bag. If they hadn't been on an undercard to <insert Detroit or '60s punk-inspired band's name here> I wouldn't have knowingly crossed paths them 'em in a pub. Anything sounding like the Cure got short shrift - constant exposure to "The Love Cats", courtesy of the DJ at Sylvania every time the bands stopped, had inflicted deep mental scars that remain to this day.
So with the benefit of sober reflection, it's hard to understand why "Make Believe" (the 1984 single) or the CD's opener "I Have a Dream" (which appeared on Method's "Sound Of Sydney" Volume 2 compilation in 1984) didn't make a huge mark for RWD. Commercial radio was marginally more receptive to different sounds back then and, as I've been reminded, Triple J had been all over them. Di Levi could (can) sing.
The two Helter Skelter tracks are a different beast, with new drummer Ian Morrison's drums and heavier bottom end production giving "Make Believe" a beefier sound. The guitars rub up against each other and take off some serious skin.
Method does its usual smart job on the packaging with a couple of inserts inside the wallet gatefold throwing light on yet another corner of the old Sydney underground's rich and diverse history. Buy a copy here.

1/2
Tags: sydney, velvet underground, method records and music, fast cars, life at night, rigid with desire, helter skelter