Shake, Stomp and Stumble - Greg Antista & the Lonely Streets (Primal Beat Records)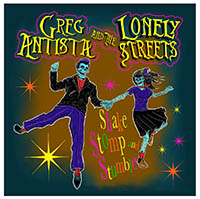 Statement of the obvious: Three-minute pop punk songs (mostly) don't get old. "Shake, Stomp & Stumble" - the debut album for Californian Greg Antista and his Lonely Streets - is littered with them.
This is a record of its SoCal birthplace. Orange County local Antista grew up in the 1980s with most members of The Adolescents, Agent Orange, Social Distortion and Middle Class as his buddies. He recorded and toured two albums with the band Joyride with Steve Soto (The Adolescents) in the early '90s.
"Shake, Stomp & Stumble" wears all those influences on its sleeve. It's a little punk, a lot pop and all of it smeared with large dollops of country and Americana. Antista has an emotive vocal with a touch of melancholy to it - when needed. Not a bad attribute if you're dipping your toe into country waters. Johnny Cash was a punk rocker, you know.
They've been together for about a year but The Lonely Streets have collectively been around the block a few times. Bassist Warren Renfrow is a founding member of Final Conflict, the funny concept band Manic Hispanic and Cadillac Tramps. Jessica Kaczmarek is no slouch on GRetsch.
Earwigs rule the roost on "Shake, Stomp and Stumble" and there's no shortage of melodies: The rollicking "Goodnight Ramona" is more infectious than stupidity in a group of anti-vaxxers. The twanging licks of "They Killed Lily Bell" and the shuffling "Forever" - an ode to an hour on-stage that's brimful of love for Antista's fellow men and women - are hard to shake from the memory bank.
"Nasty Weather" is a pop-rocker that sounds like Cheap Trick without the glossy production affectations. Elsewhere, Antista cites The Clash as an influence, and you could think of his band as a lite version with Joe Ely along for the ride.
Production is slick with an ear to radio play. I could have done with a few more rough edges but, on balance, Greg Antista and the Lonely Streets are a good way to spend 40 minutes.



1/2
Tags: pop-punk, country, greg antista, socal