Shock! A tribute that (mostly) doesn't suck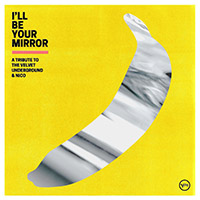 I'll Be Your Mirror: A Tribute to the Velvet Underground & Nico – Various Artists (Verve)
Tribute albums usually have their fair share of lowlights bordering on the "what the fucks". Worst still, their highlights usually rank at a mere meh. At best, someone will pull off a single worthy take of something and rescue the whole project from being a waste of time.
The first Velvet Underground album is now an unquestioned classic seen as a cornerstone of modern rock. It does this because of, not in spite of, its "dangerous" themes and avant-garde sound. Even the "pretty" songs seem to arrive from another world, twisted by low-fi audio recording.
Sir George Martin was not at the mixing desk. And that is why the first Velvet Underground album rules. Oh, that and genius players and songwriting. That didn't hurt.
So, let us gather some new (and not so new) heroes of the Underground and see what they come up with. Well, a generous helping of great, a smidgen of "that wasn't half bad, kid." There's also an unsavoury sauce of "what the fuck were they thinking?"
The big thing that slaps you in the face is the cleanness of the production. Even the feedback feels like it has been buffed and polished. But, for better or for worse, that's modern music.
Specifics? The great. Michael Stipe's lush orchestral reading or "Sunday Morning" goes down like syrup. Like pancakes and bacon after a speed comedown. A touch of "Transformer" nods helps that along.
Kurt Vile and the Violators go full glam Subterranean Homesick Blues with "Run Run Run" paying equal tribute to the song's pre-generaters and disciples. We get an LP and a single version. The single version is better.
St Vincent and Thomas Bartlet give us a delightful noir pulp fiction version of "All Tomorrow's Parties". It hints at some of those chatty third album murder mysteries whilst being completely something else.
Thurston Moore and Bobby Gillespie deliver exactly what you'd expect of them for their version of "Heroin". And you'll want to hear it.
But it's the original album's two most difficult songs get the album highlight tick. Fontaine DC's radical celtic stomp out of "The Black Angel's Death Song" would no doubt bring a smile to John Cale's face.
Iggy Pop and Matt Sweeney bring it all home with a wildly percussive yet drum-less version of "European Son". About 12 seconds in and you'll probably think it was always a Stooges song.
Ready for the okays? Matt Berninger gives us a kind of Suicide cover of "I'm Waiting for my Man". I hated it first listen and warmed slightly with the second. Unfortunately, it is peculiarly bloodless. He sounds like he's had too much Valium and isn't that concerned about the need to make a score.
Sharon Van Etten, tries for a Twin Peaksy stab at "Femme Fatale" but doesn't quite sound haunted enough for it to be truly great.
King Princess does a nice glam pumping take on "There she goes again". If you were down the Marrickville Bowlo and some band stomped this out, you'd bounce off the walls and have a good old knees up. But, at the end of the day, it's just a superior cover version.
That leaves us with the Rotten. Andrew Bird and Lucius have excellent musical skills and superior vocal technique. Their version of "Venus In Furs" is unfortunately like the TV PG-13 version of "Fifty Shades of Grey". Not just pointless, it misses any hint of the point. No-one appears to want to taste the whip, deliver the whip. Maybe they think the song is about dessert.
Courtney Barnet manages to turn "I'll be your Mirror" into the haunted threat of a Japanese long haired ghost girl movie. Only not as good as that. It is possible I am just annoyed a song so rich with concern for a fellow human is reduced to something so dry and seemingly cynical.
Overall, however, I recommend this disc. The highs are really high. You can put it on your computer and delete the songs you don't like.

1/2
Tags: iggy pop, lou reed, velvet underground, nico, courtney barnett, kurt vile, bobby gillespie, thurston moore, michael stipe, sharon van etten, king princess, matt berninger