Sowing those Bad Seeds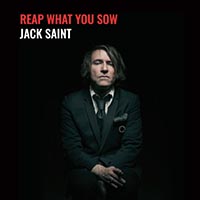 Reap What You Sow – Jack Saint (Heavy Medication)
The blurb says it's more "individually distilled" than the last album and maybe that's why it took time to latch onto what "Reap What You Sow" is about.
The debut "Jack Saint" was a lot more obvious in its display of influences like the Bad Seeds and The Gun Club, while "Reap" seems in the thrall of Jon Spencer without being able to completely divorce itself from early pre-Warren era Nick Cave.
That's no more apparent than in the shapeshifting "Music Against Nature", a lumbering assault that's based on the title being repeated. Vocalist Jack has a derivative howl that wraps itself nicely around whatever aural detritus his bandmates' sonic waves cause to wash up on the beach. "Worry Blues" is more of the same.
The call-and-response at the heart of "Hair of My True Love Is Ice Blond", moody build-up with creeping keyboards and Jack's lascivious Saint Nickisms draw the inevitable Bad Seeds comparison. There would be no Nick without obligatory Biblical references but "Lord Got My Fortune Laid Away" sounds more like the Beasts of Bourbon circa "Black Milk". Which is to say Captain Beefheart with a bit of Southern spiritual sound to spice up the mix.
Deep down, of course, it's just the blues and "Movin' On (Freight Train)" sounds almost conventional in its verse-chorus-verse structure.
If Jack Saint were baseballers you'd peg their heavy reliance on curveballs. "Severance Till You" swings between a dirge and chugging blues, while "My Little One" sways from pensive proto-funk to bombastic rock in the space of a few bars.
There's more than a sneaking suspicion that the answer to closing song "Can You Do Without Your Brother?" still lies somewhere near Tupelo.



Tags: bad seeds, nick cave, heavy medication records, jack saint, jon spencer, reap what you sow