Taken By The Dream - Hugo Race Fatalists (Glitterhouse Records)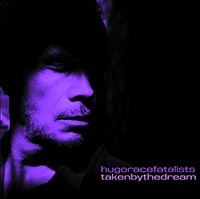 "Taken by the Dream" rates seven bottles. Two more than five because, in spite of all the evidence to the contrary, I never think this man is going to surpass what has gone before. Hell, I mean, what man could? Like Mick Medew (see my last review) and Bob Dylan, Race is a lifer.
Is Hugo Race some sort of madman? I think of him as a fearless troubadour, the man on the tracks, vulnerable and determined.
To be honest, in this era of rabid conformity to stock characters (I use this last word loosely) and ephemeral goals clung to like bull mastiffs to intruder's gonads, yes, I reluctantly concede that Hugo Race is indeed some sort of madman. Hell, Jesus was mad as a brush. I mean, totally canary-cage.
What he does has, of course, 'been done before'. I mean, there are thousands of people who make very little money crafting their songs, who release a couple of CDs a year, travel the world on a shoestring, playing gigs to packed and ecstatic crowds in one country, to a gobsmacked handful in some neon Euro-bunker in another, somehow storing up reserves enough to write new songs, record them, and release them in an astonishingly rapid turnaround.
From the book of Matthew:
6:19 Do not store up for yourselves treasures on earth, where moths and vermin destroy, and where thieves break in and steal. 20 But store up for yourselves treasures in heaven, where moths and vermin do not destroy, and where thieves do not break in and steal. 21 For where your treasure is, there your heart will be also.
Hugo is anything but a bibular fruit-loop (what a wonderful term, "bibular fruit-loop". I'll use that again) but his constant wandering (tick), the presentation of his songs (thankfully not in sandals and bedsheet, but in battered boots and worn jeans and shirt) (aka preaching, tick), 'where his treasure is, there his heart is also' (tick) ... no, wait, wait, wait.
'do not store up for yourselves treasures on earth' where time and dying computer memory destroy'... Uh-oh.
I take it back. You can't think of Hugo Race as a Jesus-like character because he does store up treasures on earth. See his website? A blizzard of releases. The man has a creative imperative which dwarfs so many other, more practical considerations, it's true. He ain't reckless, he's hatstand.
And we're damn lucky to have him.
'"aken By The Dream" is Hugo's second long-playing release this year. The first, "Gemini 4" (Race, Russo, Ryan and Idge) Race describes as 'No rules, no speaking, no plan. Gemini telepathy wrought wild. Total delirium. It became a strange and beautiful thing, the soundtrack to a film Kubrick never made.' Far be it from me to describe - just get yer wallet out. Gemini 4 can be found here.

"Taken By The Dream" is, on the face of it, an LP about the unattainability of love, even when you have love.
If we can't swim, we're gonna drown
This is our story, a story without an end
Sure, you might think, sentiments you'd hear belted out by one of those iron-lunged creatures on schmaltz TV FM trash. We forget that schmaltz TV FM trash trainwrecks truth by its very utterance, by its brash, over-compensatory weakness writ large as strength. So if you're expecting full-on rawk'n'rawl, rippling killer robots, 'how good is granny?' and cartoon skulls littering the place, look elsewhere. Race's voice is in fine form here, the anti-belter, the anti-narcissist, the erotic hypnotist.
The pace of Side One is low, intent, sometimes apparently languid (yet pantherish); you could perhaps get away with thinking of the songs as ballads or laid-back badlands c'n'w ... but that's to define, and as a listen to any three of his releases reveal, defining Race using any term other than 'Racian' is to confine ...
Race uses simple truth as a starting point, the weakness and vulnerability in us all, then expresses it, tries to understand it, with empathy and striking use of instruments (he and Russo have often reminded me of Morricone's unique approach to scoring) so that we have, in the end, nothing short of treasure.
Side Two opens with a bonkers folk/western critter "Gonna Get High" - and it's absolutely fantastic. Deserves to be a single, or open a big-budget Hollywood film. And Side Two takes us into another dimension; the second song, "Symphony", is the subject of a film-clip, featuring a wearily wasted love, confusion and desire slipping in and out of each other.
"Smoking Gun", and the CD's closer, "Taken By The Dream", are languorous translucent myths not out of place of a vintage Morricone sand and handgun movie, or, frankly, the Old Testament.
From schmaltz TV FM trash you may think there's a shortage of genuine beauty in music today. Not with Race.
Why am I rabbiting on? Well, if you listen to "Taken By The Dream", either side, you'll get it instantly. I trust your intelligence and taste. I mean, don't expect the straightforward. I recall people walking out of the Adelaide screening of "Paris, Texas"; it wasn't getting them in quickly enough. Not enough ironical jokes perhaps. Yet even as I sat there transfixed, I knew that was not the point. The point is the journey, the experience as expressed ... Cooder's soundtrack is still revered, but as far as I'm concerned, Race deserves a similar response. If nothing else his catalogue is, to my ears, far more involving and exciting than Cooder's (yeah? sue me).
Race's website tells us that "Taken By The Dream" was "recorded in collaboration with Diego Sapignoli and Francesco Giampaoli from one of Italy's most popular and influential instrumental bands, Sacri Cuori; and studio guests include Chris Brokaw (ex-Dirtmusic, Come, Codeine), Bryan Colechin (The True Spirit), violinist Vicki Brown (Calexico), New Zealand pop songstress Lisa Crawley, Giovanni Ferrario (Scisma, Micevice), with cameo appearances from Race's long-time musical partner Michelangelo Russo."
These are details. They're useful. But the listening is other-worldly, yet intimate, gripping, deeply romantic and powerful. 'Taken By The Dream' is another CD or LP you'll play over and over, with the music and songs lodging in your scary crevices.
Tomorrow was never promised/ By the great unknown
Get "Taken By The Dream" and loads more (and while you're at it, bring Hugo to your town). Buy it here. Hugo's still touring Europe:
29/05 RIMINI Hobo's
07/06 REGGIO EMILIA C.S. Catomes Tôt
08/06 FERRARA Circolo Arci BlackStar
09/06 PIAN DI SCO' (AR) Macelleria Buccianti Giulio - Anteprima Orientoccidente 2019









Tags: hugo race, glitterhouse records, fatalists, taken by the dream