Taking a trip on a Silver Machine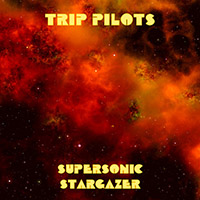 Supersoncic Stargazer – Trip Pilots (self released)
No shock to discover Hawkwind is a cited influence for this UK trio. The EP's title and band name are obvious clues. The revelation is that the CD's four songs are a solid addition to the psych-stoner rock genre.
Swirling feedback and electronic chirping, some talking and a repetitive rhythm bed build an ethereal platform on opening track "Supersonic Stargazer" from which guitarist-vocalist Johnny Sharp solemnly intones. Spiralling guitar lines abound.
The sampled Moon mission radio chatter on "Cosmic Ascent" is a little too obvious but the track again shows off the band's solid psych chops. "Drive" is seven minutes of a blissful sonic trip and not the test of patience you may suspect. Sharp's chording brings the journey to a crescendo.
"Tomb of Kings" is even longer and if the credits didn't attribute its recording to a studio in Devon you'd think it emanated from a squat in Ladbroke Grove, circa 1973. There's a lot of noodling, tinkling and drone over its nearly 10 minutes but it's also beguiling and hypnotic.
There's an album on the way in 2023 but meanwhile you can grab the CD (limited to 100 copies) or download at Bandcamp. Hook up with the band on Facebook. Now, where's my copy of "Space Ritual"?

1/2
Tags: hawkwind, supersonic stargazer, trip pilots, johnny sharp