The Stanleys - The Stanleys (Off The Hip)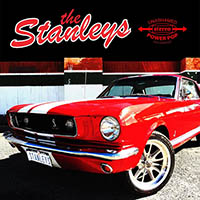 Let's resist the cliched temptation to wax lyrical about something something mysterious in the water content in Perth, Australia, producing peerless pop-rock music. It's been done to death and Swan Lager was more likely the culprit.
The Stanleys (or the two principals) hail from that most isolated of state capital cities but make music that could have come from anywhere on the globe where there's a love of harmonies, big guitars and sharp hooks.
Here's a band that, for once, has done things the other way round. Meaning, they've played hundreds of shows since 2011 but have only released their debut album now. This is not the done thing in these times of manufactured pop and inspid TV talent shows.
Think about this: The Stanleys have racked up gigs in the USA, Canada, UK, Spain, Italy, Norway, Sweden, Finland, Estonia, Latvia, Lithuania, Japan, China and Australia. Their roll call of international festivals include Summerfest, CMJ, the Orange County Fair and International Pop Overthrow (USA). Which just makes me think, 'Fuck, they must be old'.
Main men Mark Di Renzo (lead vocals, bass and keyboards) and Jamie Horsburgh (guitars, vocals) are old hands of the Perth pop scene, and Norwegian studio drummer Tomas Dahl has played in more bands (Yum Yum, Wonderfools) than you can poke a Reindeer antler at. He even drummed for Turbonegro, for a couple of years.
So what's the deal with the record? The faux stamp on the cover says "Unashamed Power Pop" and the packaging doesn't lie. Eleven songs of guitar pop that's captivating and clever.
"The Stanleys" was recorded in Perth, Norway, Sydney and France, and was self-produced. Ken Stringfellow and Australia's Mr Pop Everywhere-man Michael Carpenter weighed in with playing contributions and additional production. Andy Lawson is co-credited for giving studio guidance, too.
No need to single out individual tracks because (a.) you won't know them unless you've already bought the record, (b.) Bandcamp lets you listen before you buy and (c.) I'm a lazy fucker.
No, I have to give you a steer. It's my public duty. Let's point you towards the opening cut "Amy" as being a taste of what you're going to get after you click on the Buy Now link and a digital download lands on your hard drive. That's while the physical product (CD or LP) starts winging its way to your physical letterbox, over-priced domestic and international mail services willing.
Here's another tip: "Always", "What Are We Gonna Do?" and "Everybody Dance" are pretty spiffing.
Enough of this ranting. You need to know that "The Stanleys" is on every format you can name via Off the Hip Records (Australia), Rock Indiana Records (Spain) and Pop Detective Records (USA).
The rest is up to you.




3/4
Tags: powerpop, pop detective, the stanleys, tomas dahl, mark di renzo, jamie horsburgh, rock indiana records, ken stringfellow, love hz studio