Thinking of Another Place - Lou Reed (Easy Action)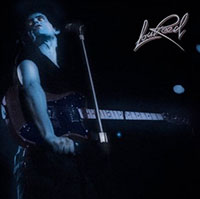 Lou's semi-lost period of the mid-'70s - post-"Coney Island Baby" and before "Street Hassle" - gets a lot of bad wraps. Not without reason. A big part of why is "Rock and Roll Heart", an album in the Reed canon that receives little love.
Why? Maybe it wasn't seamy enough, maybe the production was so-so. The songs seemed weak. Lyrically, it was wishy-washy. The list could go on. Maybe Lou talked everybody out of listening to it when he thoroughly dissed "Coney Island Baby" for being commercially successful. My own take is a little of all of the above. Second-guessing Lou is pointless - and not just because he's dead.
So you might approach this double CD live release from the esteemed UK label Easy Action with a degree of trepidation. Rest easy. It's not the born-in-Detroit, Wagner and Hunter-fuelled thunder-and-lightning of "Rock 'n' Roll Animal", or the boozy, coked diatribe fest of "Take No Prisoners", but it's not without its own considerable merits.
Recorded for radio in Ohio in October '76, the line-up's the one that recorded "Rock and Roll Heart" - which means longtime sideman Michael Fonfara's keys and Marry Fogel's sax are front and centre in the arrangements. The gig's been given a re-master and sounds magnificent.
Just five cuts from "Rock and Roll Heart" figure among the 23 on "Thinking of Another Place" with the balance of the setlist fairly typically drawn from the gamut of Reed's career to date. That means a little "Berlin", a few Velvets tunes. Some He might have hated "Coney Island Baby" but it contributes three songs.
If you didn't know this wasn't the "Rock 'n' Roll Animal" band you will by the time the lengthy instrumental jam that opens the album is over. No searing guitars but a downright funky introduction for The Prince of Darkness. This band could play. True to form, only bassist Bruce Yaw would survive from the line-up by the time Reed made it to Australia the following year.
The rendition of "Sweet Jane" that follows is surprisingly weak, but if the wordy bleakness of "Kicks" doesn't get under your skin, you're not listening.
In these hands, "Waiting for My Man" takes on a vastly different feel to the original, with Fonfara's jazzy keys sparking off Reed's wiry guitar. Michael Suchorsky's syncopation is such a contrast to Mo Tucker's primal thumping that you have to ask if it's even the same song, any more. But so what? Re-invention is usually a by-word for the greats and Reed was no exception. Anyone still angsty about the man re-interepreting his old songs back then needs to pay more attention.
Fogel's persistent sax and Fonfara's cheesy synth dates "Kill Your Sons" and robs it of its menace and "Satellite of Love" plods, coming across as faltering. Conversely, the band pulls off "Berlin" and does funky justice to the closing "Heroin". Reed sounds not only engaged but passionate throughout - which was probably no mean feat given the many and varied substances that he was consuming at the time.
Nina Antonia's top-notch liners make some interesting points - especially about the juxtaposition of "Charley's Girl" and "Kicks" in relation to the Manson Family. It's not too much of a stretch - Reed was the king of lyrics that were "open source"; they laid out the platform and it was up to the individual to add interpretation. The Les Clark packaging is the usual high Easy Action standard, too.
There's been a shortage of new, endorsed Lou Reed releases since the man's passing (box set re-issues of the back catalogue don't count) so there's a gap to be filled. This one might primarily be for Louphiles but there's enough familiar material to catch the ear of the curious dabbler too.




Tags: lou reed, nina antonia, velvet underground, thinking of another place, arista, rock and roll heart