We're living on dog food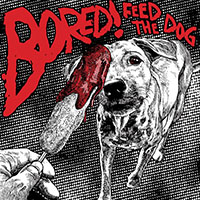 Feed The Dog – Bored! (Fantastic Mess Records)

The original album came out in 1991 and showed off a new, lean and still mean version of Bored!. "Feed The Dog" was an instant classic. Thirty years later, its guitarist, vocalist and driving force Dave Thomas is no longer with us, but be thankful that this fearsome, re-mastered version is.
If you were immersed in the Australian underground scene in 1991, you'll know that the international name on everybody's lips back then was Nirvana. Their debut album "Bleach" was making its mark and the over-ground success of "Nevermind" was just over the horizon. Bored! also could have gone on to huge things.
They didn't sound much like Nirvana, except for a mutual affection for dirty guitar, punk rock and big hard rock riffs, and never played to image or expectations. Bored! never attracted national radio support – Dave Thomas had to manage and then join Magic Dirt to achieved that – but they wiped the floor with most of their competition, thanks to formidable songs, bristling stage presence and a driving intensity.
At the time of "Dog", Bored! was a few years into the game. The original line-up had split after a European tour, with the departees forming the stellar Powder Monkeys. Thomas, drummer Buzz Munday and bassist Russell Baricevic were still gigging a lot nationally. They remained kings of their own hometown, Geelong, and staples in the bigger smoke of nearby Melbourne. "Feed the Dog" was a new start. By the time it appeared, only one song remained in their set from their previous recordings.
The re-issue is on vinyl (multiple colour variants, of course), CD and even cassette. You get the original tracks, re-mastered by Mikey Young, with a bonus Wipers cover ("Over The Edge") that was a seven-inch a B-side, and the Baricevic song "Tricky Babee".
Glenno Smith's new artwork is striking and the vinyl contains the usual inserts and extras. Label chief Scotti is a veteran of Melbourne's once booming record retail scene and had a long association with Dave Thomas, so it's a project rendered with a lot of love.
The title track is as blistering a slice of riffage as you'll hear – right up there in the Bored! pantheon with the monstrous "Conquest" from "Negative Waves". "Motormouth" doesn't put on any airs and graces – it's heavy duty punk-garage with a simple guitar figure at its heart.
"People Say" winds back the tempo but maintains the intensity with generous lashings of guitar held together by Thomas' drawl. His vocal is typically buried in the snarling mix – almost to the point of disappearing on "Friday's Child" – a la "City Slang". Odds are that Thomas would have been embarrassed by any comparison with Sonic's Rendezvous Band but the parallel is there.
He might be down a player but Thomas doesn't abandon the two-guitar approach. In most cases, he overdubs an extra line or some licks. "Diamonds" is a case in point where the song wraps itself around a jagged, repeated guitar phrase.
To the bonus cuts: Buzz Monday's "Tricky Babee" is in the same vein as the rest of the record, if the mix is a touch underdone. The Wipers is true to the original but Thomas adds his own touch to the riffage.

1/2
Tags: geelong, bored!, dave thomas, fantastic mess records