Top Ten for 2022: Our Man In The USA JD Stayfree
JD STAYFREE's 2022 TOP TEN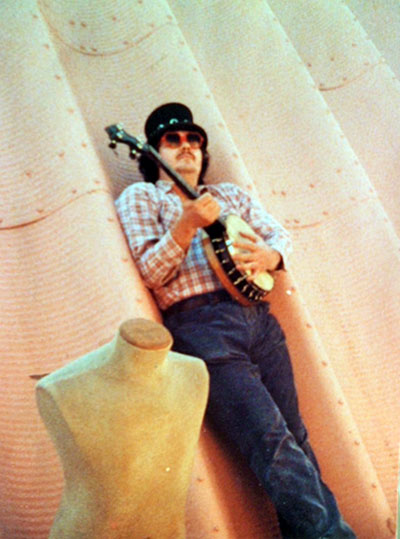 THE GODFATHERS "Alpha Beta Gamma Delta"
One of my favorite '80s kid rebel bands still making top notch punknroll with smart lyrics, Beatles quality melodies, and new wave movie romantic vibes. So great, exactly the kinda music I wanna hear in my elderly Goth years. I totally vibe with every note on this modern day masterpiece. They still speak straight to my heart.
CHRIS ISAAK "CHRISTMAS ON TV"
You know I love Chris Isaak, all his work with James Calvin Wilsey, especially. You know he has that song, "We Let Her Down" that could be about the fallen guitar great and irreplaceable "KING OF SLOW" Jimmy Wilsey. If you have not yet read the Wilsey bio, do yourself a favor and get a copy as soon as you can. It is probably my favorite rock book of all time. Dirty story of a hard livin' tone poet who was betrayed by his friends in the greedhead cut throat capitalist music business. A must for all Avengers fans. I still love Chris, he's an undeniable entertainer and still writes good songs.
GUILTY! MY LIFE IN THE JONESES book by JEFF DRAKE
Joneses frontman and sleaze metal prototype, Jeff Drake, tells his true stories from the early eighties days on the Sunset Strip when he was playing shows with hardcore bands and helping invent what came to be known as cowpunk and helping invent what came to be known as hairbands, the Joneses, Gun Club, Hangmen, and Tex & The Horseheads influenced all my deadend crash and burn garage gangs and all those Izzy Stradlin Jones-clones. I also loved his bands, the Shangrillas meets Blondie Bomp! Records band who should reunite, Amanda Jones, and the explosive Vice Principals. His book is another must have.
Buy "GUILTY! My Life in The Joneses, A Heroin Addict, A Bank Robber, and A Federal Inmate by Jeff Drake – HoZac Records

DAVID J "NOT LONG FOR THIS WORLD"
Bauhaus and Love & Rockets legendary songwriter, David J, pens hypnotic poetry and these collected ruminations on mortality, fragility and the ephemeral nature of all things is one of the most exceptional concept records I've ever heard. I have way more dead friends now than live ones, so I spend a lot of time in a kinda involuntary state of grief and mourning-this album is as great as anything by Rowland S. Howard, Nick Cave, Leonard Cohen or Bowie with Mike Garson. I love most every song and hope to find a way to obtain his Mister Moonlight autobio in the new year. This record has a rock 'n' roll heart but qualifies as actual art at a very high level in my weary and jaded old, aging rock 'n' roller opinion. Gorgeous.
THE GOLDEN RAT "WE GOT A RIGHT"
Japan's best guitar player, the legendary Golden Arm, Hiroshi Nakagome, has frequently been called the Japanese Johnny Thunders, so the idea of him collaborating with the World Famous Mister Ratboy from Motorcycle Boy and Pillbox was always exciting to their planet of cult followers. Those guys dig deep into their eclectic record collections and did a record full of outstanding, exquisite covers of some of our favorite artists like the Only Ones and the Lords Of The New Church. Essential listening and packaged beautifully by those cool cats at Vicious Kitten. I think his tPeter Perret cover is a thing of delicate grace and ethereal majesty.
MICHAEL MONROE "Derelict Palace"
This song is so Lordsy that one of my long-lost old bandmates who I seldom hear from reached out to let me know about it, he knew it'd be right up my alley, that sweet spot between' 70s T. Rex junk shop glam and eighties gothic post-punk. I admitted to him this was the kindof music I expected to be making albums of, full time, by now, but that's not what was in the cards. The old band self-destructed and I became a dishwasher. Best thing Mike's crew has done in awhile, I worry sometimes about his gang getting a little TOO slick and professional but this was a heartfelt throwback to a more beautiful time.
EXECUTION DAYS THE LIFE & TIMES OF SPENCER P. JONES (BOOK)
Here's the thing, I never got a hard copy of that Spencer P. Jones book, but read a cyber copy, it is such a torrid tale, he was one of the best guitarists, songwriters and incorrigible old boozer diehards in the secret history of underground blues punk and torch and twang. I still listen to his solo stuff and the Beasts Of Bourbon remain one of my top five favorite bands. If my broken ghetto blaster with the dual cassette capability had not finally up and died, I'd probably be making a few of you cassette tapes for Christmas like I always used to. This tune might be on the B-side.
FLESHTONES & FLESH FOR LULU ON YOUTUBE
I sure do miss Nick and Rocco's old band, they were one of our main inspirational flashpoints as greasy kids back then. When I get the blooze about the super gouging capitalist inflation and forever wars, billionaire tech censorship and Big 5 media relentless propagandizing, the gentrification brunchers destroying what was left of our old places and underground subculture, my main impulse is always to retreat back to the innocent era when I was forming my first experimental bands with my mohawked old friends and seeing shows and falling in love. The Fleshtones are such stalwart, iron man examples of never giving up and sticking to your guns, they really help me to find faith and trudge forward and cope with all the bullshit and scams and hoaxes and lies that seem to swallow up most everything that used to be cool.
HANGMEN "CACTUSVILLE"
Bryan Small and company are still making the raggedy heart on their sleeve vagabond traveler misfit sleazepunk we loved in our teens and 20s, hardknock stories for the abandoned and broken hearted direct from the bottle sharing bonfire of the wind-blown badlands with Jimmy James (Coma-Tones, Junkyard, Rock City Angels guitar player) adding flash and color. This whole record makes me think of my many beloved, dead too soon lost loves and songwriter friends, former cronies and drifters, and old beat traveler sideman who's heading to the Slabs for the holidays, living in his car.
REV. PAUL S. CUNNINGHAM "DURANGO EP"
Rev. Paul used to front a doomed sleazerock band called Gunhouse Hill with his cigar box Bo Diddley guitar and alleycat yowl one in a million gutterpunk voice, now he writes soulful, sad gunfighter ballads from the heart about lost friends and old times, he is super talented, a helluva guitar player, a vivd lyricist whose on point descriptions always make me see movies in my mind. Remember when you first heard that Buck Cherry single and you hoped they were gonna have something more to offer before they went lowest common denominator formulaic Kid Rock Stupid? Rev. Paul is a cat who had that energetic livewire outlaw defiance in his wild and untamed youth, but has also continued to grow and evolve and survive while keeping true to his own principles and desperado code of honor. I really like that song "Brothers Of The Darkness", it reminds me of vintage Tyla from Dogs D'Amour, circa "Graveyard Of Empty Bottles". He is a lone wolf screamin' in the night.
Rev. Paul S. Cunningham on Facebook

PILLBOX REISSUE
The always charming and personable and ageless Chris Barry from my fave Canadian new wave band, 39 Steps, joined forces with the Lower East Side's favorite red leather clad guitarslinger to make one of the most underrated albums of the '90s. Chris Barry is a really special talent, great sense of humor, I stole everything I used to do onstage from him and Peter Wolf and Peter Zaremba. That "Jumbo's Clown Room" record on vinyl is one of the most precious artifacts I own.
PSYCHEDELIC FURS "MADE OF RAIN"
First thing I ever talked to my first love about was the Psychedelic Furs when both of us were misunderstood new wave weirdos. One of my own originals has a line in it, "before there was Her, there was the Furs.." I have loved them most of my life. Always so happy when one of the great old bands of our shattered youth returns with a meaningful, important record.
GUNFIRE DANCE "WITNESS TO THE CRIMES" reissue
My old friends and lifelong pen pals, Gunfire Dance, used to get down like nobody's business. Four leather wearing wild boys with black haystack hair goin' off like Black Cat firecrackers. God, I miss Ant, he was like a comet blazing by.

Buy Gunfire Dance "Witness to The Crime" Ltd Pressing LP - Easy Action
CAIT JOHNSTONE ROGUE JOURNALIST
First thing I do in the morning after making coffee and feeding cats, is settle down in front of the computer to read Caitlin Johnstone's astute analysis about the state of the world and she is a genius, a wonderful poet, and in my book, like Princess Leia almost, a real courageous, truth telling rebel resisting the dark forces of the evil empire. Free Assange!
Caitlin Johnstone – Daily Writings About The End Of Illusions
JOEY PINTER BAND THUNDERS MEMORIAL
One of rock 'n' roll's greatest firebrands left alive! That tribute to Thunders his band performed in Chicago was one of the highlights of the past few dark years. "RENT PARTY" was one of the best records of it's time. Joey Pinter still has it.
<

ROADSIDE EP
Billy Idol is one of my life's greatest comforts and biggest influences, him and Steve are still making music so full of life and heart and soul. "Bitter Taste" stands alongside all his greatest hits. I was not really that impressed with the latest Duran Duran side, but Billy and Steve still make amazing, exciting, super heroic rocknroll for the ages. I have also signed on for life and laid my head on the rock of youth. Thank you, Billy, for all those songs that still help me fight the good fight everyday in the War Against The Jive. LONG LIVE BILLY IDOL!
<
Tags: godfathers, fleshtones, the godfathers, the joneses, gunfire dance, psychedelic furs, jd stayfree, hangmen, billy idol, jeff drake, bauhaus