Top Tens for 2022: I-94 contributor Edwin Garland of Moonlight 5, Waxworks and Dwarfthrower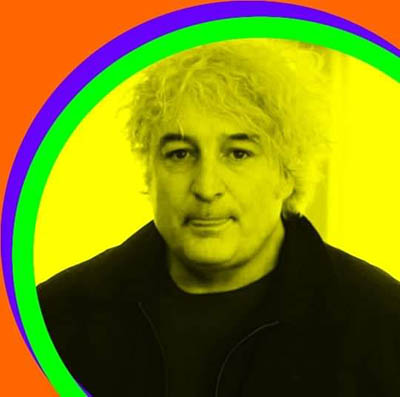 R.I.P. Ed Yonker. At the time of his passing earlier in 2022, I was going to write a few words about this legend of the Australian music Industry.
This quiet achiever in an industry full of sycophants, where inflated egos don't match their mediocrity.
There few gems I have encountered in "the industry" like Ed Yonker. He was one of the good ones. A hip cool cat with his leather jacket who, as a teenager, had seen the Beatles, Rolling Stones and The Animals in Holland in 1963-65. At first, he was not that impressed by what he found in the Australian musical landscape when he migrated here.
Ed was of the one first attendees at Beatle Village on Oxford Street in Sydney. He used to catch the train, avoiding the bogans who wanted to fight a cool kid in what was the early days of the Bohemian inner-city music scene. He was often at the gigs by The Easybeats , The Creatures and The Missing Links.
He tolerated a lot of music in Australia in the '70s as it tended to lack a spark and just followed overseas trends. It was Radio Birdman, the Saints and the rise of independent music that really got him excited again and he became a devotee of the local scene. Sunnyboys, the Stems and Died Pretty were favourites that really motivated him.
Ed had amazing vision, research skills and ability to share a vision. His worked for years at Double Jay as a consultant and wrote on the industry for Rolling Stone. He saw independent labels as the place from where most of the decent music came from in Australia. He helped create Oz music and led overseas showcases for bands in America, pushing for more Aussie independents on overseas radio.
One day in the mid-'90s, Sebastian Chase, myself and Ed were walking down George Street when he had the idea to register the name Australian Independent Record Labels Association, or AIR. it was Ed Yonker's vision, hard work and lobbying in those first two years that laid the groundwork for the important industry body it has become 25 years later.
Ed was a kind bloke and it was an honour to call him a friend. He had a deep love for his spouse Judith and their two children Aubrey and Dirk. He also had a love of Triumph motorbikes, Bob Dylan and The Byrds. My end of year summary is for Ed Yonker.


1. Grace Cummings at the Great Club, Marrickville, NSW.
There are not many solo artist who receive a standing ovation as "support" at the Sydney Recital Hall. Few artists from Australia play an average of five gigs a week, ranging from a residency in NYC, Canada, the European festival circuit and then gigs in Ireland. Then again, there are few artists that have emerged in Australia in recent years like Grace Cummings.

Her Great Club gig was announced only two weeks prior and the Thursday night crowd was full of expectation. They got that stunning voice, intense delivery and her band that nodded to Crazy Horse and the Bad Seeds. She went from full rock queen to a couple of songs on a Baby Grand, evoking Nina Simone. Sadly, I think we will see less of Grace locally with so much acclaim across so many countries that any local gig will be to be treasured.

Special mention to support Lady Lyon, an up and coming band with a wonderful batch of songs, great players and a set again built on strong vocals and harmonies. Playing urban Americana and indie rock, expect great things from these guys in the future.

2. Straight Arrows and Gee Tee at House of Music and Booze in St Peters, NSW.
This gig was out the blue. My best mate called and said I had to be there to check this band Gee Tees at one of the opening nights of a new venue in St Peters. The place rocked and was packed to the brink with 400 people, mostly aged in their 20s. It reminded me of the Hopetoun scene of the 1990s with Amy Taylor lookalikes, Goth-tinged punks and '60s revivalists, as well as music geeks. The venue has a band room that easily fits 200 and it's what Sydney needs.

Gee Tee are a throwback to the US east coast of 1978, a young band that mixes equal parts Pere Ubu, The Ramones and the Dictators. They were exciting to watch and the crowd went off. Quirky, fun, , fresh, rockin, and I bet those kids have great record collections.
The Straight Arrows were on fire; a band that has been around for a number of years they really have ti together. With a nod to the American garage rock classics and 1977 British punk right down to their retro pedals and guitars, they are one of the best bands in Sydney. The crowd went off and turned the venue into an intense sweatbox.

3. The Clouds at the Factory Theatre, Marrickville, NSW
With a huge revival still in full swing, it was not surprising that The Clouds sold out two shows at the Factory Theatre. At the time when they were around, I knew of them but never saw them live as I was always out playing gigs, so this was my first show. They were exceptional - pitch perfect vocals and harmonies on the 30th anniversary of the release of their first album "Penny Century". The band was stunning.

4. Melbourne Songwriters Collective and Maizy Coombes at Katoomba Uniting Church, NSW
The candlelit church was hired for the occasion and the pipe organ added a great stage backdrop. OK, it was a a long way from Marrickville Bowlo and it was a night for families and the local folk, some of them roots musicians. The smell of incense and perfect acoustics made it special.
Local artist and talented violin player Maizy Coombes was first up. Maizy has been a fixture in local folk bands with her violin since a teenager and now has branched out as a solo performer. Let me say that what Maizy achieved on stage was stunning: plucking her violin. Whispers are added; melodies, harmony and backing vocals are on the money and within five minutes this orchestra of melody and countermelody had me. Wonderful songs.and she is incredibly talented.
Melbourne Songwriters Collective is three acclaimed singer- songwriters that have combined forces: all with their own CDs and vibe. They have only been around for less 12 months and word is spreading in folk circles, an un-hyped, overlooked scene that actually has huge numbers of fans across the county. Pia Nesvara, Chev Pearson and Stav are angelic and pitch perfect vocalists and when the three-way harmonies kick in, it is mind-blowing. They have well written and soulful songs with roots in the European and Jewish folk traditions. A breath of fresh air and I reckon these sort of gigs will be more on my radar in 2023.

5. Midnight Oil - Hordern Pavilion, NSW
Not much I can say after my 2000-word essay that appeared on I-94 Bar a couple months ago apparently went viral. It was a mammoth gigs; almost four hours covering material from their set list in 1977 to their exceptional new album. Folk had flown across the world and camped out for days with tickets scalpers out in force.
Midnight Oil has been one of the hardest working and creative bands in the land, and all through those gruelling international tours they never looked backwards or stayed in the one musical place
At the Hordern, the band was on fire and the sound was sensational: It did not matter whether you were a late 1970s fan or more recent follower, the songs delivered. A remarkable career that made amazing albums and no Australian based band compares.

6. Rock n roll Markets (1-94 Bar Stage) Factory Theatre, Marrickville, NSW - The Darrans, Sonic Garage, Jupiter Five and X
I know there were four stages; I really only concentrated on the Factory floor and I have say this was one of the gigs of the year. Kudos to Tiffany Palmer and The Barman for this event.

The Darrans perform In true Northern Beaches spirit with perfect garage surf punk. They were on fire and won a few fans. A great, unpretentious band. Along with Sonic Garage, they are now holding the mantle of Classic Northern beaches rock. Sonic Garage? Tough songs and social commentary. Lyrics about a dark past and real urban characters.

Jupiter 5 are going from strength to strength with their hybrid brand of proto punk and early Black Sabbath. What's not to like about their blistering guitars, quirky songs and the most solid rhythm section this side of Mars. Nodding to classic TV like "The Twilight Zone", this is a band that rocks and is damn entertaining.

X was fantastic as a brutal four piece .Maybe they are not the outlaws of the razor blade underbelly of Sydney of 1979, but those songs of Ian Rilen and Steve Lucas sound as fresh and powerful as they did back in the day. X is a glimpse into Sydney music that has been lost and I am so glad they are still around.

7. Sonic Garage - Manly Boatshed
When the Northern Beaches gigs go off, they go right off. On this particular Sunday, the room was packed. The line-.up included 4 Barrel Hemi and Brown Esky, local pub bands with a mixture of classic punk covers and originals. With the beer flowing, Sonic Garage were in top form and have a new batch of songs that they're recording. This is one garage rock band with a lot going on below the surface on songs "I Can't Breathe", the bluesy and forbidding, "Dark Country", and powerful " Asteroid" .

8. Penny Ikinger- Link and Pin, Woy Woy, NSW
The Link and Pin has such a vibe and is run by music fans. It had been raining for weeks and with a rare day of sunshine, it was off to the Central Coast to see Penny ikinger and band. Penny strums and adds the odd guitar line. Live, she has two great players in Sam Billinghurst Walsh and Julian Held with their P90 squeals and Stratocaster bite. It was short well-crafted set.

9. Mick Medew and The Mesmerisers, The On and Ons and Pocketwatch at Marrickville Bowlo, NSW.
Pocketwatch has been playing out for less than ten months and in that time they have made a mighty impression with their debut EP recorded and awaiting release. They played another great gig tonight.

The On and Ons stripped back amake for a mean three-piece with perfect power-pop. They delivered an awesome set of melodic hooks.

Mick Medew rocked hard and with The Mesmerisers he had 40 years' worth of classic hard rock and indie rock tunes to draw on. We're served up with a blistering version of The Undertones' "Teenage Kicks". "Igloo" is sublime and still holds its own. The set was 80 minutes of melodic and blistering rock and roll.

10. Thursday Evening Gunk-at The MoshPit Bar
I got a phone call from The Barman asking if I can get a Thursday Evening Gunk together next week based on the music of the Northern Beaches. Well, we like a challenge and managed to get it happening. Kudos to Rossy, Craig, Jill, guests Peter Bourke and Big Al Creed and Sonic Garage. It was a lot fun and fingers crossed there will be another season.

Honourable Mentions:
The Sonny Micheals Show for the mammoth task of getting out six shows a year and exposing new music.
Bob Short: For his regular feature on The Sonny Michaels Show and his amazing adult comic that was released this year. Volume Two was released last week and can be procurred here.
Albums:
"We Main Line Dreamers"- Garry Gray and Ed Clayton-Jones
"Storm Queen" - Grace Cummings
"Caveat Emptor "- Slug

I plan to do a deep dive on each of these albums over the next weeks. Sometimes you a need a few months to really chew on a record: especially the depth of Grace Cummings' album.
Tags: mesmerisers, penny ikinger, straight arrows, the on and ons, the clouds, mick medew, midnight oil, jupiter 5, sonic garage, the darrans, grace cummings, ed yonkers, gee tee, sonny michaels