Circumstantial Evidence by Frank Secich (High Voltage Publishing)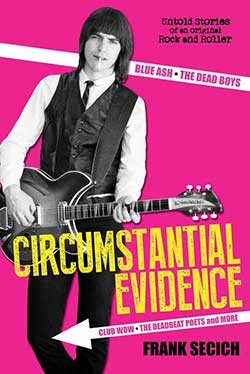 This autobiography by American pop-cum-punk-rock guitarist Frank Secich is a charmer. It's big on warmth and doesn't dish the dirt.
Its vignettes sometimes run to less than two pages apiece and are served canape style rather than in large chunks. Its 200 or so pages won't suck up more than a few days for most people to consume.
Polite charm and gentle humour shine through.
You'd never guess its author spent two years touring with one of America's most notorious punk bands.
Frank Secich cut his musical teeth in a bunch of Mid-western garage and teen hop bands in the '60s, almost cracked the big time with major label signings Blue Ash and was a sideman on bass for the latter-day Dead Boys, with his good mate Stiv Bators.
Secich worked with Stiv in his time as a solo artist for Bomp Records, retired and went on to a second career with Club Wow (with Jimmy Zero) and garage rockers Deadbeat Poets. He's paid his own dues and those of several other people.
You can make the case that Stiv mellowed considerably when the original Dead Boys line-up fell apart in a chaotic blur of booze, pills, a stabbing that robbed them of momentum and left a haze of expired dreams. The fact is that under all the excess, Stiv really was a pop music fan at heart. Partnering with old home town boys like Frank Secich arguably extended his career by taking it in a different direction.
Listen to the Bomp albums, "Disconnected" and "L.A. L.A.", and you'll surely agree. If you don't believe Stiv's cover of The Choir's "Baby It's Cold Outside" isn't a reinvented stone classic, you might not have a pulse.
(Parochial aside: Stiv actually had a single released in Australia by Phantom Records and the music press trumpeted a forthcoming "Dead Boys" tour in 1980, only for it to come to zilch. "Circumstantial Evidence" is published by an off-shoot of Perth's Zero Hour Records who are threatening to release a box set of Blue Ash music.)
A third of the book covers Seciich's early growing up in the MId-West of Ohio. I'm a music bio guy but I usually skim through the Wonder Years and cut straight to the dirt. Sometimes, I perversely go to the band or artist's dying days or second life and work my way back. If you come from the same MId-West as Secich, you may have more to relate to so you might not do the same.
The next third is about Secich's rise to the ranks of the working poor in a touring pop-rock band. I'm not very familiar with the music of Blue Ash but they seem like yet another of those ones that got away. Hopelessly addicted "Ugly Things" readers will know more. Then-Steve Bators briefly flashes through these pages but doesn't become a main player until the book's last third. And that's when it gets the most interesting.
A few of the very funny Dead Boys stories popped up in Cheetah Chrome's revelatory autobiography. Frank never plumbed the depths that his sometime bandmate did so don't expect a grimly debauched tell-all. Hell, Frank's been married to the same girl for 40 years. If he's prone to saying a bad word about anyone it must have been struck out by the editor's thick blue pencil.
Look, Frank was probably no angel. He's spent decades on the road. What goes on the road, stays on the road. But I can't help reckoning that his post-Dead Boys yarn about getting fuller than a fat lady's boot in an Irish pub while on tour with his post-Dead Boys band The Deadbeat Poets might be as TV-out-the-window as Frank gets. I have it on good authority that no hamsters were harmed in the writing of this book.
When a story's been written by someone you might want to have a beer with at your local, we generally want there to be a happy ending. That's what you get. Frank might be approaching his dotage but he did have the satisfaction of getting Blue Ash back together before too many of them passed on.He still plays and hears his current band's music played on Little Steven's digital radio show that's syndicated to millions of listeners. And unlike a heap of musicians whose careers didn't hit the stellar heights, he's reconciled that with a happy home and family life.
All the Circumstantial Evidence points to this being a rewarding read. And for a ridiculously low price ($A15) if you buy direct from the publsher, whose website you'll find here.


Tags: dead boys, stiv bators, cheetah chrome, frank , secich