Fascinating dive into Oz music's hit factories and backyards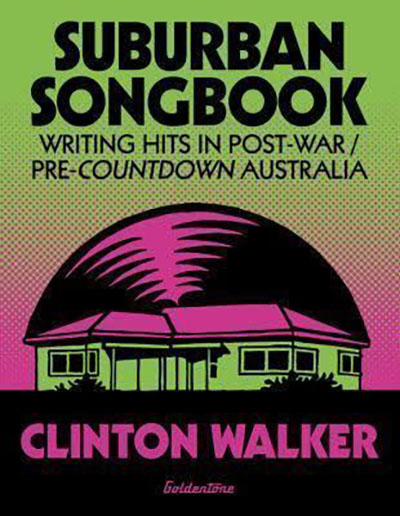 Suburban Songbook. Writing Hits in Post-War Pre-Countdown Australia
By Clinton Walker
(Goldentone)
Only got this one recently, but I'm damned glad I did.
Once upon a Big Day Out, an event I only occasionally attended, I was mildly shocked by the text messages winding their way across a big screen (people paid a small fee to have their inane twatter up in on a big screen - you know, 'Best summer evah!' and 'Totally awesome!') which dissed 'old people' in favour of 'us hip cool young folk'...
Now, I won't say I wasn't like that to some degree when I was a teenager (and even in my twenties). But I don't recall being quite that dismissive of music simply because it was 'old'. I was brought up on my dad's music, as so many of us are: big band stuff, Benny Goodman and Artie Shaw, as well as Louis Armstrong, Nat King Cole ... you get the idea. Proto-rock'n'roll, you could say.
So when I got interested in modern music at the age of 12 (courtesy my chum Paul's record collection) we both knew that it didn't matter how old something was ... as long as it wasn't boring. We investigated everything we could lay our hands on ... dismissed so much, revelled in long-lost jewels. It was our secret joy - no other bastard seemed interested.
Fast forward a few years and Clinton Walker's first book, "Inner City Sound' came out. (A revised edition has recently been published - get it here. Mick Middles wrote in "Record Collector'": "A shockingly vast document ... the most striking aspect is the prevailing musical sophistication". Well, yeah.
Fast forward 40 or so years and Walker's still writing books.
Principally about Australian underground culture. You know, the stuff that's right in our face but that no-one puts into book format ("Highway to Hell" about Bon Scott - the first biography of the legendary Australian icon; "Stranded: The Secret History of Australian Independent Music, 1977-199"; the self-explanatory "Football Life"; "Buried Country" - Aboriginal Country Music; "Golden Miles" - the Australian muscle car...).
Now, to this book. First, most of us old punker types only know a bit about the pre-Birdman/Saints days. Young 'uns under 55 only know the mythology, that it was a damn dreadful wasteland, a cultural desert.
Walker's website says;
"Australian pop's most elusive leap, from the cover-version cargo cult of the 1950s to a true coming of age in the early 1970s. Drawing on deep research and personal experience and knowledge, the book plots a course through this crucial epoch that will please trainspotters, scholars and casual readers alike. Knitted into a background of tumultuous social change, Suburban Songbook gets inside the compositions that helped shape the sound, paying long overdue credit to the often-obscure pioneers who toiled to set the stage for the full maturation of Australian music that followed 'Countdown' into the 1980s."
"Suburban Songbook" is two things - a solid cultural history of popular music in Australia, and an extraordinary collection of illustrative images which highlight both the enormous struggle to get into the pop mainstream, and the way that, in the 20th century at least, the underground has always been with us to some degree or other. Which makes for fascinating reading.
Now alright, there are a few encyclopaedic tomes out there (Barnes & Scanes' "The Book. Top 40 Research", Noel McGrath's "Australian Encyclopedia of Rock", and Ian MacFarlane's "Encyclopedia of Rock and Pop") but they're reference works, built to look stuff up. Walker's is more user-friendly, you can dip in and out before bed, on the job, or leave it on the coffee table to disgust the neighbours or impress your ignorant bogan mates. "Suburban Songbook" is so readable it's like a few old mates sharing a beer or four at the local, and the wraparound context is what really makes it tick.
The chapters run roughly chronologically according to several major aspects; "the radio ban", for example, I'd only heard of in passing. This was the equivalent (for our younger readers here) of Dolores Umbridge banning the issue of "The Quibbler" containing Harry's interview. In truth, one generation's suppression and inspiration is the next generation's "ho-hum, I hate strawberry jam, Mum, you know I do".
I really do not want to give too much away here. Some of you I'm sure will be able to find fault. But there won't be too much to whinge about. There's quite a bit of humour here, as well as some striking assertions (a favourite is "[music] publishers ... probably don't mind remaining shadowy in the background, because from this vantage point the can all the more stealthily acquire, develop, protect, promote and exploit their composer-client's copyrights").
Apart from being a cracking eye-opening read, "The Suburban Songbook" puts the warring threads of Australian culture and eras into perspective, for example showing (rather brilliantly, I think) that the explosion from 1976 was to some degree inevitable.
Sources? Walker's citations are built-in to the text rather than in a block at the end; the book is a crafted amalgam of over 200 personal interviews and numerous articles and research undertaken or encountered over the years. I-94 Barflies will recognise familiar names in the Acknowledgements pages.
If Walker had only ever written "Inner City Sound'" or only "Highway to Hell", or only "Stranded", his reputation as the grand old historian of Australian music would have been assured. "The Suburban Songbook" bookends the lot, and it is, in my opinion, at least as essential.

Tags: inner city sound, clinton walker, suburban songbook, goldentone, highway to hell, buried country