"Red White and Blue" is the roadmap for a stunning trip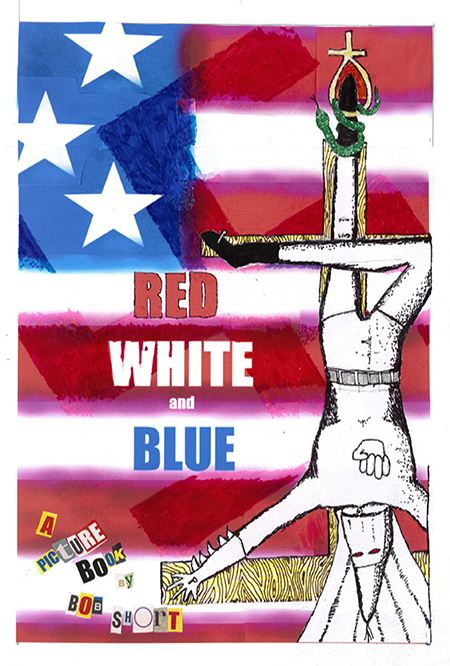 Red White and Blue
By Bob Short
Sydney's Bob Short walks his own path: from the character of as teenage blue-collar Wollongong punk to near starvation living in London's squats and his goth punk band Blood and Roses.
Bob is a singer-guitarist who was a member of Sydney's first punk band, Filth. He was an Oxford Funhouse regular who has toured as a member of Chris Masuak's band.
Bob still produces an electic mix of self-styled low-fi albums that avoid the mainstream. One is a soundtrack to a 1930s German expressionist movie. He also has a regular segment on the cult Sonny Michael's streamed Internet show out of Brisbane
Bob Short is just simply creative and way too cynical to even think about commercialism
I have to say one thing - expect the unexpected from Bob. I knew about his autobiography and now there's another string to Bob's bow in what would you can call his "adult comic". It has taken me by surprise; it's puzzling and challenging, intellectual and full of iconic images.
You can wonder what Bob's nightmares are about and, well, maybe now we have a glimpse.
How do you review Bob's comic book? Well, it isn't actually a comic book but more of a deep dive into images and fragments of dialogue and it is defintely a page turner.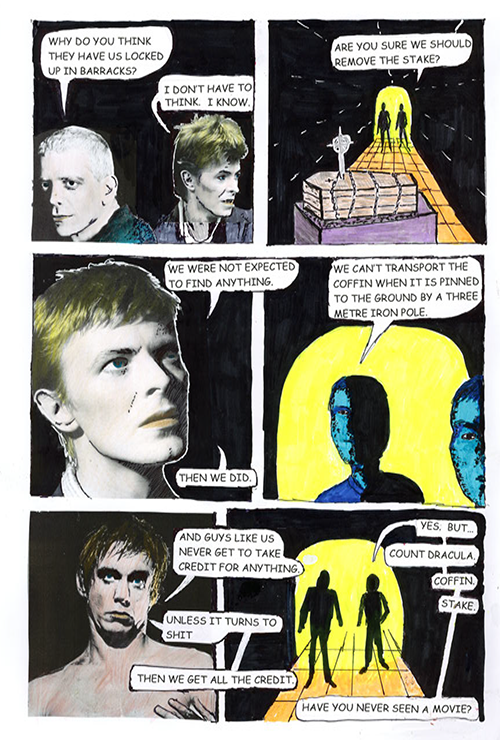 The reader is taken on a trip, page by page, as you are visually hit between the eyes. You almost need to stare for hours to work the threads out. Bob even interjects a voice to the reader that explains this to us.
If I there was a historic context to Bob's book, I reckon it is a nod to the Dadaist movement: rejecting logic, anti- bourgeois, anti-capitalist and rooted in left wing intellectualism. The extreme mixture of images - from Boris Johnston and cartoons of rabbits - can really take you on a trip, with obscure historical facts about the Nazis mixing with iconic beauty and New York hipness of Blondie. It creates something new in its entirety
Yes, we read conversations with Bowie, Iggy and Lou Reed with the narration by a rabbit. The artwork ranges from quickly textured images to detailed historical imaginings. Some are mixed with occult images This is an interesting technique. There's even cameo by Mary Whitehouse, a long forgotten British moral crusader. This is a commentary on the British class system, a ghost that Bob has not shaken from his time living in London 40 years ago.
It is brilliant, high quality, challenging and original: this edition is one of a series. "Red White and Blue" is limited run of 100 and volume 2 is imminent. Copies are $A25 each and available on his Facebook page.
Tags: bob short, dead rabids, filth, comic, red white and blue