The Professor bids farewell to a friend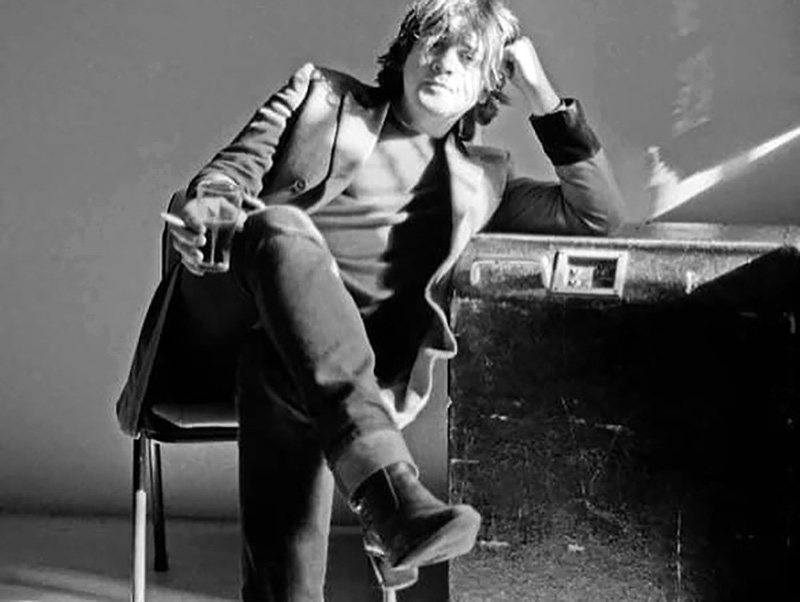 Chris Bailey by Bruce Tindale.
I first met Chris Bailey in early 1977 when I was given the assignment of interviewing The Saints, who had recently arrived from Brisbane, and were staying in a semi-derelict block of flats on Berry Street, North Sydney. The last time I saw Chris was a few years ago when he was playing an acoustic set in a small venue in Draguinan, in the south of France. In between there were hundreds of shows, thousands of drinks and millions of memories.
Others will write about his legacy as a pioneering musician and the lasting influence on subsequent generations. However, today I just wanted to remember two of the times spent together.
In 1977, The Saints had arrived in Sydney after EMI Australia had been instructed by Head Office in London to sign and record them on the strength of their self-released single, "I'm Stranded". Next door to flats was the office of their recently acquired managers, Together Management, who had been brought in as part of the upsurge in interest from EMI.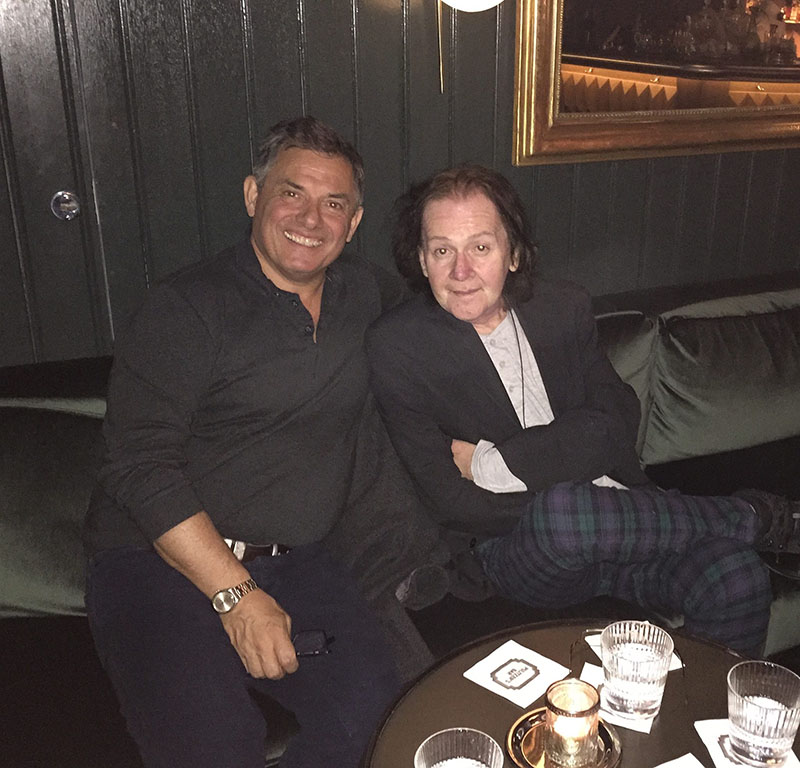 Stephen Vineberg with Chris Bailey. Amsterdam 2016.
I went to interview The Saints having acquired at that stage what might be called a "Glebe" sensibility, and regarded The Saints as a pale Antipodean response to the emerging news of "punk rock" from London. Anyway, on the train across the Bridge, I read through the press pack and was intrigued to read the famous Sounds assessment of "(I'm) Stranded" as the single of the week, and every other week. How could this be?
Anyway, I arrived at Berry St to meet Chris Bailey, a dishevelled version of Brendan Behan crossed with Oscar Wilde ( if Wilde had smoked Winfield Reds), an obviously highly intelligent, if somewhat remote Ed Kuepper, a very likeable and down to earth Ivor Hay, and Kim Bradshaw, who was perhaps finding the adjustment from Brisbane to Sydney the most difficult. Jeffrey Wegener and Bob Farrell, later to feature in the Laughing Clowns and other influential groups were also living there
I opened the interview in a somewhat combative tone; weren't they just cashing in one the latest trend? This provocative line of questioning was met with indifference from Ed Kuepper, no doubt borne out of a fatigue of dealing with ignorant, know-alls. Chris Bailey, however was a real verbal puglist, and there was a heavy tussle about originality, the state of the music industry and The Saints' reason for being.
None of this, I thought, however was going to contribute to a useful press interview. With the benefit of hindsight, in fact it would have made a very interesting interview. It is often hard to jump out of the confidence of your pre-conceptions.
Having reached a stalemate, I suggested we adjourn to the pub, just up on the corner of Walker St. The disorderly and dishevelled nature of our table sitting slightly at odds with the ranks of North Sydney advertising types.
One thing led to another, or more correctly one beer led to another. As the afternoon wore on, we uncovered common ground. Suddenly, the press article seems much less important than me joining the ranks of those who were committed to taking on the status quo and being literally outside the realm of normal society. A long friendship was formed.
The last time I saw Chris was in a small jazz-type venue in a small town in the mountains outside San Tropez. He had been invited because the couple who ran the venue were serious fans and felt blessed to have him perform there. Chris in some ways came into his own in those sorts of intimate settings, like his longstanding residency (in both senses of the word!) at the Leichhardt Hotel. The small crowd was largely indifferent as he began his set. They had mainly been there for a poppy electronic duo which had been on before Chris. Otherwise, they were there for end of weeks drinks and Chris was struggling to be heard over them.
Gradually, however his voice became stronger and his performance more intense. People stopped talking and the background noise dropped as everyone in the room was drawn to stories and the music of the man sitting in a chair playing guitar. Typical Chris to rise to a challenging crowd and win them over.
When the show was over an amazing assortment of 'uber' fans came forward to tell Chris in broken English how much his music had meant to them. They were also surprising examples of Saints memorabilia to Chris to sign, including a mint copy of "Eternally Yours". It was incredible to see the high regard with which he was held in that small pocket of France.
I'm not sure if Chris made many more public performances after that show. If so, I feel very privileged to have seen my friend do what he did best. Tell a story in a way that communicated with everyone in an audience.
Stephen Vineberg (aka "The Professor" in the lyrics of "No, Your Product") fronted Sydney band The Professors.
Tags: saints, ed kuepper, chris bailey, stephen vineberg, kym bradshaw, ivor hay