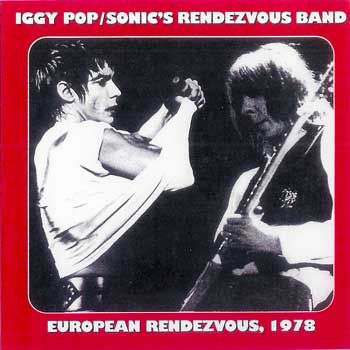 It was 35 years ago - May/June 1978 - when the two greats of high energy Detroit rock 'n roll, Fred Smith and Iggy Pop, got together to bring a roadshow to Europe.
First published September 6, 2008
Iggy had just emerged from exile and LA's institutional hell with a triumphal two-album hit comeback marshalled by a Thin White Duke. Sonic was at his height with the rock 'n roll onslaught that was known as Sonic's Rendezvous Band, a brutal take-no-prisoners Detroit sound that was so total the band couldn't even be bothered to sell it.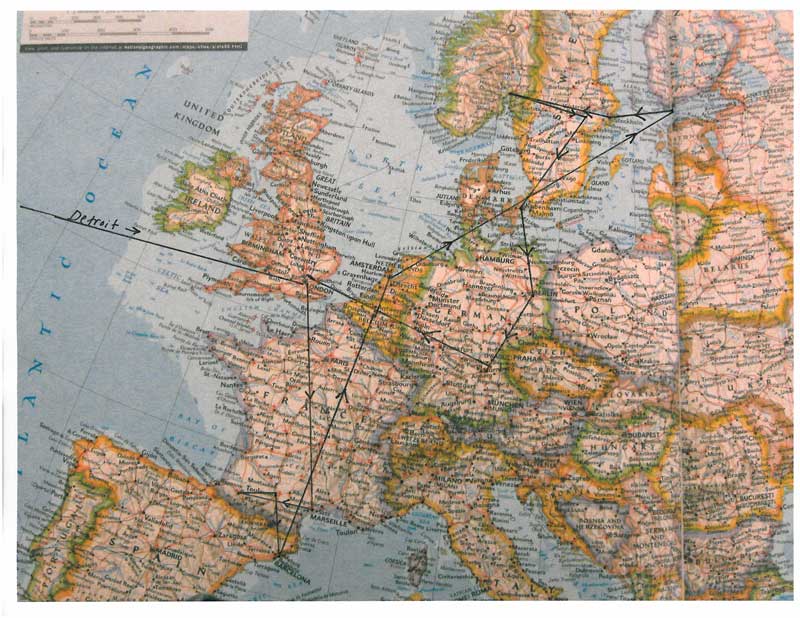 Iggy and Sonic hit Europe, 1978. Even for virgins to high energy style rock 'n roll, this is an intriguing combination. Both of them had already survived one career, and both firmly entrenching for more. Iggy's Bowie-engineered comeback was a brilliant & critical success, but RCA had muffed distribution of the (now huge, thanks to junkie toilets and TV ads) "Lust for Life" album, choosing to opt for The King's (Elvis) posthumous sales.
Sonic, on the other hand, unsigned and barely recording, content to lead one of the fiercest rock and roll ensembles ever, Sonic's Rendezvous Band. Playing at least one or two local gigs every month, this was a band at the height of their powers, as amply demonstrated on "Sweet Nothing", that fabulous first 1998 digital release that finally brought the world up-to-date on what we'd all missed with Sonic's, albeit 20 years later.
Bowie apparently back to his own tours, Iggy needed a band. Shit, wouldn't you want to hire Sonic's Rendezvous Band as back-up? Clearly an idea made in rock 'n roll heaven.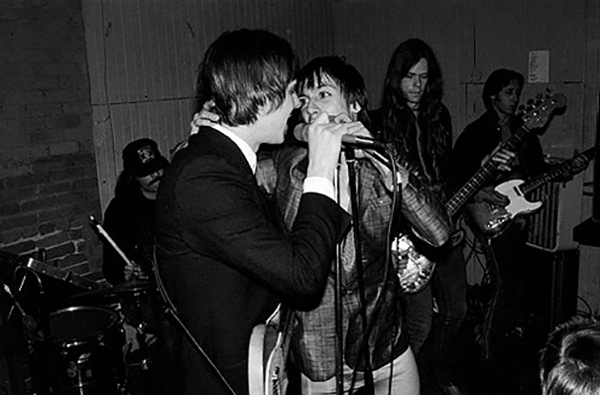 Ig joins Sonic's Rendezvous Band onstage at the New Miami in Detroit, 1979, post their European tour of the year before.
Photo by Robert Matheu at www.robertmatheu.com
A '77 local encounter between singer and band went well, the Detroiters were inked for eight weeks overseas. It must have beat a few Mondays at Second Chance hands-down. But in perhaps a fatal move, the brilliant rhythm guitar and vocal talent of SRB, Scott Morgan, was left behind, Iggy opting instead to tote along professionally skilled accompanist Scott Thurston to tickle the ivories and make fill-in noises. He was hiring a back-up band, whereas apparently Fred had an idea that the tour would be half his. No doubt this set the stage for a difficult head-butt session.
After one last scorching performance in Ann Arbor (the "Sweet Nothin" CD), Fred, Rock & Gary flew off to England for rehearsals in South London. Here, according to Paul Trynka's excellent Iggy bio, "Open Up and Bleed", Thurston was to lead rehearsals. But Sonic, of course, had his own ideas, and recast Iggy's songs his own way, which of course is what you'd expect now, wouldn't you?
So there a bare-bones background of this historic one-off meeting. But what about the evidence? I'm glad to tell the cognoscenti of the I-94 Bar that their correspondent can finally say he's heard the tapes, six shows, and can give up a good report. (And if anybody has more information on this slice of rock 'n roll history – stories, rumors, accounts, articles in Danish, photos? - please let it flow. And for some compiled trax, if you'd like to make contact let's talk.)
1978
May 10 Vitrolles (France)
May 12 Pau (France)
May 13 Toulouse (France)
May 16 Badalona (Spain)
May 17 Brussels
May 19 Amsterdam
May 22 Helsinki
May 24 Stockholm
May 25 Oslo
May 27 Orebro (Sweden)
May 29 Copenhagen
May 30, 31 Berlin
June 7 Nuremberg, Germany
June 13-15 London
First off, this is some great shit. What do you expect? It's the stuff of legends, worth 10 years – hell, 20, of searching. Sonic brings a whole new thrust to Iggy's sound, changing up the movement of the older stuff, and taking to some new material with fervor. A lot of the European sets were taken from songs that would appear on "New Values", much of which was recycled older tunes dating from the "Kill City" era anyway. In fact, it could have been Sonic who tweaked some of those riffs before James Williamson got down to it again in LA later in the year. Curiosity, The Endless Sea, Girls, Five Foot One all appear. There's good versions of the Bowie tunes, including "Lust for Life", "The Passenger" and "Funtime". But most vividly, it's the Stooges material that really kills, especially since every show led off with an absolutely wicked version of "Penetration", followed by a scorching "TV Eye", and then (except inexplicably NOT in London, the last show) the sublimely devastating "Kill City", as you'd always hoped to hear it.
Certainly an interesting aspect of this is how removed the Bowie material is from the Iggy Stooge continuum. As soon as Iggy gets a Michigan band (featuring his old drummer) back, he's forgotten the largely keyboard-based turning blue and headed right back into guitar raw power. And that's Sonic's raw power to boot.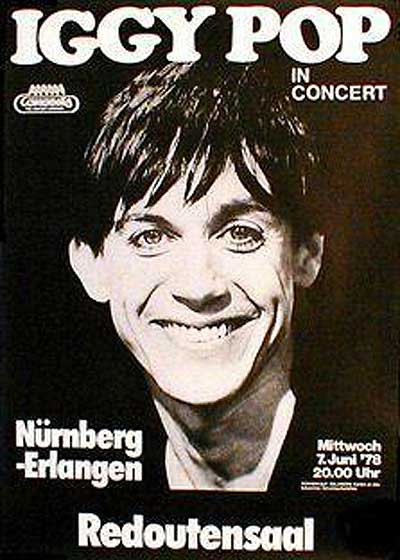 Quality-wise, these ARE bootlegs (my dub from Spain, I'm convinced was recorded on weak batteries and thus unfortunately sped-up) so it's hard to really soak up all of what genius (again) Sonic was playing. And hell, what kind of halls and P.A.'s circa the cave age of Scando live electric music were there? The rhythm section is certainly the best Iggy's ever had, Rock is always there and Gary Rasmussen, provided the night's PA system does him justice, playing the most brilliant bass Iggy's ever had the luck to do his Fred Astaire act to. And then Thurston's dropped his contribution on top. Just not quite gelled but valiant enough. "Dirt" comes up, "Little Doll", and of course "I Wanna Be Your Dog". A few other choice selections like "Gimme Danger" stands out with Sonic cutting loose on top of what sounds like a rare Thurston guitar effort.
There's one little intriguing fragment played for a minute on the Sweden dub, a song called "A Place Called Detroit" which could have been Fred Smith-penned, who knows? And some bizarre John Lee Hooker tunes, even the soggy Iggy croon of "Quarter to 3" debuts, which at least gives up some Sonic-ally jazzy stylings.
It's great to hear Scott Asheton playing "Raw Power"-era tunes live, and Sonic has arrived at a new place on these songs, not anywhere even near between Ron Asheton and James Williamson.
As for Pop himself, fired up by what he later described as a "really tough" band, he gives as good as he gets. At times seeming overwhelmed by the driving Detroit tempos - so unlike the Euro-style he'd honed with David's heroic treatments on The Idiot and Lust for Life - he struggles to gain purchase without Bowie's keyboard wash.
Scott Thurston plays with it, cranks out a few primitive siren-like synth sounds, but Sonic is here to push the tunes forward, not lay them back as a bed for Iggy's newly cultured baritone. Instead the singer has to push to the top of his range, which fucks with his pitch and sometimes leaves him yelping. It gives the Sonic's Rendezvous Band fan just another chance to truly appreciate Scott Morgan's skillful vocal soul, so fitting to that band's sound.
The Euro band is much more effective when Thurston (apparently) picks up the guitar, sounding particularly good on "Gimme Danger". It's true a lot of the tunes need the keyboard, especially the ones later recorded for New Values, but going back to listen to that April 1979 LP release only convinces one how much better it would have been if only Sonic had been willing to keep working with Iggy after the Euro tour collapsed. Instead Iggy relied on the production skills of White Collar Williamson and his new-found fussy sparseness.
This is definitely a weird tour but youngsters would do well to remember that this was before the days of DIY. In 2008 there's a well-established network of smaller clubs to play all over The Olde World, so that bands such as the Dirtbombs can trod a well-worn path and expect (and deliver) no surprises. Just as these SE Michigan acts busted open rock music in the late 60's, so too they are laying the groundwork for 25 years of touring by bands that were not bound by any conventions, including geography. (And I have to mention - not content to rest on their laurels, The Stooges continue to break new markets, Brazil, Moscow, Turkey, Israel - the only continent not exposed to Stoogification is the one music came from: Africa. What are they waiting for?)
The tour seems to have kicked off in Southern France, not far from Marseilles, made its way through some nowhere places in the French Pyrenees, then another southern show near Barcelona, and then headed north through the Low Countries to Scandanavia. Berlin got two shows (at the famous Kino club), and things were nailed shut with three gigs at the punk rock palace Music Machine in Camdentown north of London. The only "commercially available" dub is on the Easy Action box set, "Where the Faces Shine", which presents a nice clean version of the Stockholm show, fairly typical in its set list. There's precious little in the way of comments, reviews, etc. of these shows, so if anybody has some real info/clippings, please let me know!
By mid-tour, Iggy, confident with his Detroit back-up, has taken to baiting the white Northerners. In Helsinki he really lays out the invective, calling the (probably) non-comprehending crowd "swine" and "pussies" and delivering a hilarious mini-tirade:
"Thank you so much ... you fucking assholes are so terribly kind ... fuck you"
"I hate playing for you, you're the shittiest audience I ever played for in my life. Song called 'Lust for Life'".
He's clearly feeling the language gap, and later challenges some hapless Finn to a fight:
"C'mon up here you fat piece of Finnish shit. Here's a song called 'Dirt'".
And so the tour marches on across the north. There's some attempts at changing things around, some jams on John Lee Hooker riffs, Sweden seems to bring out the creativity in the band. Orebro, a convenient stop in the middle of nowhere between Stockholm and Oslo, gets a mixed-up set. The Norwegian crowd in Oslo is everything that the Finns were not and seem to get Iggy's respect, at least. "Ya think we owe you something for the money?"
Copenhagen even has Fred chipping in back-up vocals on "Funtime" and the Sonic addition to "Girls" begins with his stinging funky intro and ends with a typically concise solo that almost liberates the tune from its plodding late-70's mechanical riff. This goes into a 2 minute version of Kill City's "Beyond the Law" which Gary and Rock pummel with abandon, leaving Iggy behind and shouting to catch up.
Finally the tour washes up to the final stops at the Music Machine in London, apparently playing three gigs (June 12, 13 and 15, 1978.) The band is clearly up for this, maybe just because it's the swansong. Fred gets a wicked sonic-style intro to "Penetration" and at the end of that number you can hear a punter going "finally, a real band!" As if all the fireworks and publicity of the two year revolution called Punk Rock were anything but. One can picture a crowd full of the London musical revolutionaries who rightfully worshipped at the altar of the MC5 and the Stooges – Detroit High Energy Music.
But who were we to know? Crushed by years of laid-back crap, cuntry-rock, prog-rock, noodle-rock, folk-rock, jazz-rock, pop-rock - we were so far from the real thing we needed speed and volume to bring us up to date. We got plenty of it - and still do.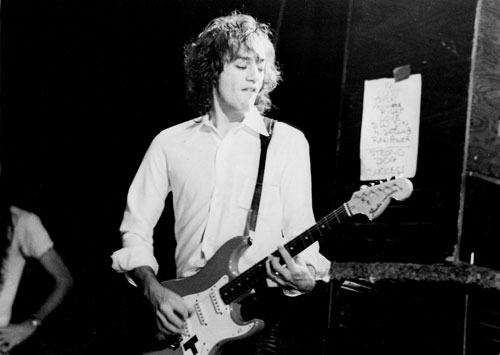 Scott Thurston on guitar for Iggy in Detroit on his 1977 US tour. Photo by Robert Matheu at www.robertmatheu.com
In London, transformation is complete. With a hi NRG coda to "TV Eye", the band trounces it out as Iggy does his "you got a TV, I got a pussy" thing until the final hook sails in, Rasmussen grounding like never before or even again, Sonic doing his best to set and strike, Rock playing his song's coda like a bed of spikes made up with silk sheets. But that was it – the set quickly dwindles with "Endless Sea" drowned by Thurston washes and by the 45th minute Iggy has buzz-killed with his croon of the barfly's standard "Quarter to 3", although Sonic takes the opportunity to briefly cut loose.
Then the band went back to Michigan, and Iggy presumably back to his Berlin digs. We can't say what might have happened, and we can't say why it never came to real fruition. So many great American artists have been torn down when faced with the Old Old World of Europe. But just as many have rode the slim pure-bred Euro thighs of the bitch-goddess success and appreciation, taking themselves far far away from that great chunk of middle-class mediocre mass production USA wash.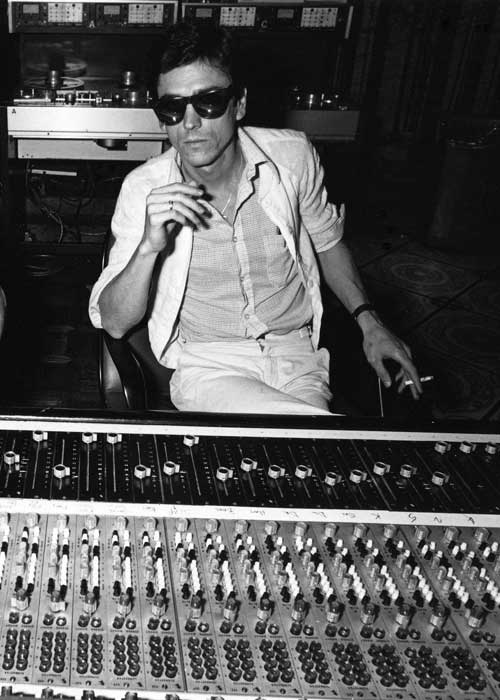 James Williamson in the producer's chair. Phillipe Morgane photo
This one-time collision of Sonic and Iggy places both their sounds into the fecund context of the 1976-1978 punk rock revolution. Sure, we can lament the fact that apparently neither felt compelled to keep working together, or they found bigger, better, different fish to fry. But the temporary mutual marshalling adds to the luster and drive of both men's sound, and builds more on the legend of the one and only, Detroit high energy rock 'n roll.
When I started looking for dubs of this historic meet I was barely computer literate, and the WWW was a bunch of BBS. Nowadays we can thank the Internet and digital media for spreading the word and appreciation of Sonic's Rendezvous Band, among so many others. The niches we carved through the years are exploited like 10 lane freeways, but still carry meaning and mean caring (even if some of you are just damn mean).
Thanks to everybody who traded this stuff with me through 15 years. The Internet made it possible to gather these precious dubs, literally from different corners of the globe. Keep in mind that what keeps real music alive is not paid downloads, or precious criticism, or hoarding lords, but the enjoyment and spirit of sharing music, which after all comes to our ears, hearts and minds FREE through the air. Sonic Lives!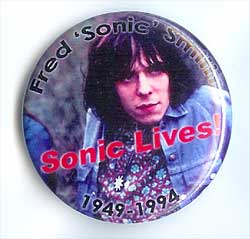 Buy one of the shows in an official box set release at Easy Action
Sonic's Rendezvous Band on the Web