An intoxicating evening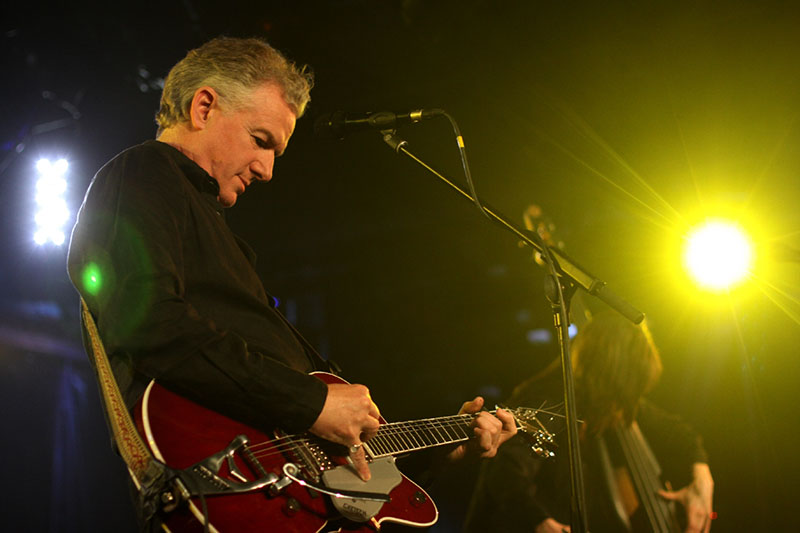 Gergely Csatari photo.
"Nocturnal X"
Mick Harvey and the Intoxicated Men
Gemini 4
Harry Howard and the NDE
Tiamo 3
Primo!
Melbourne Museum, Friday, April 5 2019
Upstairs at the Melbourne Museum hosts a local exhibit, a collage of images, dioramas, reportage and oral testimonies from the city's post-invasion history. In a corner of the exhibit can be found a movie telling the evolution of post-war Melbourne, from the faceless images of businessmen in John Bracks' Collins St, 5pm painting, to the vibrant, cosmopolitan metropolis of the present day.
A black and white photo from 1979 shows five youths staring at the camera, sullen, callow, defiant and charmingly obnoxious. The adult voice of one of those rebellious kids talks of the change in Melbourne's character: Mick Harvey, Boy Next Door, Birthday Partier, Bad Seed. Back in the day, Harvey intones matter-of-factly, the inner-city was a cultural backwater.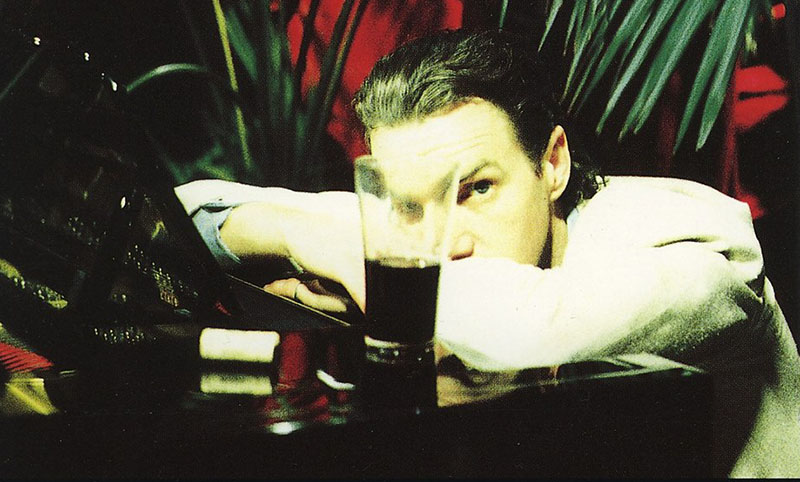 Nick Cave's global success has a tendency to infect historical accounts of contemporary Melbourne music history, his appearance a talismanic moment in Melbourne's transformation from cultural wasteland to fertile music plantation. But without Mick Harvey – not to mention let alone Rowland S Howard (whose presence and influence would require an entire essay of its own) – Nick Cave may have been merely a protagonist in a story searching for a plot.
Harvey's departure from the Bad Seeds almost 10 years ago has allowed him to assume a more avuncular presence in the Melbourne music scene. Harvey's a regular presence around town, but a rare sighting on stage. He knows what's going on, and he keeps his hand in, but he'll never out stay his welcome.
Tonight, Melbourne Museum on Melbourne's inner-northern fringe is hosting a Mick Harvey-curated event, the 10th instalment in the museum's successful Nocturnal live music series. "It's Mick's ATP," a friend quips, a mixture of the old and new, the young and the old, the reassuring and the unfamiliar. The crowd ranges from crusty old St Kilda punks, to middle-class service industry types with a distant rock'n'roll past, to a younger generation born free of the cultural strictures of yore, and into a world of complex identity politics.
We're too late to see the first band on the bill, Primo! – whose membership apparently includes Hugh Race's daughter – but reports are good, very positive in fact. Tiamo 3, the first band playing on the upstairs stage, takes its titular inspiration from another Melbourne institution, the Tiamo and Tiamo 2 Italian restaurants on Lygon Street.
Dan Kelly and Dan Luscombe first hooked up together back in the days of Spencer P Jones and the Last Gasp, and they've been sometime musical collaborators ever since. It's a bit Latin Playboy, a bit Eurotrash, slightly tongue in cheek but as invigorating as a double-shot of Brazilian firewater in a dodgy Rio de Janeiro bar. The musicality counter-balances the latent comic shtick and the crowd loves it. You get the sense the band loved it as much as we did, and they'll be back again, still smiling.
Back downstairs Harry Howard and the NDE offers a link to Harvey's past: Harry Howard is the brother of Rowland Howard, whose importation into The Boys Next Door was the catalyst for that groups's transformation into The Birthday Party and, perhaps inadvertently, Nick Cave's global ascendancy.
Dave Graney sits on a stool, enigmatic as ever, just being Dave. Clare Moore isn't around, and the drummer is unfamiliar. Howard's partner Edwina is on keyboards, chic and stylish as always, cutting Howard the occasional dangerous glance in response to his attempts at dry humour. The songs are punchy, early Television meets The Fall, and Howard's lyrics are fantastically droll.
We troupe back upstairs for the next act, Hugo Race, Michelangelo Russo and Julitha Ryan's instrumental outfit Gemini 4. It's the sort of atmospheric, effect-laden synthesiser-heavy act you'd expect to encounter in the basement of a concrete bunker in downtown Berlin, playing in front of a crowd of speed-addled avant-garde musicians mid-way through a 3-week bender of industrial-spiritual emancipation.
Tonight, there's a few punters getting swept away in the moment, swaying with the rhythm, wandering into the proverbial night time of cerebral contemplation. If you were on the right drugs tonight surely the dinosaur skeletons in the next room would start dancing, and the bugs chirping in rhythmic unison.
And then it was back downstairs for the main act, Mick Harvey and his Intoxicated Men. Having resuscitated Serge Gainsbourg's reputation back in the 1990s, Harvey took a break from playing the French cultural icon's music for over a decade before coming back to it in 2015.
Paradoxically, there's probably no-one better than a private school educated, son of a priest from middle-class Melbourne to bring life to the music of the chain-smoking, heavy drinking, leering, iconoclastic, redoubtably French Gainsbourg. Harvey follows Gainsbourg through his journey from cordial pop sensibility to Latin rumba, from charismatic elegance to comic farce, from sassy eroticism to alcoholic melancholia. Bouncing, slumbering, gazing to the sky, falling over drunk (figuratively, not literally), provoking, seeking redemption.
Xanthe Waite from Melbourne band Terry is on guitar and vocals, and is utterly enthralling, "an absolute star," someone in the audience remarks. The ever-impessive JP Shilo is on guitar, all scraggy hair and porno star moustache and just-add-water musical brilliance. Hugo Cran, once of The Devastations, is on guitar, joined soon by Dan Luscombe. There's a string section to boot, all young musicians hand-picked by Harvey.
Harvey's arrangements are note perfect, and we can ignore the imperfections of the sound in the venue. Serge Gainsbourg was, charm offensive notwithstanding, not prone to gratuitous compliment, but surely he'd be looking down at this group of Antipodean fans and smiling.
The show ends at 10.45, the rapturous applause not enough for Harvey and his talented band to defy the venue curfew. The crowd disperses, and security staff herd us out the door. We catch the 86 tram down Smith Street and observe the colourful nocturnal milieu that is late night Melbourne public transport.
"I'm thinking of going to America," one young guy says to his companion in a clear voice, "but there's a voice inside me saying 'Don't go'". "This is where I get off," a dishevelled older passenger says to no-one in particular, "I'm meeting someone." "This is the heaviest I've ever heard you," remarks a young woman to the interlocutor on the other end of her phone call.
You gotta love Melbourne. Mick Harvey definitely does. And Melbourne loves Mick Harvey.
Tags: bad seeds, hugo race, harry howard, mick harvey, melbourne museum, dan luscombe, nocturnal