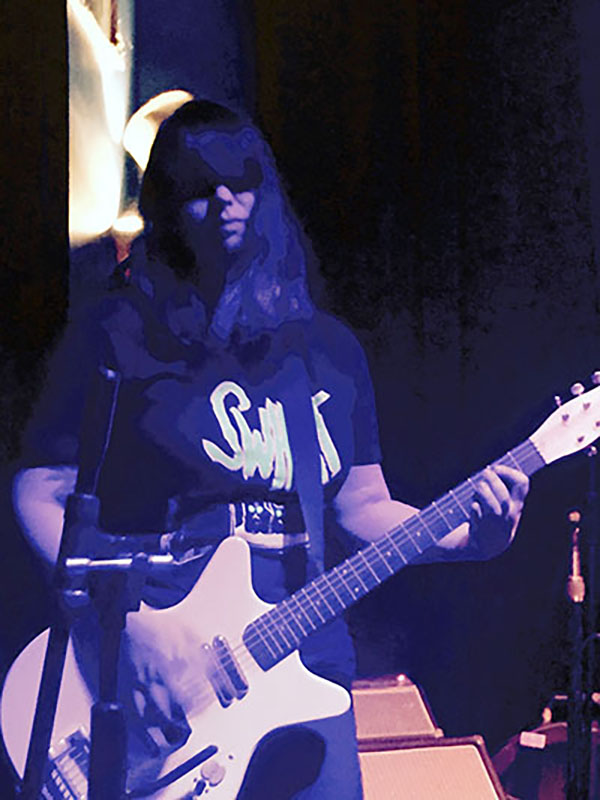 Shannon Driscoll on rhythm guitar
Men - because as far as I know it always was men - who had an encyclopaedic knowledge and love of modern music, and who also harboured a perhaps unwise ambition to make music and be a more vital part of the underground scene, not only owned and managed record shops, but they were in or ran bands, and released records (sorry, vinyls).
Keith Glass and David Pepperell ran the shop Missing Link Records and, after several releases under the record label of the same label, proved invaluable to us all by releasing the Boys Next Door (among others), and the two fabulous Velvet Underground bootlegs, 'Etc' and 'And So On', which pretty much was the flashpoint for a tidal wave of interest in the band - and indirectly or otherwise lead to the expansion of the Velvet's influence on modern music.
Outside of a certain coterie, Keith's music is not so well-known these days.
Gilbert Potts nails it when he describes Doug Thomas of Greasy Pop Records (and before that, the record shop Umbrella Records) as one of several key people in Adelaide's underground music scene. Greasy Pop was initially a vehicle to release stuff by the band The Dagoes - the story goes that the first single (dedicated to New York's Armand Schraubroeck) caused a strike at the pressing plant (the women doing the work were mostly Italian), causing the labels to be hand-stamped - and then, slowly perhaps, Doug started issuing other bands. In between The Dagoes, Doug also ran a band called The Spikes.
The Dagoes' first world-wide release came (from memory) in 2015; and while I find it wonderful that Doug was recently celebrated and awarded in Adelaide, The Dagoes and The Spikes are also, annoyingly, not-so-well-known these days… outside of a certain coterie, that is.
Armand and his brother Bruce Schraubroeck owned House of Guitars music and record shop. For a number of reasons, including publicising his shop, Armand recorded and released a series of LPs (which, as you may gather, had found particular favour with us 'orrible lot down here in Adelaide) with titles like "A Lot of People Would Like to See Armand Schaubroeck … DEAD" (1975); '" Came to Visit; But Decided to Stay" (1977); "Live at the Holiday Inn" (1978); "Shakin Shakin" (1978) and 1978's fantastic masterpiece, "Ratfucker".
I can't tell you much more than that because, it seems, not much is known - but as with the above record store owners/ record label owners/ musicians, Armand Schaubroeck remains not so much well-known these days … outside of that certain coterie…
One of my favourite record labels is Sartorial, run by Terry Edwards. Terry being a multi-instrumentalist who has worked with an extraordinary palette of individuals (currently touring with P.J. Harvey) in both their bands, his own, and … well, you get the idea. Edwards' star seems to be rising somewhat, if you've not heard of him, that's not my fault. Go get the goodies here.
I suspect the only reason Edwards doesn't also run a record shop is because he simply can't split himself into useful chunks to do several things at once, rather like this next gentleman…
The most famous record label owner who released his own music is, I think, Daniel Miller, founder of Mute Records (we're back to the Birthday Party and Nick Cave again), which he formed for the same reason Doug Thomas formed Greasy Pop - to release a single. Miller went on to release the fabulous Silicon Teens LP, collaborate with Graham Lewis and Bruce Gilbert of Wire, and several other projects as well as deal with Mute.
Daniel Miller is also rather eclipsed by his more famous signings, DAF and Depeche Mode, Nick Cave, Fad Gadget, Goldfrapp … Miller is revered by many, but nowhere near as many as he deserves to be…
Which brings us to Mick Baty, who runs a record shop in Melbourne. Off the Hip, it's called. You may have noticed the presence on Facebook. Or visited the shop. You've certainly heard Baty's releases on the radio; they're often vivid and unavoidable. Rock'n'roll of a certain stripe and intent? Perhaps…
The way to check them out and get in touch, if you haven't already, is on Facebook.
But first, just a slight return to the 1970s. Imagine record label bosses such as … Richard Branson … making a record. BWAHAHAHAHAHA! What would it be like? Got your bucket handy? I imagine … a horrid melange of hippy drivel written with a merciless accountant's soul.
What about Chris Blackwell, founder of Island Records; what would his first lp be like..? Lumpy reggae or lumpy rhythm and blues… or something squashy inbetween? How's that bucket going? Filling up nicely?
Remember Herb Alpert and Jerry Moss? They formed A&M. That's right, they were responsible for innumerable Herb Alpert LPs, singles and so forth; and while they are lauded for issuing Cat Stevens and the Carpenters, they are also responsible for signing Joe Cocker, Free, Procol Harum, Humble Pie, Peter Frampton, The Police and Sting (solo), Styx, Bryan Adams, Amy Grant, Suzanne Vega and Sheryl Crow.
Mickster Baty, of Off The Hip and drummer for Beat Taboo
So we know what their music would be like, don't we. And, now we know who else Alpert and Moss were responsible for spreading like some modern version of bubonic plague, we may have over-filled that bucket. Careful with those buboes, Eugene…
And while we can wonder what Tony Wilson's band (he of Factory Records fame) might have been like (I do hope you've had time to empty that bucket) it's time to move on to the meat of the matter, where instead of a bucket, you need to send a wheelie bin full of money to Mr Baty, along with a case of champers and his choice of prize-winning lobsters.
Why is this?
Well. Outfits like Radio Birdman, The Scientists, The Superjesus, The Systemaddicts, White Tiger and Rat Catcher all caused quite a buzz in their day (and Systemaddicts and Rat Catcher are still causing that buzz).
And here's Beat Taboo, an unsigned, unrecorded, barely-played live band creating a buzz similar to one or two of the above. Seems that Friday night's two gigs (the Metro then a rapid dash across town to the Grace) and the Saturday night gig (the Grace again, under a pseudonym) were the band's fifth, sixth and seventh live appearances.
So there's Mick Baty on the kit, Chris Benette on a sexy period bass with a cumfy cushion on its back, Yolanda De Rose and Shannon Driscoll on lead and rhythm guitar, respectively, and the short, squat Pange 'DeBauche' Niemoeller up front with the vocals.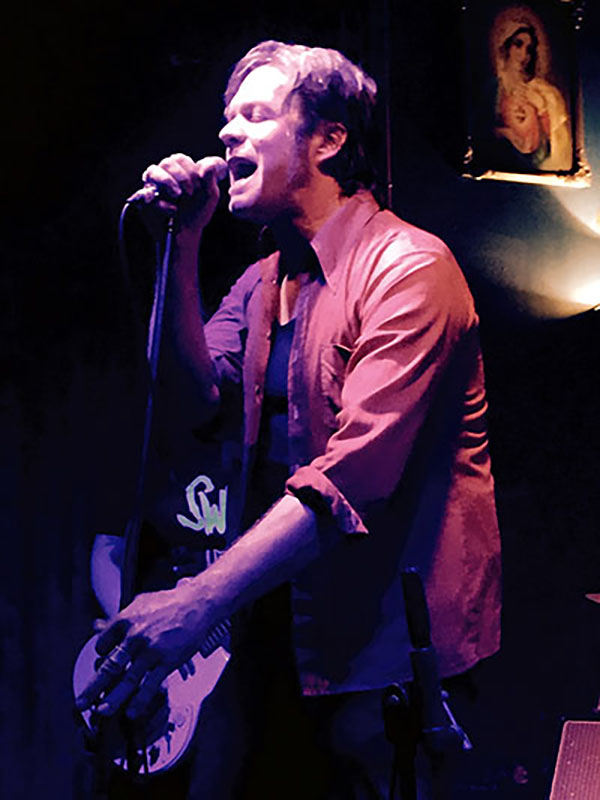 That'd be Pange Niemoeller on vocals
I'm lying of course. Pange is one of those tall powerful blokes who women swoon over while the men wish to god they were a bit shorter because even when they're exaggeratedly careful they still manage to biff their head into things like car doorways, the ceilings of trams, trains, buses and automobiles, low hanging branches, low flying witches and TV news helicopters, that sort of thing.
Pange's vocals are somewhere between Perkins' gut-bucket blues and a genuine field holler - he's got a raspy, rather liquid bellow that sounds like an amplified nicotine drip through reverb and delay. Essentially the man sounds like a monster trying not to upset the dinner table at a posh awards ceremony, and finally failing as he topples into the crowd, breaking glasses and spilling punters left and right.
Shannon Driscoll is on rhythm guitar, Yolanda De Rose on lead - it's too early to tell how formidable a pair they're going to be - but De Rose has a huge and varied sonic palette, achieved with a minimum collection of pedals and bags of sheer talent. What I loved about seeing these two guitarists is the brash, offhand confidence they have - focussing on the music around them, lines snapping out and around. There also seems to be great potential for invention and variety - De Rose's depiction of an alien crowd was rather magnificent at the Metro.
It's early days, so right now the songs don't always have parts set in stone. Which is exciting, because you kinda want this to continue. Someone will erroneously compare them to The Cramps - the only similarity is that the band are well-versed in the original 50s high camp psychodrama and that seeps in occasionally - but that's crap. In many ways Beat Taboo remind me of a rough '60s band, trying hard to escape the stultification of the burbs and a brown, beige and orange future.
Which will make you think of the first time you heard those Pebbles LPs. But that's not where they're going. Another band Beat Taboo will be erroneously compared to is HITS. I like HITS, everyone does. But I find them a bit limited, and in their live configuration I've watched their rhythm guitarist in preference to their lead, and I'm sure I'll be castigated for this but the back-and-forth between the two guitarists doesn't seem as playful or evident.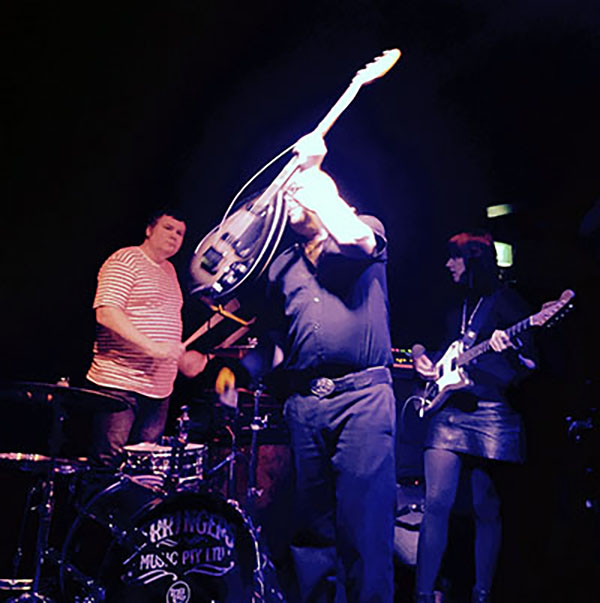 Perhaps that's the nature of HITS as opposed to Beat Taboo, at least that's how I see it. Also, I find the attack, the changes of tempo and direction, and the constrained power of Beat Taboo rather superior to either of the two bands I've just mentioned.
Holding up the rear (oo-er, missus, mind where you poke those coat-hangers) is Mick Baty. His style of drumming is simple, effective and straight out of the old-school '50s/early'60s style. Mick doesn't need flash and bang, or hair and tatts and piercings and whatnot. All he needs is concentration and, because he is to a large extent the glue which, with Chris Benette looping around and around, hold the entire thing together.
Right now, Beat Taboo are a treat to watch and get involved with. They say they're recording soon, looking at a release date next year. I damn well hope so. I think they used the same set list for all three shows, two of which I caught; of course the songs were in any old order the band felt like.
Voodoo Beat/ Ride the Wave/ South of the Border/ Take Your Medication/ Bone Tequila/ Splinter Beach/ Death by Studley/ Cat Lady Man/ Dead Head from Outer Space/ Big City Flu/ Lick My Wall
I bought a T-shirt, and so should you. In fact, you should contact Mick Baty right now and book them at your local venue.