Ex-Pistol elicits miles of smiles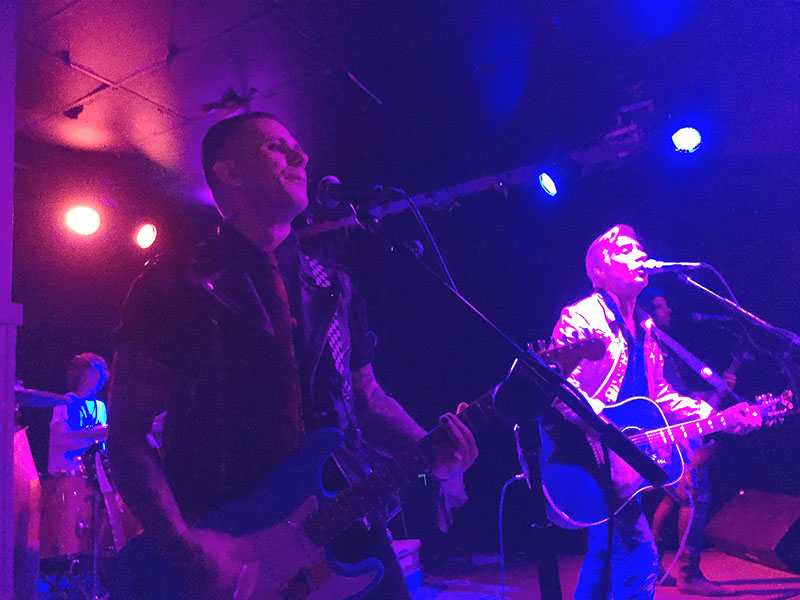 Mandy Tzaras photo.
Glen Matlock's Adelaide show was such a fine, big smile-stretched-across-the-face, hugely enjoyable gig. Not because of the association to THAT band, but because Glen is who he is, likes the kind of music he likes, and brings it into you.
If you're hesitating about whether to see this man's gigs - don't.
Just go.
Glen Matlock
+ Electric Sexy Pants
Enigma Bar, Adelaide
November 17, 2017
Photos by Mandy Tzaras (except the Glen Matlock selfie)
Didn't see support band Electric Sexy Pants. People tell me good things.
I'm still buzzing from the experience (a dark ale and a cider and that's all, since you ask) so this may come across a tad disjointed.
In brief, here's why. First, the pace. We're not talking dopey nanananana fast anarchostraightedgefuckwit punk, and not even straightforward tuff pop (a la the Buzzcocks), but a driving lope which is very, very easy to get wrong. And we've all seen countless bands misunderstand their own tempo and turn it into porridge poured down a packing tube.
Glen has assembled a bunch of Australians, fine, on-their-toes musicians all, who take the songs and fling them at us. Every song has an intense energy, even the few slower songs burn; the faster songs - not breakneck speed, not what you'd remotely call punk, not at all - positively seethe. This is so far beyond what you'd expect that that knowledge makes what is already a damn delight to behold that much more special.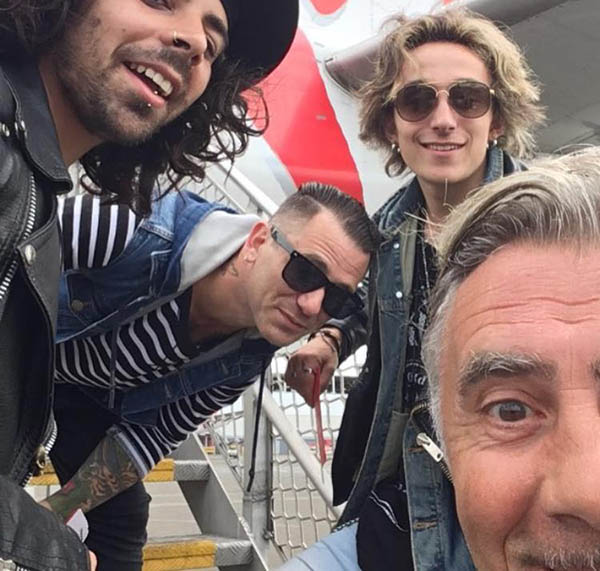 Schembri, Davidson, Lee Von, Matlock en route to Adelaide.
Secondly, and most impressively, the tone. Glen is playing a semi-acoustic. This gives a fatter sound than just another electric, and also adds a daring dimension of delicacy - and of permanence - to the songs. In other words, not only is he treating the songs with respect, but love and understanding. You don't see or hear this as often as you think you do. The immediacy of the band, partly as a result of this sound, is completely gripping. All you Sunnyboys and powerpop fans out there: you need to get into Glen.
Thirdly, Glen loves playing, loves playing live, loves interacting with the crowd, loves the music, and is fully engaged. Just to be clear: we're not talking about a bunch of dills who made a few records decades ago and who play with about as much passion as the lamb has for becoming shasliks for drunks on Saturday night, wheeling out the oldies for the elderly enthusiasts or deluded 40's who can't let go of the past (even a perceived past - plenty of people turn up to these oldies gigs who coulda gone back then but never did cause they never wanted to cause it sounded yucky - things are safer now, apparently).
Here's a bit more food for thought. Given that it's been 40 years, going along to this gig with a "Sex Pistols or punk rock expectation" (as a couple obviously did) would be like, say, going along to a Miles Davis gig in 1975 and expecting it to be like it was in 1935. When Miles was nine-years-old.
Which is hardly realistic, is it?
I could name names. So could you.
Glen Matlock and the band were not just entertaining, but exciting and interesting. They have a distinctive rock'n'roll sound; there's a direct line to stuff from the '60s and '70s which is brilliant, familiar and has been rather elbowed aside. Matlock was not so much, as McLaren claimed, 'a Beatles fan' as a Small Faces fan - something he shared with both Jones and Lydon. He was also a Mick Ronson/ David Bowie fan, and ditto.
But think about it. What's the real expectation to a Glen Matlock gig? Or, put it another way, what if you turn up and play songs the crowd don't want to hear? How do you win the crowd?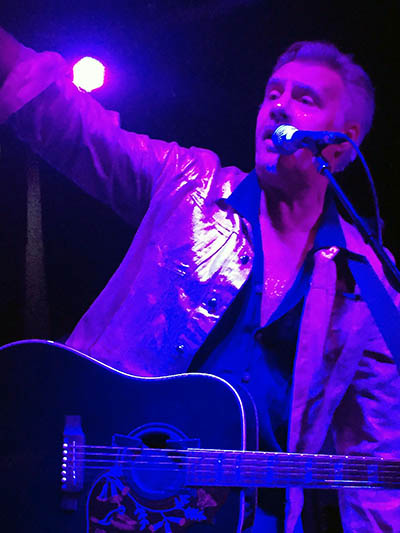 The Buzzcocks have been playing their first three LPs to packed, squirming, moshpitty crowds for over 25 years now. I've seen them booed and bottled if they dare play anything which deviates from the canon (it doesn't always happen, sure. But they keep their new songs to a minimum). They know where the money is, so they stick to what works; and to some extent that means that, despite their new LPs, they can't really advance as a working band - not in the sense that, say PJ Harvey can advance, working a set mostly from the new LP speckled with a few old favourites. The Buzzcocks aren't the only ones from that generation to walk out, do what's required, and accept it.
And let's face it, if Glen Matlock, who is mostly known for something he was doing as a fucking teenager (he left the band when he was 20, after almost all the Pistols' original songs had been written) had been touring on a "Founding Father of Punk Rock" platform (like, say, Jello Biafra) I dear say things might be different.
However. Glen doesn't walk out and pretend to be anything other than what he is. And that is a deliberate decision. Unlike Pete Shelley or Steve Diggle, Glen actively approaches us, individuals in the audience, bringing us closer with everything from down-to-earth banter to getting us to clap or sing along.
Also, his set is speckled with covers of bands which got him into rock'n'roll in the first place as well as favourite songs from his own past; Paul Revere and the Raiders' "Stepping Stone" is one everyone associates with the Pistols because of the comical rehearsal tape appearing on the "Swindle" LP, but here's a thought: who suggested it in the band room? Clearly wasn't Lydon.
Consummate showman Glen had the crowd responding inside the first song, the band snapping together like a surfer climbing aboard a wave. And the gig simply got better as things progressed; apparently Glen has a tendency to throw out the set list - this is his performer's instinct, spotting what the next step in the gig needs to be, depending on the crowd.
The band, by the by, were:
Dizzy Davidson: lead guitar, temperamental pedals and Vox amp and backing vox (ex-The Strays, Road Ratz)
Jake Schembri: bass, backing vox (ex-The Strays)
Corey Lee Von: drums (Bad Habits)
I've not heard of any of these bands. But Dizzy, Schembri and Lee Von were absolutely on-point, switched-on and boiling bloody hot. The rhythm section were laconic but intent, Corey's drums big and sharp, Jake's bass that perfect rumble. I'll be checking out Bad Habits, and The Stray's LP.
You may not know that Glen has rather a fine track record of writing and co-writing songs (many of which you know). A quick bit of interwebbery research and I realise that, judging from recent gigs, Glen has around three sets' worth of songs to draw on. For example, "Ambition", from Iggy Pop's "Soldier" LP, was written by Glen - he says onstage that "it wasn't one of Iggy's best, but that wasn't to do with me"; it wasn't.
Here's the set list as written:
Won't put the Brakes/ Open Mind/ Burning Sounds (Rich Kids)/ God Save the Queen/ Hook in You/ Don't Give a Dam/ Ambition (Iggy Pop)/ Sexy Beast/ Wanderlust/ John, I'm Only Dancing (David Bowie)/ Blank Generation (Richard Hell and the Voidoids)/ Stepping Stone (Paul Revere and the Raiders)/ Born Running/ Pretty Vacant/ All or Nothing (Small Faces)
Now. Confession time. I'd done an interview with Glen a while back and had been looking forward to seeing the subsequent show here, about which I later heard unequivocally high praise. Yeah, I missed it. I believe we were in hospital that night. Dull places, hospitals. There's usually some moaning character - often as not someone who seems more to want attention than being in any pain - of any sort. Tedious.
But it made me want to catch Glen this time. Apart from glowing reports from other people, I'd done what I usually do - not check out what music Glen's been making lately - it sends me in to a gig with a clean slate and as few expectations as possible, which I need if I'm going to be even-handed about things.
Here's a quote from that interview if you can't be arsed clicking on the link.
Robert: Why did you take up guitar in the first place?

Glen: Cos I wanted to be rock and roll star! No, look, I was lucky to be born in the fifties, caught all that rock'n'roll, got exposed to Hound Dog Taylor when I was really young. And I got turned on by songs, you know, we're just kids having a right laugh by the side of the road and you'd hear the Kinks, the Who, the Small Faces, you know, London bands, and I started taking music more seriously. Particularly the Small Faces, Ronnie Lane … you know, they seemed like us … I wanted to be like that, rock and roll was to be my exit from the straight world of work and accountancy …

I think if I hadn't gotten into the Sex Pistols, I'd have gone into rock and roll by a different route, like art school, through painting or something like that… so many musicians went to art school and ended up in bands. I loved music - I thought if I went to art school I'll get into a band, but I never actually went.

I mean, London in the '70s was pretty horrible, and Soho was pretty seedy back then as well, and you'd see really interesting people from the past, Bohemians … so I'd go to buy a pencil at art shop in Bourke Street market, and you'd see Jackie Barnard going into a pub… so all around us were all these connections with people not in the straight world…
Alright. That's almost it. The gig was one of my highlights of the year - not because of Glen's teenage years - because it was simply a damn fine gig. There were no dud songs. Each song may as well have been written by Glen - I know that sounds a bit daft, but Glen made the covers his own. In fact, Glen, mate: praps release a live recording of yourself with these guys.
Those of you who didn't quite get there this time, this link provides an assortment of CDs and so on; including a new EP.
Tags: live, sex pistols, tour, glen matlock, australian, small faces, paul cook