Harry Howard and the NDE, The Holy Soul and The Nice Folk in Sydney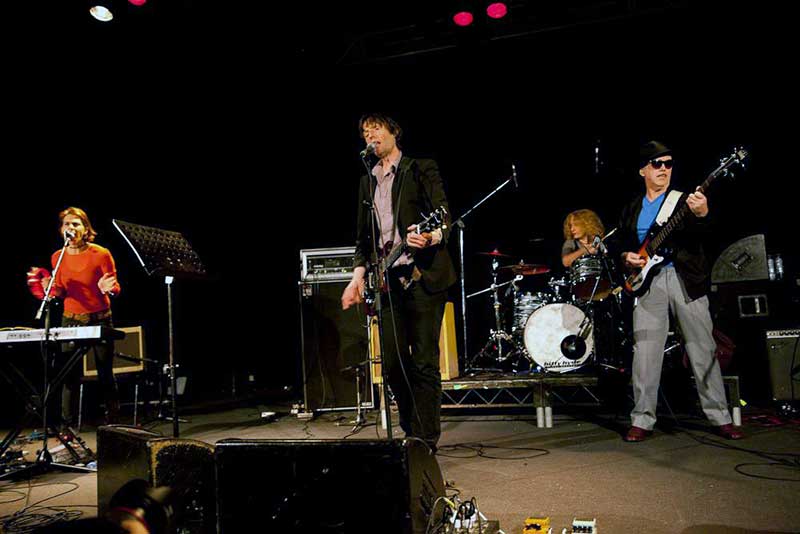 Harry Howard and The NDE at The Facory Floor. Lyndal Irons photo
Many years ago when Sydney was full of thriving, original music venues, Friday night for me was always a combination of either playing gigs or checking out new bands.
There was never a shortage. I grabbed my copy of "On the Street" on the Wednesday, eased into my chair and sat there with my red pen. After reading the odd review, I would scrawl and circle names of bands to see in the "What's On."
Every now then I would get to the Lansdowne, Evening Star, Hopetoun and many others and be happy with just finding a new band. Well, times change. Nothing remains the same. Seeing a new band is a rare night out these days.
The Factory Floor, Marrickville, Ocrtober 31, 2014
It's been a pretty intense, and hard-going rock 'n' roll adventure these past couple of weeks with a lot of live music on my platter. Most of it involved well-known names - like the Rolling Stones. So I took the plunge tonight and got my arse off to listen to two bands that I had not seen - and one that has been a regular fixture of the inner west of these past five years.
The Nice Folk are on stage at the Factory Floor and not since Captain Beefheart Magic Band or The Fugs (circa 1968) has such a messed-up op-shop mixture of Gen X art students and rock-crazed characters hit a stage. They are from Wollongong so were they an Auntie Jack house band with the Little Aussie Bleeder on harmonica? The answer is NO.

In reality, there is something about Wollongong that rivals Geelong for the amount of solid and at times interesting bands produced per head of population. The place is traditionally garage-inspired (it was Deniz Tek's first breeding ground with TV Jones) with names like Mutated Noddys, Proton Energy Pills, Tumbleweed, Leadfinger and Mother and Son coming to mind. I now can add The Nice Folk.

The early Captain Beefheart Magic Band is a good reference point with his more wacked-out Cubist take on rock. Chopping up and re-arranging it, The Nice Folk are recalling classic underground Sydney bands of another time that only put out one single. Lashings of alcoholic 1am genius. The Nice Folk can pull out a slowed-down, sleazy song (with Pere Ubu another reference point) as easily as they switch to early Beasts of Bourbon-like sloppy and swampy excursions.
Subversive, and rock. Delivering songs called "Farther" (I am sure, lyrically, it makes Bukowski appear closer to Yeats) sung by bowler-hatted Dave Mutton over a rhythm section with groove. There's solid guitar playing from Lax Charisma and Paisley Nightmare. The crowning glory of this mob, however, is the trumpet player (and at times keyboard player) Captain Special K, with somewhat obvious jazz training (a la "Sketches In Spain") that overlay the sound. Yes, it's a nice Miles reference, incredibly atmospheric and at times sexy, it's a great addition to the sound. If you have not seen this band they are really worth investigating.
The Holy Soul have been around our Inner-West for almost a decade. Over the last five years, they have stood out as a shining diamond as one of the better bands around the remnants of Sydney's original music scene. Mixing it with vast array of influences, from dirty swamp and psych blues to East Coast US punk, they land somewhere between post-punk and grunge with precursors as diverse as the Laughing Hyenas, Scientists and Gun Club.
Tonight was a short set with vocalist Trent Marden hollering in a bluesy gravel at times, smashing his battered op-shop guitar. The grinding four-on-the-floor rhythm section of bass player Sam Worrad and drummer Kate Wilson are overlaid by swampy and at times Scientists delivery of Jon Hunter. Holy Curse should has the ability to move easily from swampy blues based grunge to kick-arse alter rock with ease and they rarely disappoint.
Harry Howard and NDE have released a pretty fine couple of albums that has been received well. They have just floated back from a very successful and critically-acclaimed European tour and some good mates of mine in Melbourne rave about them. I am to here to hear and see what the fuss is about. The videos are clever, and the songs have an intelligence mix of classic proto-punk and alternative rock. I know the pedigree from a combination of bands such as Crime and City Solution, The Moodists, These Immortal Souls and countless other significant bands from the '80s.
They casually take the stage, and launch into "Wanted To Live" and then "Let Me Go. There are interesting dynamics at play here, with Harry Howard and Edwina Preston making eye contact over her Rhodes organ, which at times has almost a B52s vibe. Harry plays a rare solid body Gretsch with solid chiming chords and the odd hard rock riff. Their vocals complement each other - as if Lou Reed and PJ Harvey were in the same band together.
Then there's Dave Graney, taking a backseat and ultra-cool looking, like he's living in a place somewhere between Bill Burroughs and Wild Bill Hicock. Graney as a bass player. No matter how he hides his presence, he has a groove with his partner-in-crime Claire Moore, who is such a solid drummer. They've been playing in bands together for 32 years. No wonder there's a strong synergy in this solid rhythm section.
Harry and Co are capturing a modern take on the CBGBs of 1976. The first generation of post Velvet Underground bands - I am talking The Modern Lovers, Patti's first album, Heartbreakers and early Talking Heads. I look around the gig and expect to see a speed freak Lou Reed or a cornered Joey Ramone. As the beers flowed, maybe I did.

"Sensitive to the Cold'' is such a strong song. A powerful, almost metal riff - akin to early Tool - delivers drama and tension and that's where the comparison ends. Harry steps in with deadpan vocals, intelligent lyrics and a well-crafted song. Harry and his mates never overplay. It is always about the song.
After 50 minutes, Harry Howard and NDE are now of my favourite "new" bands around the traps. A flashback to another time, as stated when Friday night was out seeing fresh and exciting new music. I am wanting to come back and see this band again and again: Maybe it will have to be Melbourne. If you have not seen this mob. Do it.
Tags: harry, dave graney, holy curse, dave, edwina preston, nice folk, claire, edwina