Brian Hoopper and Beasts of Bourbon bandmate Charlie Owen.
"I Get Up Again"
Brian Hooper Benefit Gig
Beasts of Bourbon and Friends
The Prince Bandroom, St Kilda, VIC
Friday, April 13, 2018
Photos by Carbie Warbie of Carbiewarbie Concert Photography

Hooper's second solo album, "The Thing About Women", illustrated his fight against the odds, and all the other personal and familial dramas and tragedies with which Hooper had been confronted leading up to his accident. I Get Up Again was the beacon example of Hooper's mental fortitude. Hooper was determined to get up again, and he did.
This time around the fight is even harder. When news of Hooper's dire prognosis spread through Melbourne music circles, a group of Hooper's friends banded together to organise a benefit gig to help pay his medical bills, and celebrate his place in rock'n'roll.
Despite being tethered to respiratory machines at the Peter MacCallum Cancer Hospital in Melbourne, Hooper was determined to play. Hooper didn't hang around waiting for a miracle to happen, he just put his mind to the task at hand. And a determined Brian Hooper is a force to reckon with.
As soon as he was told about the benefit gig, Tex Perkins agreed that the Beasts of Bourbon would play. The issue was - who would be in the Beasts? Spencer Jones, with Perkins, the genuine life-force of the Beasts, has his own analogous health concerns, and had played live less than a handful of times since his liver waved the white flag mid-way through 2015. Up until the afternoon of the gig, Spencer's presence on stage wasn't guaranteed. But like his old mate and sparring partner Hooper, Spencer was focused and determined.
And so it was that at 9.45, Hooper's long-timer friend and musical collaborator Steve Boyle, pushed Hooper onstage, a couple of bottles of oxygen attached to the back of the wheelchair to ensure he could endure the gig.
Small clouds of gas can be appear periodically from Hooper's oxygen mask, vaguely similar to the plumes smoke that once drifted from his dangling cigarette in days of yore. Half a dozen nurses from the hospital, most of whom probably had little idea of their patient's cult celebrity status when Hooper was first admitted, stand behind Hooper, basking in the moment. Later in the set, Spencer smiles into the microphone and asked rhetorically "Why can't I have six nurses helping me onto the stage?" Black humour, thy time is a Beasts benefit gig.
It was Hooper's thundering bass riff on "Chase the Dragon" that heralds the beginning of the set. Hooper himself had suggested the Beasts start with that track, Perkins disclosed at the end of the song, dismissing all suggestion of a mid-tempo Beasts gig to accommodate his ailing condition.
"Let's start with 'Chase the Dragon' and fucking blow everyone away," Hooper had commanded. It wasn't the tightest version of the track ever - Spencer was still finding his feet, and Hooper and Pola - the latter these days sporting the wild facial hair of a colonial labourer - weren't immediately in lock-step as they'd been for the past 30-odd years, and even the ever-reliable Charlie Owen tried to find the right spot to nestle in. But it was arguably the best ever experience of the Beasts' ode to anally-secreted contraband.
"The Low Road" - which Pola had written the first version of at Hooper's mother's place in Perth, way back in early 1991 - was another ideal choice. Again, it was rough and ready, but nobody cared. On "New Day of the Dead", from "Little Animals", things started to click and Spencer hit his proverbial stride, taking us through a spidery guitar solo that brushed up against "The Monkey Has Gone", one of Spencer's most emotionally charged solo tracks.
From there we got "Bad Revisited", Spencer's celebration of the town of Schwimmenbad in Germany, where the Beasts visited on their first overseas tour in 1989, the naked nihilism of "I Don't Care About Nothing Anymore" and the Kim Salmon and James Baker-penned "Drop Out" (with its lyrical nod to Baker's firing from the Hoodoo Gurus in 1984, which itself led to Brad Shepherd's retaliatory dismissal from the Beasts soon after).
By now the eyes of the hardened rock pigs in the room are welling up. You don't get much great rock'n'roll in St Kilda these days; not unless, of course, you're lucky enough to find yourself at A Day By the Green at the St Kilda Bowls Club. Fighting for every breath, Hooper thanks the crowd for their support, and concedes he's got a monumental struggle to remain afloat.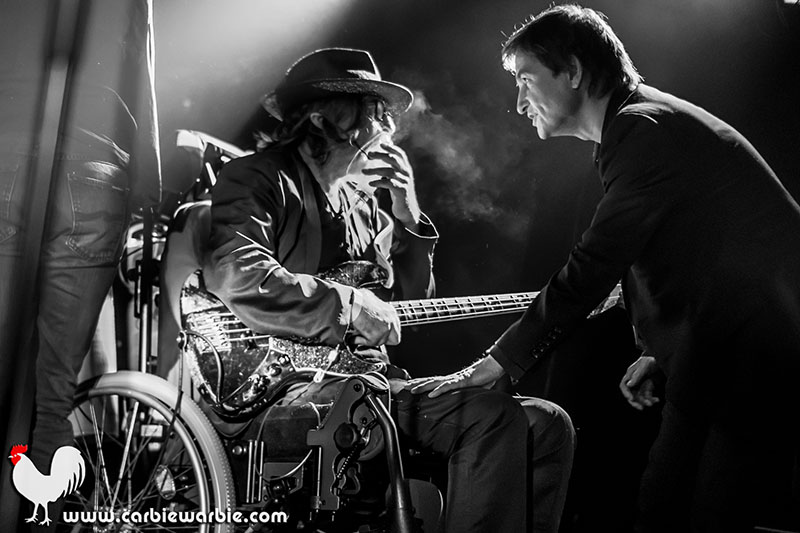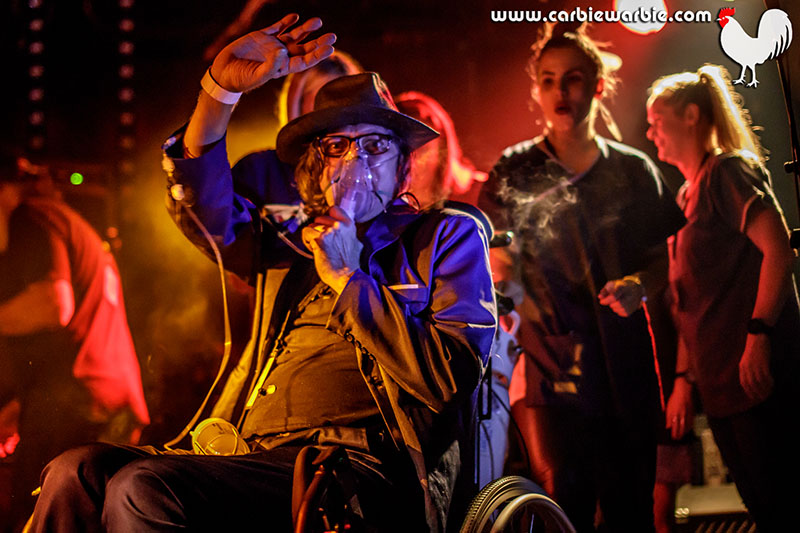 Hooper is wheeled off the stage to the emphatic cheers of the crowd. Spencer waves enigmatically. "You don't get a gig like that everyday," a friend remarks matter-of-factly. No, you certainly don't.
There were other wonderful moments tonight: Penny Ikinger and Rosie Westbrook, a rare Tendrils performance, Ben and Geoff Corbett's two-headed rock'n'roll hydra insanity in Six Ft Hick. A set of Hooper's solo material performed by the Brian Hooper Band - which, like the modern-day Alex Harvey Band, but for more explicable reasons, was absent its titular leader. But the Alex Harvey Band never had the opportunity to draft in Hugo Race, whose addition to the Mick Harvey-led group makes for an imposing set.
Mesmerising solo sets by Gareth Liddiard and Adalita. Kim Salmon and the New Scientists - Salmon, Boris Sujdovic, Clare Moore and Mike Stranges - took an expurgated journey through the history of The Scientists, interwoven with Salmon's fond recollections of Hooper in Perth, and later on in Melbourne with the Surrealists.
But it was the Beasts of Bourbon who provided the defining sights and sounds of an evening that will never leave the memory of any of those fortunate enough to be here tonight. This was pathos mixed with celebration. Whatever happens next, Brian Hooper is a legend, and Spencer is too.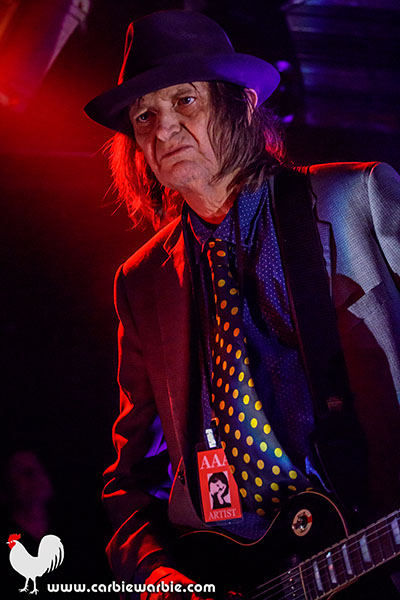 Spencer P Jones.