Henry Hugo live in Adelaide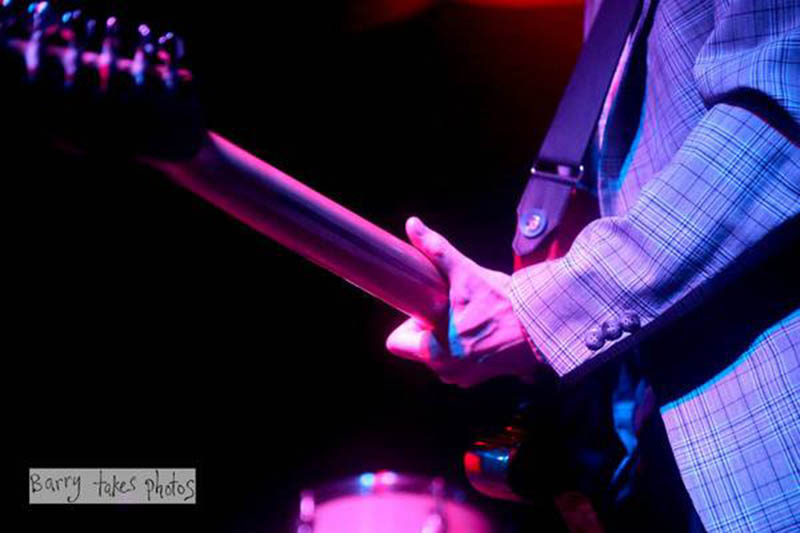 Credit: Barry C Douglas (Barry Takes Photos)
Zurich-based Henry Hugo has been in Melbourne for a few weeks, playing with a variety of Melbourne talent so glittering it fairly takes your breath away. I believe there might be a couple more gigs to come, so I suggest you get your hat and coat and wallet and get out the door right now.
Before I go on, I missed opening act the St Morris Sinners. I have heard endless good things about them and I must catch them soon. But it wasn't to be tonight.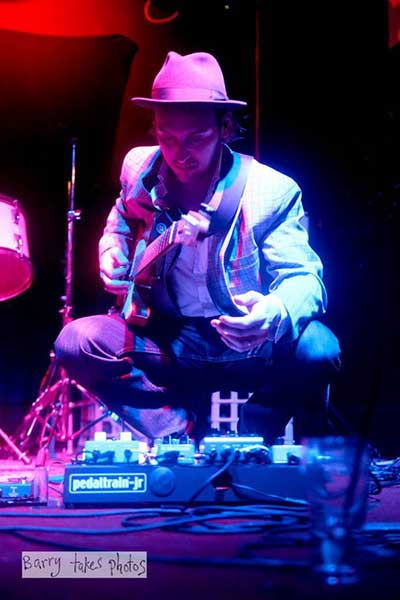 St Morris Sinners, Henry Hugo, Michael Plater, Dean Richards
The Metropolitan Hotel, Adelaide
January 21, 2016
Photos: Barry C Douglas (Barry Takes Photos)

It's a disgustingly hot, steamy day in Adelaide, all the buildings are stuffed with built-up heat and the band members (all of whom have driven from Melbourne) look like they've been dipped in a sauna.
Their mood is, curiously, not what you'd expect as we converse on the balcony, attempting to understand the purpose behind the names of certain country towns, such as Nhill, Grong Grong, Deep Lead, and Keith. "There's a Keith Institute! What do they do there?" exclaims Julitha. "Learn how to be more Keithish?"
The balcony? Yep, the Metro has a balcony, only available to guests and thugs like us. A lot of musicians like the Metro's balcony cause the pub has rooms above the venue, access to the balcony and they can throw things at pigeons.
Going past the place is pretty much the only way you can tell what's on inside, if you take a squint at their blackboard. They do have a website but that's a last resort. Who's going to go scrolling through every bloody venue to see what's on? Given that Her Majesty's Theatre (Barry Humphries' favourite venue in Adelaide) is on the opposite corner patronage can verge from 'Grand Final Tour Bus' to 'spot the punter' rather swiftly. So the Metro is a unique venue which, to be honest, means that you're always going to get an interesting combination of aficionados, fappish locals and the downright confused.
So. Eventually we all drift down, surprisingly sober given the circumstances. Dean Richards, ex-Whirlywirld, currently Disturbed Earth, complete with immaculate guitar and an array of carefully flung-in effects pedals, is up first. Dean doesn't sing live very often, I'm told, which is a shame as he has a rather lovely voice.
He's chosen his material well for this gig, songs which slowly bring you to attention, coax you out of the bar and into the room, to find yourself constantly surprised. I confess that what he does doesn't necessarily engage me immediately - but that must be me since everyone around me was rapt and muttering praises.
In the end, of course, I was applauding just as loud as everyone else, so I must have changed my mind. Who says rock journos make their minds up at the sight of a band name?
Now, Michael Plater is up next; he ran the brilliantly-conceived "Murder Ballads" evening last November in Melbourne, in which assorted luminaries delivered sparkling, inspired performances which chilled, thrilled and generally made the night worth going out into. He's also released several LPs, the most recent of which is "Mythologies" (flex the plastic muscle here) and after tonight, I reckon I need them all.
Michael has a way with his guitar style, he has this swaying, rhythmic melody, letting the tones and the flesh of his sound speak, building in stages and degrees, moving so strongly that you think he's about to curl into his guitar. I'd love to hear him with a really big set of amps behind him (a la Boris); that would be something. I loved his version of "She Brings the Rain".
Michael was then joined on the stage by Dean Richards and they thumped well together, two series of themes twisting in and out of each other; Dean and Michael are remarkably talented men who perform in such a way that you feel like you're part of the sonic embrace. Check out Dean's music here.
The third band, and by now my vile headache has begun to insist that we depart, take to the stage and I realise, this is where Henry Hugo belongs. On stage, running his band, pulling magic out of the air. Last time he was in Australia he said to us, out of nothing, it seemed; "for all the millions of flowers, only a few are seen".
So, we have Brett Poliness and Julitha Ryan - two thirds of beloved Melbourne outfit Silver Ray (who I believe have broken up but what would I know?) Julitha released a solo CD :The Lucky Girl" a couple of years ago, and that's well worth poking your nose into as well. These folk have known damn big stages (supporting Nick Cave on tour for a start) and the intimate, and … the Metro is intimate.
Now, just for a moment, stay with that thought of Nick Cave. For many years, the principal man who brought Cave's songs to life - that is, those classic tunes and atmospheres we all know so well (even those who regard Cave in the same way as I regard The Eagles, Boston and Air Supply, and Jon English can't deny that you know a Cave song in the same way I know the fucking lyrics to :Hotel California" and despise myself for it) is Mick Harvey. So, Henry Hugo has more in common with Mick Harvey than Nick Cave (Henry does not, I think, write about being cruel, for example). And Brett and Julitha are definitely the people to back him.
The band is at once dynamic, powerful, uplifting, full. Full of swing, verve, spark and tuffness. ('tuff', oh yeah, ever read S.E. Hinton? "That Was Then and This Is Now"? "Rumblefish"?) Brett's drumming style is damn smart, there's no wasted sound, it all goes toward making the song go forward, up and crashing down … jazz has lost a great talent, rock'n'roll should've snapped him up and made him a star. As for Julitha, she's well into it, intent of the same huge tidal movements Henry's music evokes.
Henry himself is self-effacing, almost shy, then, shove a guitar in his arms and … he transforms. He belongs on a stage with a guitar in his hands and howling at the moon. It's clearly his natural state. Live, I might add, with a band, Henry Hugo is not like his LPs. His cCD are groovy, subtle, strong dark creatures, and they often sneak into the car and play themselves at four in the morning; live … the monster awakens with 60,000 volts through the bugger.
Fucking hell, he was good.
But the nasty pain in the shoulder, neck and head had decided for me. I had to go. I didn't want to. I headed straight for Hugo, elbowing aside fans to shocked gasps, grabbed the poor sod and bear-hugged his dripping wet hide. I might even have kissed his cheek.
I apologised in a general sense and pissed off, stumbling. All I'd had tonight was lemonade, and hadn't had an alcoholic beverage in about three days.
I found a cab somehow and I must have got home because I woke up in my bed with no mysterious, inexplicable surprises next to me.
I had Henry Hugo's music in my heart, and I urge you to do something similar.
Without the fucking headache.
Full disclosure: No pigeons were harmed in the writing of this review, and my headache finally fucked off (after about two weeks on and off) two days later.
Tags: nick cave, henry-hugo