Hide your lighter fluid when these Schizophonics come to play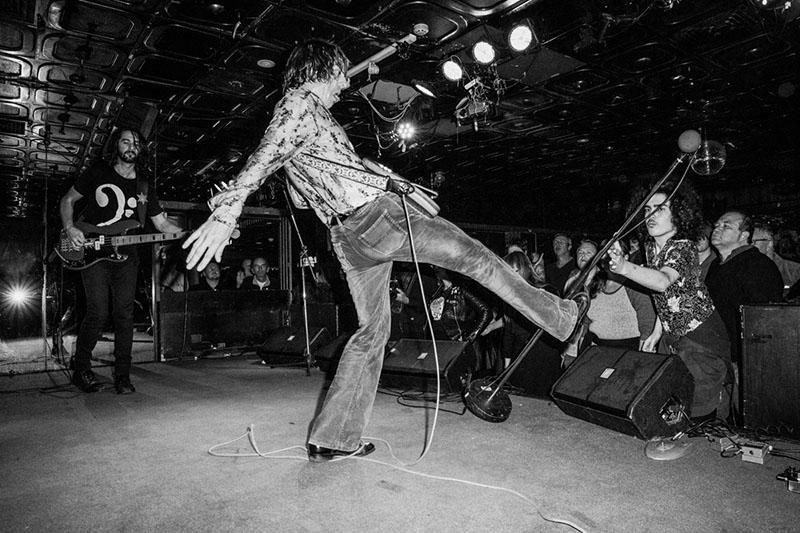 Tom Wilkinson photo.
The Schizophonics
Grinding Eyes
Sk8tergrrrl
Marrickville Bowling Club
Thursday, June 6, 2019
Photos by Tom Wilkinson
This gig was a bit of a big deal for Sydney's spluttering live rock and roll scene. There's an online buzz on San Diego's Schizophonics, driven by their livewire videos and their reputation for spectacular shows. The Harbour City, however, was absent from their original travel plans.
A tour through New Zealand was being followed by just one Australian show - at The Tote Hotel in Collingwood, Melbourne - until last-minute intervention by a drummer in one of Oz's most prominent bands (Russell Hopkinson of You Am I knows who he is) and another party who shall remain nameless. 


So a side trip to Sydney was organised - for a Thursday night show at Marrickville Bowling Club. The night after a hurriedly organised, extra Melbourne show. 

Marrickville Bowlo has become a haunt for Sydney's older rock and roll demographic. Lansdowne for the kids, Bowlo for the seniors. It's a nice-sounding room with a great PA and friendly staff. The drinks are cheap.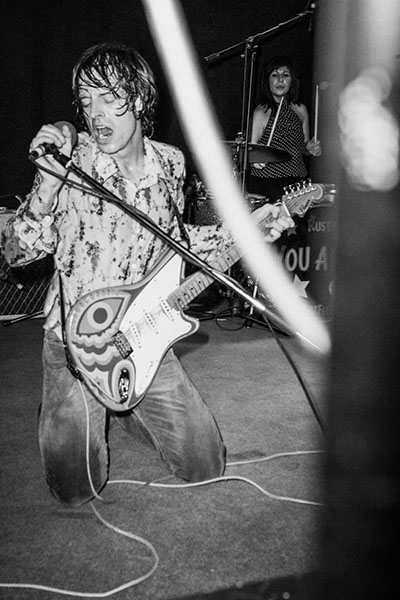 But Thursday night? A school night? Seriously?
It's a one-off, and the band was otherwise unavailable, so you play the hand you're dealt.
The early recruitment of younger and happening psych band, Grinding Eyes, as main support would surely pull a crowd not so fussed about getting out of the house on a week-night.
Late inclusions Sk8tergrrrl kick off proceedings and receive a warm reception from the swelling crowd. They're a young, all-girl band from Kings Cross, playing buzzy guitar rock, and are obviously green, but gain confidence as they push through their 30-minute set.
Grinding Eyes set about their work without fuss. Their sound is firmly rooted in drone and fuzz with ex-Mess Hall member Cec Condon's mighty backbeat and kick drum nailing things to the floor.
Guitarist Matt Wicks intones from a stage that's unlit, except for the throw of two projectors and some incense sticks. The visuals are like their music – dark and inflected by muted flashes of light.
You have to be brave to cover any Love song from "Forever Changes" with success. Grinding Eyes are and do.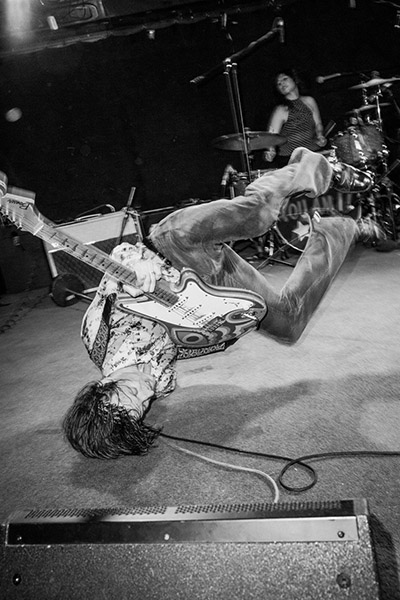 The Schizophonics are a trio – vocalist-guitarist Pat Beers, his wife Lety on drums and Blake Lindquist on bass – steeped in garage rock. That would be hard to avoid, given that they're in the orbit of Mike Stax, a fellow San Diego native, frontman for The Loons and editor of Ugly Things magazine.

They're well-established, with an album and a string of singles behind them. They tour Europe a bit, climbing that ladder where a big, well-paid festival show will be a down-payment on a tour.
They're also nice people and their only unusual request is to use a private office at the venue for Pat to "do his exercises".
"Vocal exercises?"
"No. Stretches."
"Oh. OK!"
This is also a band with formidable hype attached: "MC5 meets James Brown". Could they live up to it? Here's a clue: Where the MC5 would close sets with "Black to Comm", the Schizophonics use it to open.
Pat Beers knows one pace – flat-out – and bounces onto, around, over, off and on the low-slung Bowlo stage for every one of the 70-plus minutes of the Schizophonics' set. He plunges into splits and kicks, twirling like a Dervish and swinging his guitar around, hammering notes with his left hand or leaving his instrument on the ground to feed back and groan. Sometimes, he even plays it.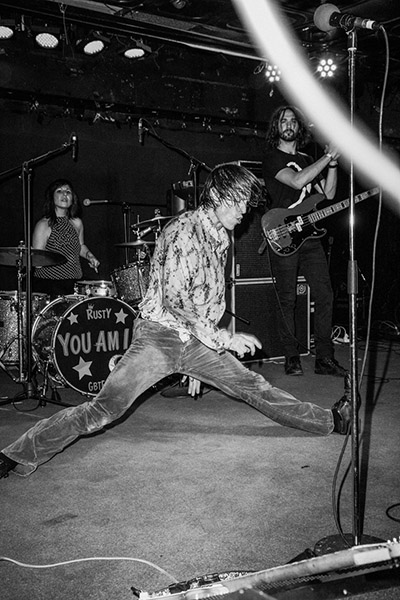 Pat's watched a lot of Jimi at Monterey - Hendrix blew his 14-year-old mind and set him on the road to playing music - and you'd swear that if someone hadn't hidden the lighter fluid from him tonight, the Bowlo management would have been forking out $1800 for the fire brigade call-out that the smoke alarms would have triggered.
His act is gymnastically challenging, skilful and draining – all at the same time. Pat resembles a young Sonic Smith - with an addiciton to knee-drops. A good part of the set is spent in the crowd.
Getting down to the musical side of the business, Lety and Blake are a superb rhythm section. She's right in the pocket and he brings ample drive to the party, while melodically filling all the sonic holes while the guitar's a-honking and a-hollering.
There's a song for a member of The Woggles, who shuffled off this mortal coil the night before. There's a song for Roky. Most are originals from the album. Don't ask me their names. It's not that the songs are MIA, it's just that they're sometimes overshadowed by the histrionics. Maybe a second guitar would make things more musically colourful, but that'd be another mouth to feed on tour.
"Whole Lotta Shakin'" is the encore and lives up to its title, right down to the closing note and last drop of sweat.
There's no questioning the energy levels and the large crowd of 180-odd - older punters – walks away with almost universal big grins after seeing something special. Purists might wince but That's Entertainment. This was a rock show.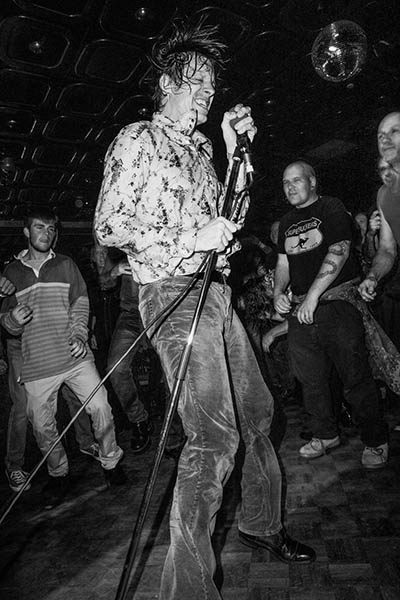 Tags: grinding eyes, marrickville bowlo, schizophonics, sk8tergrrrl, pat beers, lety beers, Blake Lindquist