HITS with Bitter Sweet Kicks, Bruce and Modesty in Sydney
Do you miss the thrill of the unexpected? Do you long for the anticipation and uncertainty that goes with risk taking and the sudden inhale of breath in response to seeing someone break the rules? You need to visit The Imperial Hotel in Sydney's Erskineville on a Friday night.
Bitter Sweet Kicks
Bitter Sweet Kicks, less one set of clothes
The spectacle that is HITS
Richard points out something interesting
Tamara in full flight with HITS
The Rollerden, Erskineville, NSW
Friday, May 2, 2014

The Imperial is a cultural icon, a hotel whose front bar was made vaguely famous for being a Sydney location where Baz Lurhman shot "The Adventures of Priscilla, Queen of the Desert" back in the early '90s. Many of the extras from the outback pub scene still live there. In the space of just a few minutes, I saw a drag queen the same height as Centrepoint Tower; lots of nice looking girls; two Turbonegro rejects in matching handlebar moustaches, lumberjack shirts and leather caps 'n' chaps and; a couple of hipsters swapping spit who looked like they might need third party assistance to untangle their beards once the "let's break the ice" phase of the night was over.
Now, I'm as tolerant as the next man when it comes to alternative lifestyles but I did feel inadequate when I made my way back from the bar with drinks through a throng of blokes and was told "keep walking sweetie." As The Barmaid remarked the next day, now I know what objectification feels like. Sniff.
But we aren't here to pop amyl nitrates and swap war stories about gloryholes. Or glory storiues about Warhouls. The real action - Real Rock Action - is happening downstairs, two levels below the street, where Brisbane's HITS and Melbourne's Bitter Sweet Kicks are co-headlining on a national tour to launch their new albums.
The Imperial goes under the venue name The Roller Den with two entertainment bars holding 350 or 500 people apiece, depending on how you jam them in. The subterranean room is a multi-tiered affair with lots of dark spaces, cheap-ish drinks and a knee-level stage equipped with a punchy sound system. As far as rock venues go, it's pretty good (and god knows Sydney needs them.)
What Sydney doesn't need is Modesty, the opening band from Melbourne whose last few songs I caught. Their female singer has a big perm and good pipes - she's just clearly in search of a song - and they have a drummer who makes Ringo look like Keith Moon. One of the guitarists was a guest and he didn't know one song so he put down his tool of trade, did a little dancing and wandered off to the bar. He did have a great Mick Taylor haircut, circa 1971. At this stage i was begging that Modesty would show some mercy by shutting the whole thing down. One song reminded me of Wendy and The Rockets. Let's say no more or it could turn nasty.
I had be the only person in Sydney who hadn't seen Bruce live. Stupid me. Bruce is a four-piece from Wollongong who rose from the ashes of power trio Hy-Test. Their number includes the younger Curley brother on guitar (from the same family that populated Proton Energy Pills and Tumbleweed) so they have both prior convictions and pedigree. They are emphatic and loud.
As bass-player Bruce Armstrong observes after one song, they've cleared the room of Mercy fans in no time at all.
Bruce are a curious but potent blend of stoner riffing, high-energy blasts and hard psych. Armstrong does most of the vocalising and has the stage presence of Knighty from the Cosmic Psychos, while Bruce Curley and Bruce Brady (seeing a pattern here?) cut a swathe on guitars.
These men are loud, fast and scientific with a terminal tightness that goes hand in hand with their commitment to stun volume. They pull lots of shapes and have all the moves (which is why some people don't like them) but I'll happily submit to another set like this next time they blow through Dull City.
Bitter Sweet Kicks should be legends outside the confines of Melbourne's Cherry Bar, their backyard of St Kilda and a few enlightened bolt-holes they've visited in Western Europe. I just got wised up to their new album, "Eat Your Young", via a download passed on by the band, and it's fast becoming a staple after just a few days of listening. The vinyl just lobbed from Beast Records in France so that sounds even better.
This is an old fashioned band with no pretensions. It's a shame someone else got hold of the name motley crew and turned it into their own, because Bitter Sweet Kicks look like a ragged, bunch of bent-out-of-shape road-rats. Denim and plaid shirts. Beards. Nondescript and unaffected. Until bass player Johnny Kicks strips down to a polyester dress. Then his underwear. Then nothing.
Frontman Jack Davies spends a third of the gig in the crowd. His presence is unrelenting and his gruff but full vocal is a pub rock marvel. Blues-swamp monsters like "Been Low", "Cutlery" and "Eat Your Young" swing like the proverbial shithouse door in a hurricane. These guys, whether innately or through experience, know that the secret to great rock and roll is inherently in the engine room. They're explosive and involving - and streets ahead of most of the competition.
Except for maybe tonight's headliner. HITS really are at the top of their game. Their album "Hikikomori" is all shades of great. The band loves nothing better than getting out on the road and blasting their songs to receptive audiences. Whether this show was the best of the tour or only close is something only they themselves can judge. The rest of us thought it was something special.
"Fuck The Needy" kicks things off in emphatic style. From there on in it's a simultaneously harrowing, entertaining and edgy ride. Things never really came close to going off the rails and as loaded as he was, frontman Evil Dick kept upright (most of the time) and delivered these songs with murderous success.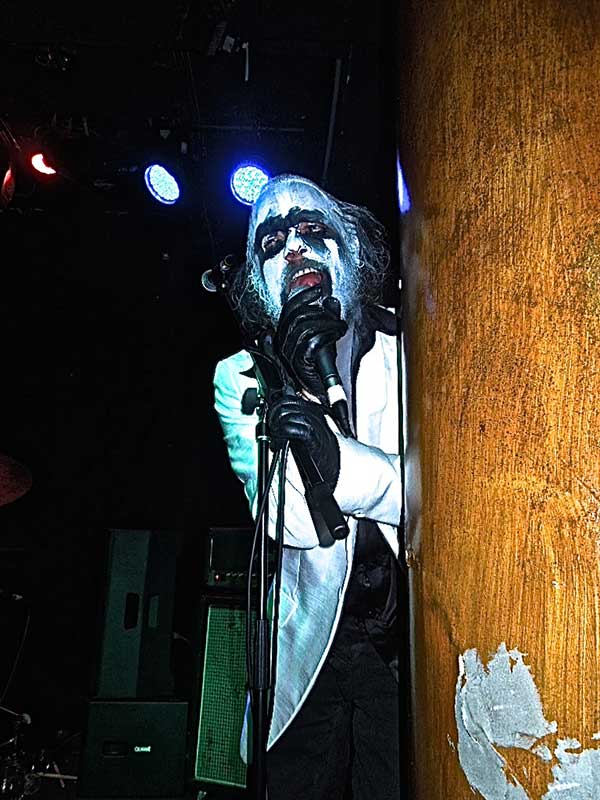 Some pedal problems in "Loose Canons" didn't phase Tamara, whose dive-bombing lead-breaks are a flammable propellant. In "Jesus F Christ" the "kiss me" line is a cue for her to plant one firmly on the smacker of a stoked 50-something fella in the front row, and it's as perfect a piece of theatre as Richard hanging himself with the mic cord. Rhythm ace Stacey gets her moment to shine late in the set and peels off a sizzling lead. Tamara plants a kiss on her proferred forehead. If there's a better pairing of contrasting yet complementary guitarists doing the rounds, leave a comment and enlighten us in the box below.
We get a good portion of the (would be) hits. "Bitter and Twisted" smoulders. "Take Your Pills" explodes. "Shadow Play" might be a homage to a bunch of Manchurians but Joy Division never played the original with half as much bottom-end swing. Props to Gregor Mulvey behind the traps.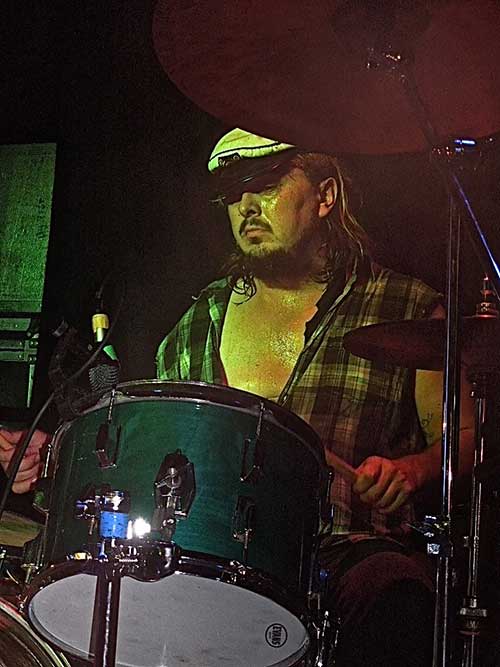 It was a 10-song set and we didn't get any more (Evil went for a wander after the bracket ended so the window of opportunity snapped shut.) HITS followed the old maxim of leaving us wanting more. And we do.We got excitiment, risk taking and more.
If HITS drop into your town and you make the misguided decision to stay home or be elsewhere, you truly can stamp a letter 'L' on your head and go play in the traffic.
Tags: live, Hits, bitter sweet kicks, bruce,, mercy,, imperial,, rollerden,