Shoving some Stranglers down our throats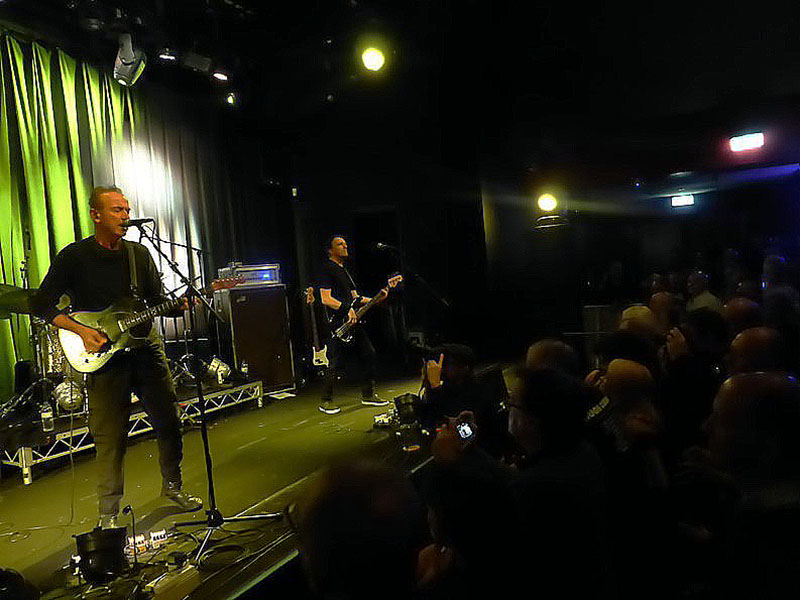 Hugh Cornwell
The Manning Bar, Sydney
Thuirsday, May 9, 2019
The Stranglers were the first UK Punk/New Wave band I ever saw. It was February 25, 1979, at the State Theatre in Sydney with opening band, The Hitmen.
Of course, The Stranglers were not punk or new wave or pub rock or ANYTHING. They played Strangler Music (god bless their drug taking, karate fighting, foul mouthed socks). A band like that couldn't last forever. Lead singer/Guitarist Hugh Cornwell went one way, the rest of the band went another way…que sera sera …what ever will be will be.
Fast forward to 2019 and Hugh is still at it, playing large clubs around Australia. At the Manning Bar in Sydney it's a big sized crowd that braved a cold Thursday night. The trio walks on stage and tunes up for a few minutes. Not the most theatrical stage entrance I've seen but I guess this isn't a Motley Crue concert.
"Pure Evel" is the opening number of the first of two sets. It has an "LA Woman" kind of groove to it. The first set is made up of Cornwell's solo material which a lot of people in the crowd seemed very familiar with.
This is NOT the sound of the savage young Stranglers, this is Hugh Cornwell with a punchy young rhythm section. Hugh says of the new songs "you gotta learn sometime". Hugh tells the story of his very first gig in Sydney and the crowd smashing windows with chairs to let some oxygen into overheated Bondi Lifesaver.
(For the record this was not his first Sydney show but it was the above-mentioned State Theatre show at which The Stranglers had to use The Hitmen's stage gear as their equipment had been confiscated by customs).
The post Stranglers songs have a very different vibe to them although I couldn't help notice that his bass player would sneak in a few JJ Burnell moves. An extra band member would have done wonders to this trio as many of the songs seemed a bit lacking, but the large crowd dug it.
The second set was a run through of Stranglers songs. They eased into the set with "Always The Sun" before stepping on the accelerator for "No More Heroes", "Peaches", and "5 Minutes" etc. It sounded good although Hugh was not spitting out the vocals with the venom of the late '70s and one shouldn't expect him to. Hugh had promised to "ram some Stranglers down your throat" and this he did!
"Goodbye Toulouse", "Duchess" and "Nuclear Device" had a good vibe although, again, an extra band member would have benefited the songs. If you're a Stranglers fan get along to see him, you'll be a shocker if you don't.
Tags: australian tour, the stranglers, 2019, hugh cornwell