Smoke, mirrors and substance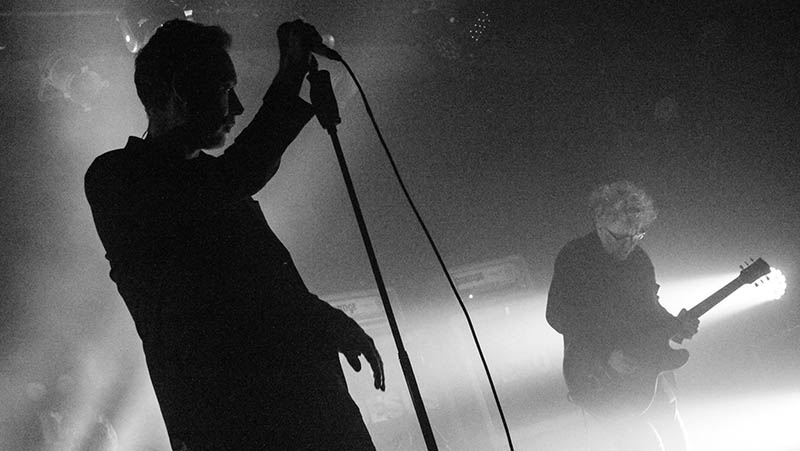 The Jesus and Mary Chain
The Gov, Adelaide
March 15, 2019
Alison Lea photos
Late the following afternoon I received a message to the effect that I was off to see the Jesus and Mary Chain that night. My photographer, engrossed with preparations for a seven-year-old's birthday, told me where to take myself. I called Peter, I called Bob. Both busy. I called a different photographer and we presented ourselves at the rather wonderful Gov, where I eventually hope to be buried.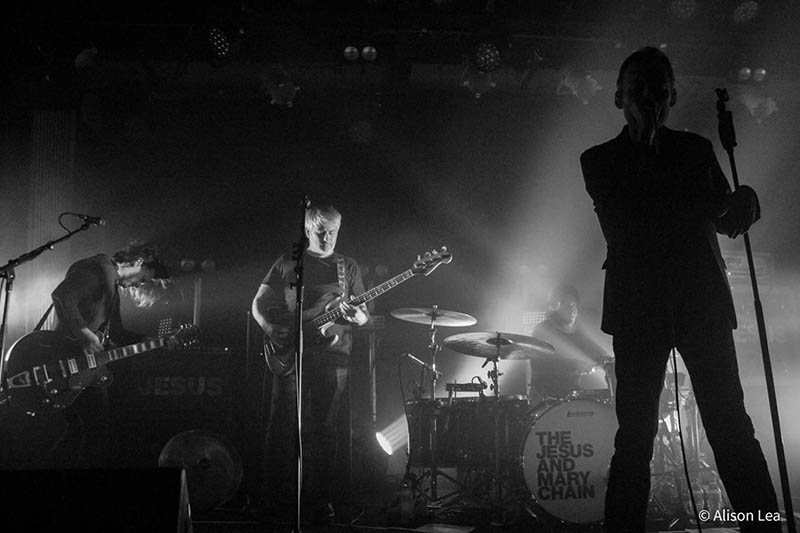 I really enjoyed the show. The songs are not, I confess, as memorable or as special for me as they evidently are for everyone - and the Gov was jammed, which is a hell of an achievement at festival time, when not only are people distracted by so many other things, but also short of readies because they've blown great wodges of cash on those other distracting things.
Rock'n'roll bands rely on whatever techniques they can to create spectacle, which they need as much as they need talent and songs, in order to get and hold your attention. To differing degrees, of course. Jos Grain's famous 2006 rider for Iggy and the Stooges makes it clear that the Stooges didn't need or want much in the way of lights. A nice orange wash and ... that's pretty much it. Ig does the rest.
Bauhaus (the band) pinched a very good idea from er, the Bauhaus crowd when, in 1981, they put three big static cans at angles, making the band look somewhat unearthly. Then there's smoke machines. Sunn0))) of course, use so much smoke that after a while you're either in or watching a fog bank reminiscent of Turner's palette.
Bowie, the Rolling Stones, all the big bands create things which make you want to watch them. The Birthday Party - at their creative peak - were the most extraordinary, gob-smacking spectacle, unlike anything you'd ever seen. Back in 1981, 1982, anyway.
Like many an act before them, then, the Jesus and Mary Chain are no different. Instead of running about the stage and shoving themselves in people's faces, they rely on smoke and mirrors. The light show and smoke is impressive - someone's working bloody hard at the other side of the room (and I assume they've brought that someone out from the UK with them). If they were on the same scale with the Stones, they'd have huge video screens, more smoke and more lights.
The band mostly don't move very much - the smoke and lights mean that you have to really look to see the band. Jim Reid in particular seems to spend half the night bent half over, as if he's bowing to us, often with his eyes shut. Without the lights and fug, the show would simply not be as good - for the Jesus and Mary Chain, Jim Reid's apparent difficulty in engaging with the audience is the compelling inverse of Mick Jagger's determination to run about the stage and acknowledge every single punter. I said "apparent" difficulty, didn't I? The Reids have found a manner of presenting themselves, making a virtue from their reluctance to reach out to the audience (the stage barriers were at least a metre from the stage, by the by - fine at a big gig, but extraordinary at a gig this size. It can't be to deter stage divers, but to prevent the crowd getting too close, physically, to the Reids.
There are those who will say that all this is artifice to the nth degree. I say that doesn't really matter, and who remembers Prince? The Rolling Stones? David Bowie? hell, even The Birthday Party made a career out of a particularly well-constructed and aimed artifice, and when they were on form they were utterly unearthly, if not demonic (in the real sense). Without artifice in rock'n'roll, you don't have a lot.
I say the band didn't move much... ah. Well, let me clarify that a little. The drummer, Brian Young (The Posies, Fountains of Wayne), was fucking brilliant. Arms all over the place. Sharp, shrapnel, precise, killer power. The bassist, Mark Crozer (International Jetsetters, but he's also released two solo CDs, and played in Jim Reid's solo band), was a rock. Knew what was needed. Gave it, no more, no less, solid, big, perfect. And the rhythm guitarist, Scott von Ryper (of the Black Ryder) ... words pretty much failed me from the beginning. Full-on, throughout, fuck me.
Give me strength. Scott's wedged into the left corner with about 1.5 metres to his name. For the entire gig, he is thoroughly, completely into it as he hammers his guitars over and over, knows exactly how to use his expansive rack and is, to quote Bob Short, "not so much playing rhythm guitar as constructing a sonic mesh". I'll be getting stuff by the Black Ryder and, if you have the chance to see the Jesus and Mary Chain, make sure you're in a position to watch how the two guitarists create a quite astounding event - Bob Short's remark about "continental plates colliding" is about right.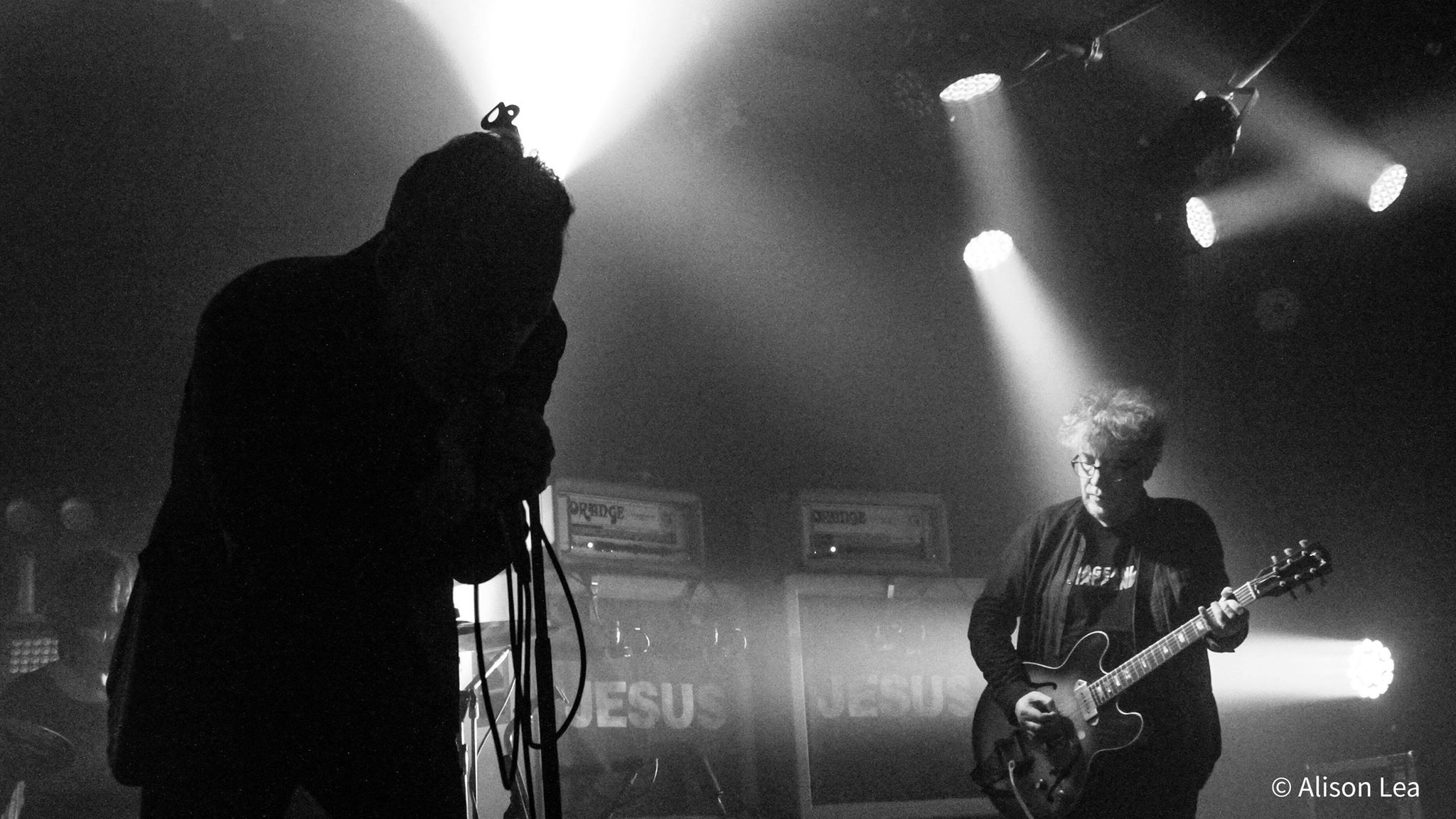 Tags: jesus and the mary chain, jim reid