Stiff Little Fingers live in Australia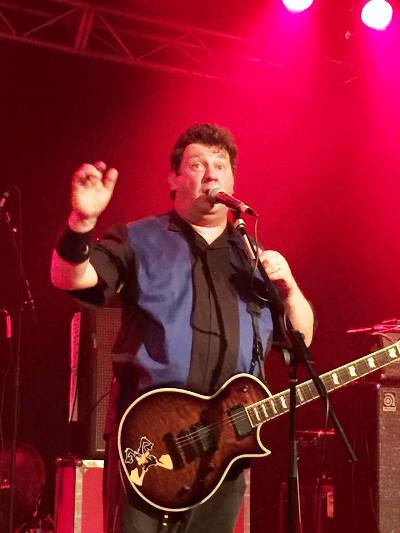 During these past few weeks there has been a stream of classic 1977 UK punks band bands floating through, or announced to play in, Sin City, aka Sydney. Names like Buzzcocks and The Stranglers have been something of a call-to-arms. And now a band that has less of a profile locally, Stiff Little Fingers, is playing.
Stiff Little Fingers emerged out of Belfast in 1977 as a bunch of teenagers playing in a punk band in a city with its soul ripped apart. It was a hard place but one that still had heart. Anyone who looks at news footage at the time knows Belfast was a warzone.
I remember a great uncle telling me first-hand stories of how brutal the city really was. Daily body searches by the English soldiers, ruthless gangs that murdered you for your religion and children that were bashed within an inch of their lives after school for walking down the wrong street. Entrenched generational anger and hatred ran deep on both sides.
Stiff Little Fingers + RUST
The Metro, Sydney
April 1, 2016
John Cobroft photos
If life was bleak and depressing - and England really was dreaming of something better in 1977 - it paved the way for the wave of English punk. This was the England of a savage economic recession, crippling power-cuts, a stifling class system and soaring unemployment was one thing. Belfast, in comparison, was a fucking warzone. It made sense that the voice of the Pistols, The Damned and The Clash (even they were English) would be embraced by Irish kids. And then there was the local variant like Stiff Little Fingers.
Their single, "Suspect Device", is not only perfect street-level garage rock (or punk rock) but still stands as a harsh political outburst delivered with commitment and brutal intensity. Stiff Little Fingers were completely street level: there were no corporate hounds baying at their door and they self-financed their releases… which were picked up on by broadcaster John Peel who broke the band throughout the UK. SLF became a major voice of the UK punk scene in the late '70s.
That was 40 years ago and I am now off to the sold-out show at The Metro in sunny Sydney – something that's which remarkable in itself as SLF was never a huge band locally. I remember, that as a teenager myself, It was The Clash, Siouxsie and the Banshees, The Jam and The Damned that I really embraced. Even then these bands were still not the mainstream here….. It was local Aussie pub rock that packed the venues out in the late '70s and early '80s. I bought SLF's albums and they were damned solid, intense, at times melodic outbursts - especially the first three.
I am walking into with an already full venue and support band RUST are in full flight. It's the third-last song. They are very much at the full-on end of punk: all brutality and aggression, laying somewhere between "Oi "punk and the chants of GBH and the macho pub rock of Rose Tattoo. Not my thing normally but there are solid guitar sounds and a powerhouse rhythm section. They deliver and are certainly a band not to ignore.
The audience is so different to, say, the Buzzcocks of a few weeks ago. It's almost 90 percent male Baby Boomers A real blokes' night out. There is a big expat factor going on here.
A few years ago, The Manic Street Preachers sold out the Hordern Pav. I was handed some freebies and went. What I didn't realize was that the band were huge Rugby fiends and were out for the World Cup. Two-thirds of the venue was filled with chaps in rugby jumpers. It was a similar experience for the the "From The Jam" show. it seemed every expat 50-something English bloke in Sydney had turned out. Tonight there was a helluva lot of Irish accents. Cheers to them. Better you're showing a sense of patriotism at a SLF show then wasting it on crap like U-2.
Stiff Little Fingers has a new album out, "No Going Back", and except for a few breaks they have been an active band since their beginning. The only original (and consistent member), singer Jake Burns, has now been reunited with original bass player Ali McMordie.
"Wasted Life" is one of the strongest songs from their debut album and opens the set. It's political, confident and blistering. The sound is good, too. Straight away, what strikes me is that Jake Burns' voice is in fine form. They follow with "Just Far Away" and "Roots Radicals, Rockers and Reggae" from their very strong third album, "Go For it".
The Specials cover,"Doesn't Make It Right", is a dedication to another important and political band. The sound has to be complimented. It's fine and warm with strong reverb and delays on the vocal and lots of clarity. It just goes to show that a good soundman is worth his weight in gold.
The rhythm section of Steve Grantley on drums and Ali McCorbie is wild with endless energy.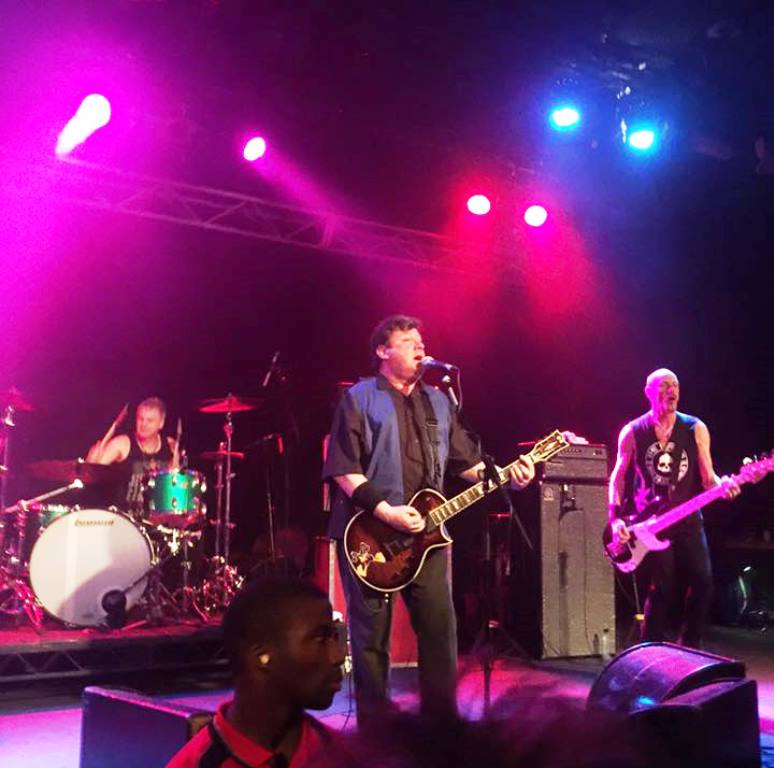 There are a few songs from their latest album and that's why you could never put SLF in the heritage act pile. You sense they are real working band that is still writing and recording. It's a fact they rightly showcase the history and their political past in their songs. It also makes the old punks happy. I did recognise a few faces from the dim, dark past of French's Tavern circa 1982.
There is something about British punk that lends itself to anthems and at times SLF's music sounded like football chants. It was not music that was really based in blues like, say, the Stooges. It was an adaption of a style that goes way back to music halls - even with its rebellion, pure energy and proto-punk influences from the USA. There was a chorus of sing-alongs tonight that I suspect they came from the Irish expats. It was all in good spirit in the moshpit and that was all fine by me.
With all the strong punk history and political overtones in the air, there was a lot of fun to be had tonight and it is rocking.
After a solid 100-minute set, "Tin Soldiers" and "Suspect Ulster" are a finale delivered with complete attitude – like we were in a time warp and it's 1979 with SLF at the height of their powers. SLF are perfect as the soundtrack to the end of a long week at work with a few beers in your belly.
After a time, SLF are coaxed back to play some more. They deliver the Rita Marley cover "Johnny Was", "Gotta Get Away" and the classic punk single "Alternative Ulster".
Alright, I am convinced.
If I was going take any kid along to a show by a band that could still capture the punk explosion of 1977, it wouldn't be god-awful dire rubbish like Blink 182, Green Day or Simple Plan. I would drag his or her arse to a Stiff Little Fingers gig. Stiff Little Fingers, just as as they started, are the real deal and still deliver. They're simply an awesome live band.
Tags: live, australia, sydney, stiff little fingers, jake burns