Back in Byron with Tamam Shud - four decades later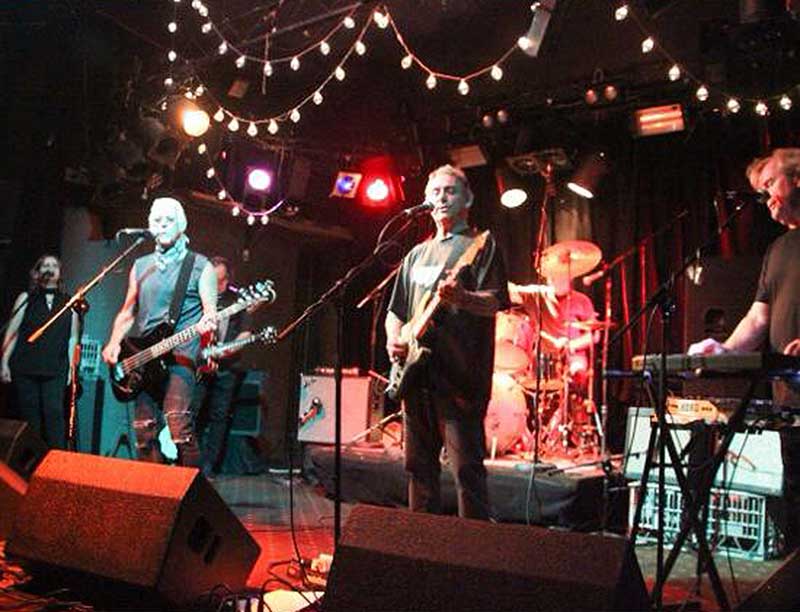 Tamam Shud back on stage at Byron Bay's Great Northgern Hotel. Al Heeney photo
The Northern New South Wales Australian coastline has changed dramatically over the last 50 years.
Remember the pilgrimage of holiday time, with caravans lined up on the Pacific Highway…the tribe of kids in the backseat of the Kingwood (or Ford Falcons) bellowing out of boredom on the inteminable drive north? Then there was the weekend pilgrimage of surfers with their Sandman panel vans. Followed, of course, by the night drive back to work to Monday. It was a long trip back down to Sydney with car headlights on high beam, dodging speeding semi-trailers with speed-driven truckies, in-between stopovers at the Oak Milk Bar or the Big Banana.
Dotted along the NSW coast, from Hornsby to the Gold Coast, are memories. Of stop-overs at Frangipani-lined caravan parks, or pitstops at the homes of relatives. Memories marked by places like Foster, Nambucca Heads, Coffs and Byron. Sleepy little towns that were bursting at the seams on long weekends and Chrissie holidays.
Tamam Shud
+ Windy Hills + Maria Stratton
Great Northern Hotel, Byron Bay, Australia
March 16, 2017
Tamam Shud photos by Al Heeney
The first occasion Tamam Shud played these parts was sometime in 1971. Byron Bay was such an arcane little town with milk bars, general stores and music venues - often with sand on the floors, or soggy beer stained carpets and surf boards left in doorwaya. The hippies with summer love in their heads, in tied dyed shirts, playing "Woodstock" and Grateful Dead albums on cassettes in their Kombi vans.
Something happened to the sleepy surfing and fishing town of Byron Bay over that time. Its main drag Johnston Street has become Cairns on steroids. Reeking of cheap Bali perfume, it's a thoroughfare overrun by wanna-be hippie kids from Norway or Sweden on their backpacker "down-under" holiday treat. It's been swamped by a flood of stupid tribal tattoos, and pissed Poms on benders, wandering the streets as the super-rich pull up in their Rovers and BMW sports cars.
Byron is now dominated by a two-class system, the feral street kids begging on the streets and the super-rich who, over the years, cashed-up after selling off their mansions in Mosman or Sydney's Eastern Suburbs and who have pushed out the old "townies". Most of them have moved on after hitting the jackpot by selling their homes at highly-inflated prices paid to these yuppies.
It is a street full of buskers, hangers-on and hipsters with well-groomed beards, herbal tea and organic fibre clothes. Not one shop from the old days remains and the street's now lined by signage for corporate names and international tourist companies. Byron Bay is a place to be avoided…well, unless the Tamam Shud is playing at The Great Northern Hotel.
That said, the yuppies can't change the surf; Broken Head and The Break still produce the barrel, I have been told.
As I walk into the Great Northern Hotel I notice that it has essentially remained the same over the last 30 years. It's an iconic venue that's hosted almost every major band, from Midnight Oil, Hoodoo Gurus and Rollins to The Whitlams. Seeing the pub largely intact makes for a good start to the night.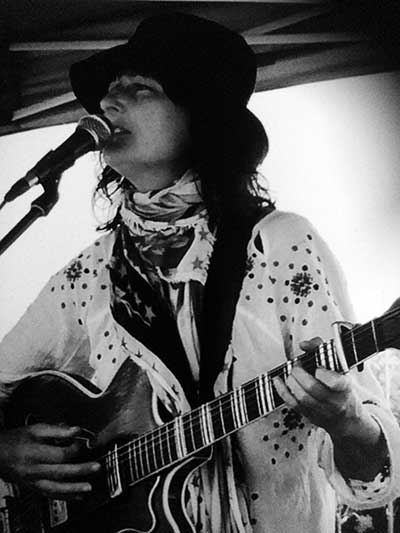 The venue is sparsely populated just on 8pm as Maria Stratton walks on stage. The singer songwriter, with Shane Fletcher on drum duties, opens with "Fantasy Land". I know we are dealing with a major talent, her songs full of lyrical prowess as she weaves around the words with her chiming vocals.
Apparently, Shane and Maria really had a brief rehearsal; and Shane is not so much adding a backbeat as he is improvising around her songs. It is free-form and this gives the performance a relaxed and loose feel and a sense of the spontaneous. There's a large degree of concentration at play as the cymbal work and brushes create atmosphere behind Maria's songs.
"Trailer by the Sea" and "Cotton" have a strong lyrical flow, with Maria's melodic storytelling giving a nod to Leonard Cohen and Patti Smith. Maria brings a darkness with her, and a soulful collection of elegies. Her music comes from the more alternative country field. I suspect there are many Emmylou Harris and Lucinda Williams records in Maria's collection. Vocally, that is the territory she explores.
"Killing the Blues" (the Robert Plant cover) is a lovely diversion from the original. Maria's own songs and stunning vocal echo and ring around the venue. Apparently, there is a new album in the can. I will certainly will check it out.
Windy Hills take the stage. This band has a cult following in the surf fraternity, both here and in California. It is a world I have little knowledge of, that of composers and contributors to the soundtracks of surf movies.
In many ways, Windy Hills have followed the Tamam Shud tradition of those early years when they were the dominant surf band in the country. It was, in many ways, how the Shud existed from 1969, as a band that created soundtracks that financed their recordings.
I certainly can hear the "Morning of the Earth" soundtrack as an influence on this band and in many ways, they're a fitting support. They're very laidback and their songs build in layers. They're like a '70s band such as Jethro Tull or Spooky Tooth but with surf overtones. Their casualness on stage is engaging, making us feel almost that we're in their lounge-room with a bong being passed around.
Led by Andrew Kidman, who at times channels a casual Crazy Horse Neil Young with his understated vocals, Windy Hills have a wide range of songs. They're loose and floating, with strong but often understated guitar lines. The rhythm section keeps time rather then pushes a back beat.
A song like "Little Hauk" is typical; it builds with intricate interplay before surging forward like a soulful rock machine. I like this band: they really capture the ocean. They're all calmness that builds into jamming. Melodic and with groove. They are the band for chilling out after a day in the surf, with a beer in hand at a classic coastal surf pub.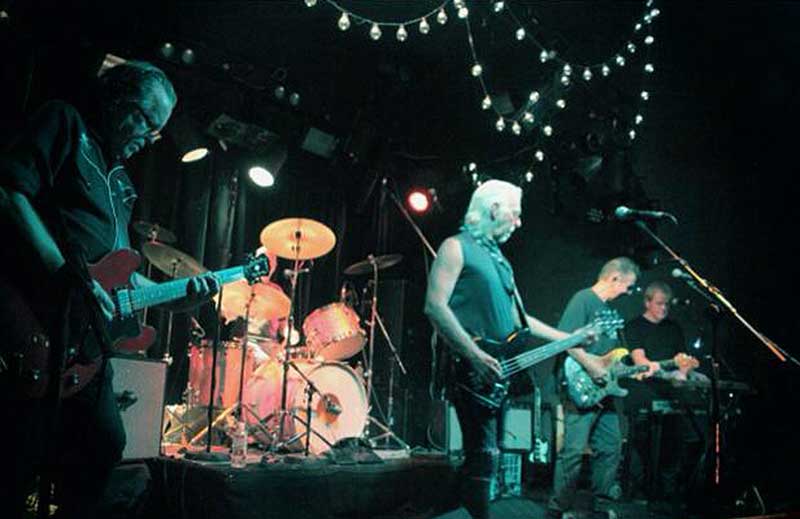 It has been just over a month since I last saw the Shud at the North Narrabeen Surf Club. A local benefit gig with raffles, it was was a fantastic night spent with the local community. The Shud are evolving into a well-oiled machine. As this is their only third public show since their comeback, it's fascinating to see them pushing their boundaries with their new material but also delving into their back catalogue.
Tonight's set was essentially 30 minutes of "Morning of the Earth" with a short break and then an 80-minute set of blistering rock, based on their 2016 album ("Eight Years Of Moonlight") and several new songs. It was a solid set, as Tim gaze soared to exceptional heights with his guitar playing.
The Great Northern is beginning to fill up. The audience mimics a hippie gig of 1972 as they sit on the floor and watch on. The Shud casually walks on stage, all dressed in black. With no fuss, they launch into a long, classic late '60s Pink Floyd style work-out.
Tim Gaze takes up vocal duties for the selection of songs from "Morning of The Earth". We're thrown into a time warp to when surfing was the real counter culture of this country. It was a time of no designer surf clothes or corporate logos, when the music transcended commercialism and was sweeping in its aural vision.
The band is perfectly in tune with the room's mood and old surfers in the audience are applauding as they're thrown back to their youth. It was a time when halls were hired and surf movies were shown - these were real events along the Aussie coast.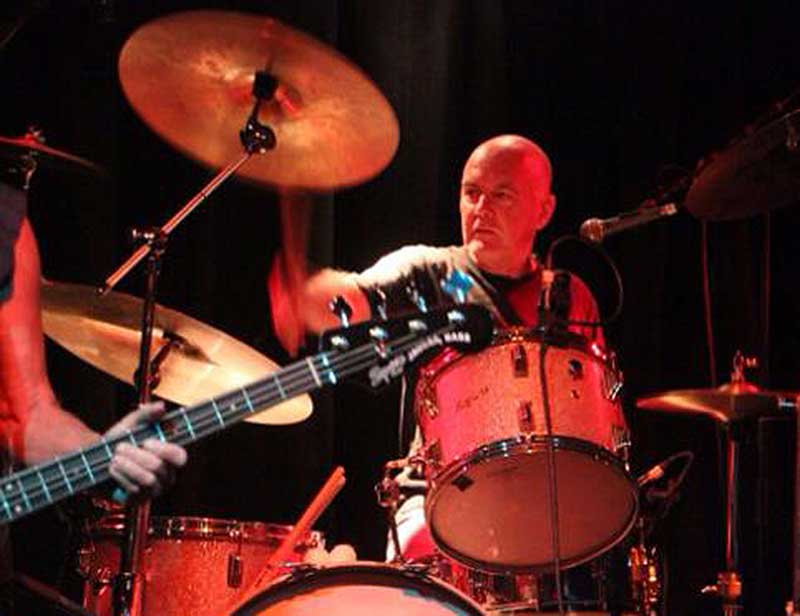 Tamam Shud's Nigel Macara
The sets build as "Music Train" (from the debut album "Evolution") weaves its sounds. It sounds every bit as dramatic and powerful as it was on their benchmark LP. "Evolution" was recorded when Australian music - particularly the recording side - was basically as primitive as two tin cans and string. As much as the album captures the time and is so historically significant, its low-fi quality does not capture the intensity and power that is Tamam Shud as a live band.
"Lady Sunshine" is the highlight; it is melodic and Beatle-ish. It is a perfectly psychedelic pop song of the time and actually gave The Shud some mainstream success. Lindsay Bjerre's vocal soars, and although time has marched on, he has lost nothing of his range. It still has that distinctive texture and quality. Even a raw rock 'n' roll edge. I once said that singers never reach their pinnacle until they are in their 60s. Lindsay is a testament to that. He's never sounded as good.
There was less of the new album "Eight Years of Moonlight" played tonight than at recent gigs. "Set Me Free" builds on a crunchy riff and intertwining surf and Spaghetti Western guitar lines. The distinctive, metallic, cold sound of Gaze's Strat over the rhythm is like a Triumph motorbike coursing the hills.The song holds the rhythm on the bass notes. Bjerre's lyrics are simply put - a Northern Beaches nightmare.
Suddenly, there's a surprise: It's the opening of "Hot Generation" a song recorded by pre-Tamam Shud band The Sunsets and one of the great Australian garage rock classics. The organ wails as Lindsay channels a punk rock punk kid long before punk's time, hitting his bass strings with primal attack. I never thought I would hear this song played live and sounding so close to the original. The band is on fire.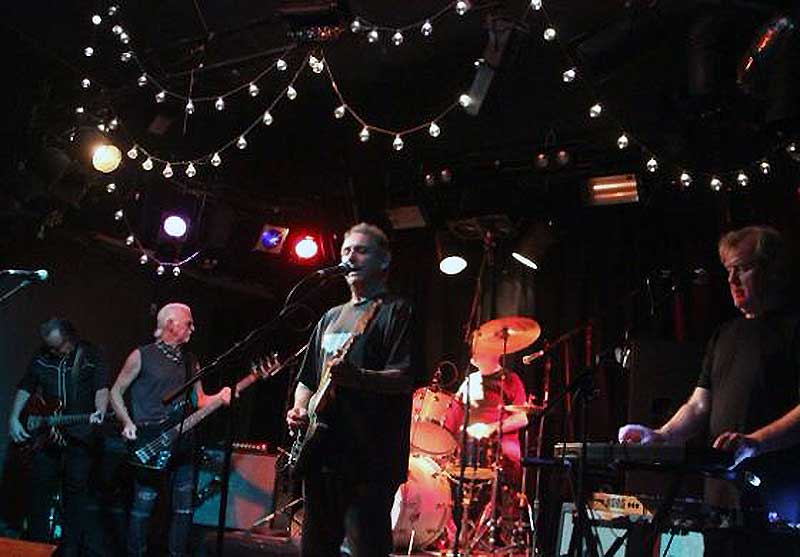 Tim Gaze on vocals
Those sleepy hippies thinking this was a sit-down gig are jolted into a full-on rock n roll show. As alcohol fuels the mood, dancers start grooving up front. They're joined by more as the set continues.
The REM-ish "Numb" (another song lifted off "Moonlight") is melodic and distinctive, with an arpeggio bringing chords ringing in and out simultaneously. The vocals are quavering and moving over the layered harmonies and it all adds up to a gem, a superb piece of song-writing. Then there's "Outer Reef", with Tim Gaze's melodic and inventive guitar. It's a modern take on an instrumental surf song.
"The Ship Song" is another of the newer numbers and as Lindsay announces, it will be on the next album. It Is classic Shud with a tinge of psychedelia and builds into a hard rock crescendo. Gaze again shines with some classy, reverb-soaked feedback lead breaks.
It's second guitarist John Cobbin who steps up tonight and takes it to another place. His counter melodies and lead work with Gaze to form a genuine twin guitar attack. The Midnight Oil comparison (and the influence Shud had on the Oils) can't be ignored. "The Ship Song" really parallels Martin Rotsey and Jim Mogine in its brutal, yet melodically furious delivery - not unlike the early Midnight Oil albums. Quite inspiring.
The set clicks in at more than 110 minutes, covering all eras of the band. That means the pre- Shud, classic garage surf period of The Sunsets to the softer '70s surf excursions to the modern grunge-psychedelic trip of their newest album. Experiencing Tamam Shud live is like a history lesson in the changes over 50 years of Australian garage and surf rock.
I walk into the night air and face Johnson Street again. Avoiding the last of the backpacker barflies and buskers, whose only audience now is the homeless ferals, I think that maybe Byron isn't that bad. After all, I did find a late-night bakery (and those post gig pies always seem to taste perfect.) I head off to my own, Frangipani-lined caravan park, knowing that tomorrow, I will have a Tamam Shud glow as I shake off one beer too many and watch the mid-morning waves.
I-94 Bar presernts Tamam Shud at The Bridge Hotel on Saturday, May 6. Tickets are available here.
Tags: rock, lindsay bjerre, surf, tamam shud, tim gaze, the sunsets, byron bay, psychedlia