Anarchy? What Anarchy? Glen Matlock just wants to have serious fun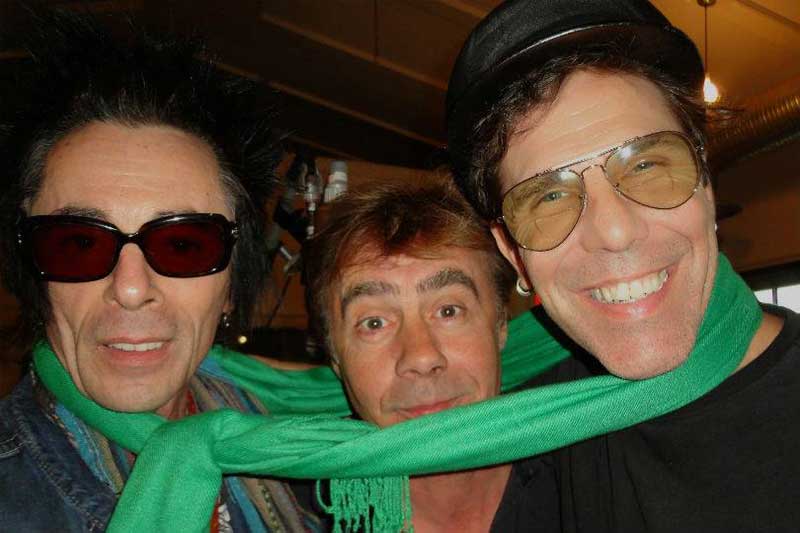 Men Of No Shame: Earl Slick, Glen Matlock and Slim Jim Phantom
Sweat is pouring down my neck and back. Rob from the C-Bombs is dangling pictures of his empty pool at me on facebook and I suddenly remember to start dialling.
I'm calling Glen Matlock in London. It will be something like 8.30 in the morning there. He's organised, sounds quite sober, matter-of-fact and down to earth. Which is pretty good, cos if you've never heard the bugger's name you've certainly heard at least one of the bands he's been in, and helped write the songs for: The Sex Pistols.
Glen is coming to Australia for the 'Men of No Shame' tour with Earl Slick and Slim Jim Phantom.

Never heard of the others? Well, you've probably heard them, may even have seen them. Phantom was in the Stray Cats, Earl Slick has played with Bowie on numerous LPs and tours … and that's the tip of the iceberg.

The Stray Cats lost their singer so, rather than continue with the name, formed another band: Phantom, Rocker & Slick. And there's more, but go to their pages via the links at the bottom of this page and get some decent music instead of the Eagles (I know you have all their albums and it's time to mend your ways).
If you're a guitarist and you want something more like a tank with strings which you can throw around without the neck flopping about. Yep, Slick designs guitars too.
This isn't just a chance to "see the men" up close in a club; really, this is about why we all got into rock and roll in the first place. Not the Eagles. Not Robin Trower. And not Coldplay. These chaps have not only a lot of stellar experience between them, but they're coming … because they want to come and because they still love playing. Simple as that. This promises to be a damn fine, fun night where you can laugh, smile and dance and frankly, that seems to be rather missing from rock bands these days.
Folks, this was an enjoyable interview with a man who is not up himself, doesn't think he's important in the grand scheme, and who you can imagine lugging amps up the stairs to play at your local. Which, frankly, would probably be worth a trip to the Old Dart in itself.
I begin by introducing myself.
Glen: Where are you calling from?
Robert: Oh, Adelaide, South Australia.
Glen: What's it like where you are?
Robert: I'm in a boiling hot room.
Glen: Well, it's raining here, and it's minus one.
Robert: Pack us some cold and send it over… Look, Glen, Australia is a day and a half in a tin can to get here; so why here? I mean, cricket will mostly be over; are you here for the surfing or the Australian Rules Football?
Glen: Neither, we like Australia, we've all been here before, so why not? Also, the money's alright… but we enjoy playing together, so..!
Robert: This is basically a fun tour..?
Glen: Well, yeah, it is fun, but it's serious fun, d'you know what I mean? We're proud of what we've done in the past and we're proud of what we're trying to do now. We've also got a great new album in the can, but we'll see what we'll be playing when we get there. We're playing a gig soon and we'll have a talk about it and sort out what we might want to do.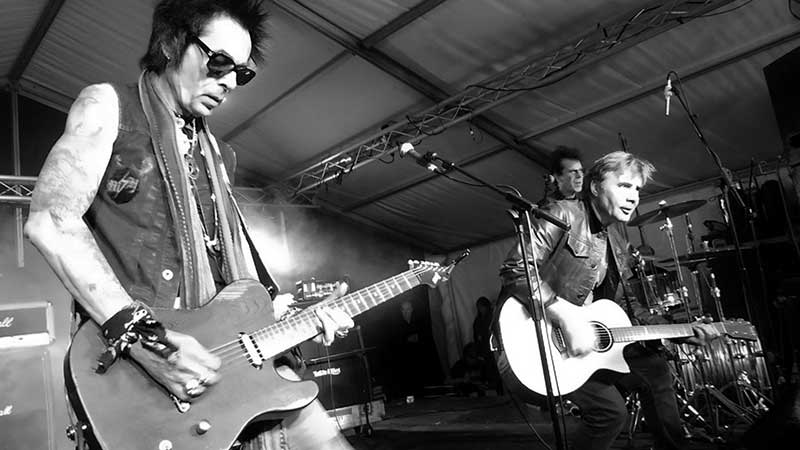 Slick and Matlock in action.
Robert: In the clip for Pharell Williams' "Happy" you're playing an acoustic guitar, and some live shows have you playing guitar with someone else on bass; will you be playing guitar on this tour?
Glen: No, I'll be playing bass, and singing for most of the set. If you want me to play guitar you'll have to have a word with the promoter!
Robert: Well, I suppose bass is what you're best known for here. Will you be bringing out any of your recent releases, like the Philistines or the International Swingers? We don't really see them out here.
[Glen seems a bit surprised by this question]

Glen: Maybe. We'll think about it.
Robert: Why did you take up guitar in the first place?
Glen: Cos I wanted to be rock and roll star! No, look, I was lucky to be born in the fifties, caught all that rock'n'roll, got exposed to Hound Dog Taylor when I was really young. And I got turned on by songs, you know, we're just kids having a right laugh by the side of the road and you'd hear the Kinks, the Who, the Small Faces, you know, London bands, and I started taking music more seriously. Particularly the Small Faces, Ronnie Lane … you know, they seemed like us … I wanted to be like that, rock and roll was to be my exit from the straight world of work and accountancy …
I think if I hadn't gotten into the Sex Pistols, I'd have gone into rock and roll by a different route, like art school, through painting or something like that… so many musicians went to art school and ended up in bands. I loved music - I thought if I went to art school I'll get into a band, but I never actually went.
I mean, London in the '70s was pretty horrible, and Soho was pretty seedy back then as well, and you'd see really interesting people from the past, Bohemians … so I'd go to buy a pencil at art shop in Bourke Street market, and you'd see Jackie Barnard going into a pub… so all around us were all these connections with people not in the straight world…
Which is how people like Malclom (McLaren) and Viv (Westwood) came into it, they were like that, part of this … world, and Steve and Paul, and even Johnny Rotten, who was like a punk rock version of Jon Swift. I suppose it's the same with Earl and Slim, they all found their way into rock and roll like that. They were in the right place at the right time and now, collectively, we feel we're in the right place at the right time, so why not take a chance, risk your neck?
Robert: You do seem to have clicked together… a bit like an odd jigsaw…
Glen: Yeah, we're all affable guys, we're all working musicians. Well, we're mostly affable; we're not shrinking violets. This line-up is definitely good for us. It's like all of our influences are in there. There's a real chemistry between us, it just feels right.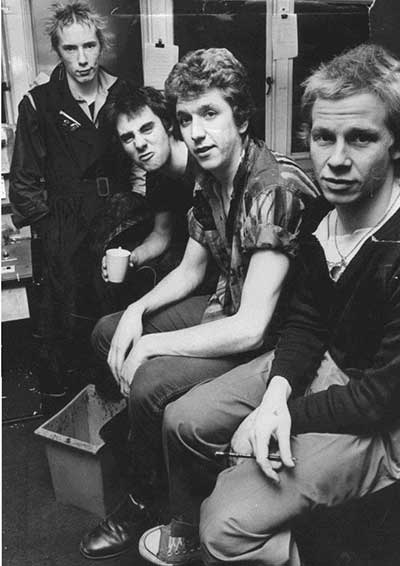 Robert: I thought it was pretty gutsy to do interviews without a proviso of 'no Pistols questions'.

Glen: I don't mind that people want to ask me questions about the Pistols because I know people are still interested. But we're always doing new things, though, I don't wake up in the morning thinking about the past, this is the present. You can't deny the past, but it is the past.
[I remark that I was pleased to briefly meet Earl on the Dolls tour, and he seemed quite approachable; and that I thought he was a bloody good guitar player.]
Glen: Yeah, he is, Earl's a superlative player, and I'm really proud to play with him.
Robert: There seems to be some disagreement about who wrote what songs in the Sex Pistols, but since the songs are credited to all the members, the members get an equal share, I really don't understand the disagreements.
Glen: Well, I don't know which article you're referring to, but everyone is proud of their personal efforts … although you know, with Johnny Rotten, there are times when he seems to think it was all him…
Robert: … and it wasn't, it couldn't have been. You all worked at it.
Glen: Yeah, that's right.

The dates are below, make sure you've got your excuse or doctor's certificate ready; you won't want to go to work after these blokes.
Friday 26th February 2016
Surfer's Paradise Beergarden, Gold Coast QLD
Tix: www.moshtix.com.au + venue Box Office Ph. 07 5570 1322
Saturday 27th February 2016
Chardon's Hotel (Backroom), Brisbane QLD
Tix; www.moshtix.com.au + venue Box Office Ph. 07 3848 4091
Sunday 28th February 2016
Newtown Social Club, Sydney NSW
Tix: www.newtownsocialclub.com or 1300 724 867
Wednesday 2nd March 2016
Cambridge Hotel, Newcastle NSW
Tix: www.bigtix.com.au and www.famousrockshop.com.au
Thursday 3rd March 2016
Fowlers Live, Adelaide SA
Tix: www.fowlerslive.com.au and www.moshtix.com.au
Friday 4th March 2016
Ding Dong Lounge, Melbourne VIC
Tix: www.dingdonglounge.com.au and www.oztix.com.au
Saturday 5th March 2016
Flying Saucer Club, Elsternwick VIC
Tix: www.flyingsaucerclub.com.au
Phone Bookings 03 9528 3600
Tags: sex pistols, new york dolls, glen matlock, earl slick, slim jim phantom, stray cats, david bowie