Originally posted September 7, 2009
As the new millennium passed its mid-point, the Hekawis called it a day with members scattering and the associated Wild Eagle label shutting up shop. Both events left a gap in the Brisbane music ranks, but the freak flag still flies through singer/organist Screamin' Stevie.
Screamin' Stevie and his new band The Credit Union delivered one of the best albums of 2008 in "Four Flights Up" (Turkeyneck Records). Part old Hekawis songs but mostly new tunes, it had some shiny, poppier moments but mainly lived in the garage, mixing piano, organ and fuzz guitar. It made The Barman's Top Ten.
Fast-forward to 209 and there are two new Screamin' Stevie albums in the pipeline, one with The Credit Union and another with the grandly-named Screamin' Stevie's Australia whose ranks include ex-Screaming Tribesman/Girlies guitarist Brian Mann.
Screamin' Stevie is a veteran of the Brisbane garage and underground scene with a wealth of stories to tell, so THE BARMAN invited him to do so over a few quiet virtual ales. Here's the result.

So what's Screamin' Stevie And The Credit Union all about and what happened to the Hekawis?
The Credit Union are a bunch of musician mates that i got together after the hekawis called it a day.I didn"t want to stop playing live shows as thats what I love the most and the Hekawis said that they were never playing live again. I said to them never say never!.
Four members of the Credit union grew up with me playing Aussie Rules for Sherwood Districts in Brisbane. We played the Purple Hearts reunion with Mick and Lobby and then we recorded the Four Flights up album which was basically our live set.
After so many years of playing with the Hekawis, what stands out of the greatest show?
The Screaming Lord Sutch show is one that always stands out. Robert Smith singer of the Busymen and I went down to a festival called the Wintersun on the Gold Coast which is a sort of custom- car-dress-up-like-a-rockabilly-with-Stray-Cats-tattoos bullshit kind of affair.They were advertising Lord Sutch. He had been on the 6pm news jumping a barricade and shaking hands with Prime Minister Malcom Fraser, promoting his monster Raving Loony Party. We wanted to see him perform and get our albums signed by the great man.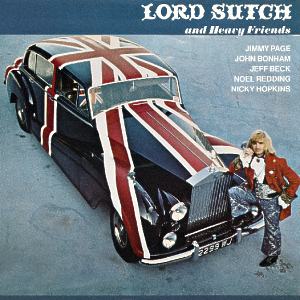 There he
was on stage with all sorts of props and he was lighting fires and all sorts of stuff. No-one even knew who he was and the bobby sox crowd even told us long hairs (I was 22 at the time and still had hair like Jim Morrison) to get off the dance floor as we were in their way - we were outnumbered! Even so, we just laughed at them.
After the show I went backstage and saw Sutchy sitting there all by himself and i asked him if I could get him a drink. He said, 'Can I have a good cup of tea?'
We got our albums out and he grabbed the "Lord Sutch and Heavy Friends" album and started waving it around to his band and cousins who were also in his band and lived in Aus. Nobody seemed to care or even know who he was. It was tragic.
He said: 'Look this is me this is me in the '60s with my Roller!' Finally I said I was in a band (the Disciples which later turned into the Hekawis) and we went back to his hotel room to discuss a possible show in Brisbane. His manager was playing hardball and was saying No but Sutch would reprimand him and say I've never played in Brisbane. I finally agreed to guarantee them 1000 bucks which of course I was bluffing about as I knew I couldn't raise that at a gig back then.
It turned into a great night. The place was packed - it was upstairs at the Treasury Hotel in Brisbane. The Scarlet Eagle and I carried him out in a coffin while he was singing "Roll Over Beethoven." He had a sign on his coffin saying 'Cheeseburger Eating Rock Star Inside'. He was great.
My mate Gary, who used to own Tweed Music, played bass for him. We had a great night and talked to him backstage later. All week earlier he was ringing us up saying that his cousins had him hostage and that they wouldn't let him out of the house and could we come and get him. As I was working I couldn't make it and I will always regret that. He talked on the phone to my mum for hours. She said the last thing he said to her was: 'Rock 'n' roll is evergreen'.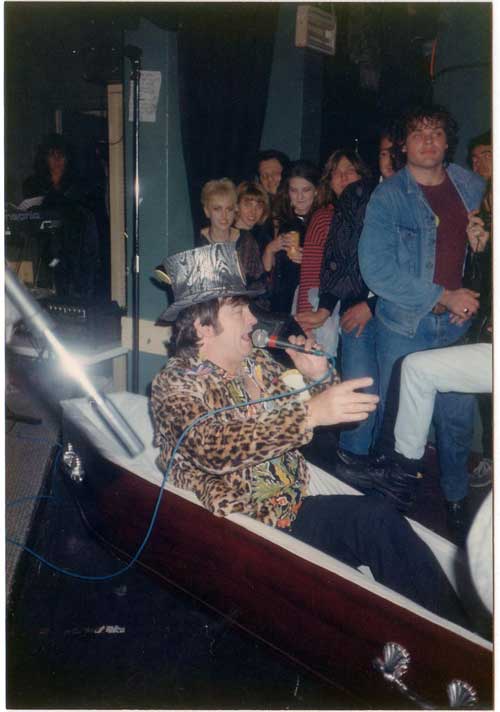 Knowing what I know now is that he suffered from depression but you wouldn't know it by meeting him. He wanted me to be his Australian candidate for the Monster Raving Loony Party and when I said I didn't know anything about politics he said nether did he!!!
He gave me his Jack the Ripper badge and gave Smithy one saying: 'Vote for insanity - you know it makes sense.' Which was pretty funny if you know my mate Smithy - he is insane.
Others that stand out are gigs with the Exotics in Melbourne, supporting Dick Dale and doing the Spit The Dummy tour with the Hoodoo Gurus. Plenty of stories there Barman but I won"t rave on all day.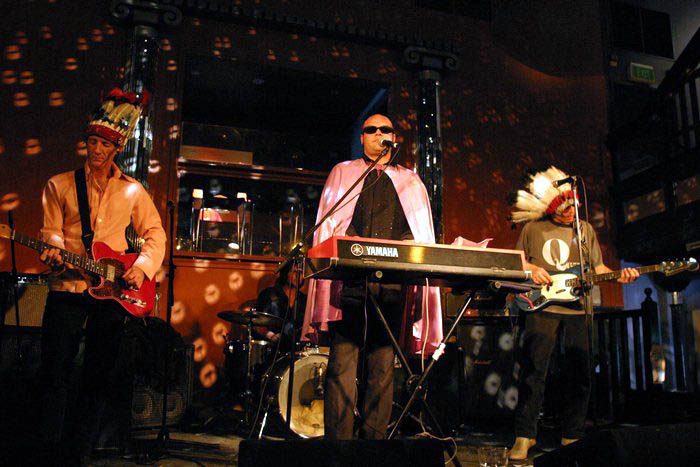 Latter-day Hekawis holding court.
What are the other past Hekawis members doing?
James has a new band that he is the singer of. We are related so we will always be in touch. He is one of the most underrated and overlooked songwriters in Australia. He writes songs in his sleep that other people could only dream about.
So let's get this out of the way up front...why are you guys a Credit Union and not a bank?
It wouldn't matter which one we are Barman, if i was doing it for the money I would have given up long long ago! I got the name after I saw a building with credit union written on it and i always like 60's bands with union in the name. I did it for a bit of a joke actually and some of the members like the name cause they get pot on credit.
And tell us about Screaming' Stevie's Australia...
Again the name was a joke. One of my friends said you can"t do that. I thought thats not a bad reaction I wonder why he feels like that. He said the reason was Baz Luhrman's "Australia" movie and I said 'No, Australia - just like America. We are still looking for a name so if you can think of any let me know'.
We just used it for a couple of gigs that we are booked for. We have had three names in the past four gigs. I started this band when the drummer and rhythm guitarist rang me 10 minutes before we were about to go on stage at a packed pub and said they were not coming tonight. I asked the Rackateers rhythm section if they would play the blues with me for the evening and they did and it was so good they said we want to join. They then bought (guitarist) Brian Mann (ex-Screaming Tribesmen, Kings of the Sun) down and that is the line-up. Whammo i had a whole new band in half an hour.
So how is it juggling the recording of two albums at the same time? Where are you recording and for what label?
It's great. I always write my best songs under pressure and recording ad lib certainly puts me under pressure to come up with something. The new band are recording under Brian's house and we have some great songs already.
The Credit Union record is being done at Empire Studios in Brisbane minus two members that I sacked for not turning up at the gig. I have never been on any major labels and i don"t think i will give Bob from Turkey Neck another record until he can show me some figures from the last one. I understand it probably isn"t a million seller even though it should be and that small labels struggle to keep afloat. I was on Nicky Shutdown's Cordouroy Records. I really should point out that if these guys never put out my records they probably would have never come out so you have to weigh it up. I still like to stir them up anyway to keep them on their toes.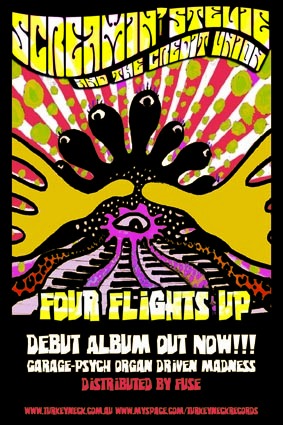 The "Four Flights Up" album's a killer, one of the best I heard last year. What was the story behind the recording of it and how's reaction been?
Thanks Barman, that's very kind of you. We basically recorded our live set list which is why there are a few oldies on the album. When I started the band the guys said we want to do this song and that, I wasn't sure about doing some songs that were already recorded but they insisted. I thought in the end why not - there are no rules go for it if you like them that much.
Everyone I talk to says it's a great record and that its better then any of that shit that they play on Triple Jay. I say thanks but I don't listen to that station - I listen to 4KG cause they play Chuck Berry.
You re-did "Tribute To Dell" and "In The Band" on "4 Flights Up". Are there any of your older songs you would have liked to have re-recorded for it?
No not really. I kind of felt lazy not writing many new ones for it.
Was there a vinyl edition?
No I am still waiting for Bob at Turkeyneck to put it out on vinyl.
Talk a little about about "What The New Breed Say"...
Some of the lyrics in that song are about my crazy mate Bob. And the rest are just stuff that came to mind as i was recording it. I don't think to much about lyrics just as long as the overall sound of them fits in.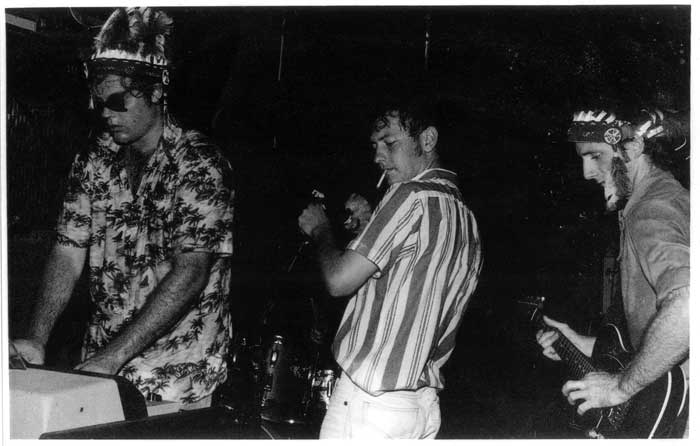 Hekawis in full flight at The Public Bar in Melbourne with Screamin' Stevie on the left, drummer Dave Hogan on maraccas and The Sheik on guitar.

I've heard "Black Negro" (the title of which which is surely a tautology) from "4 Flights Up" and I want to set you an exam question..."Only black men can play the blues. Discuss."
Well we certainly know that black men are better at singing the blues but there are exceptions. Some of my greatest influences are-Eric Burdon, Mitch Ryder, Stevie Windwood, Stevie Marriot, Stevie Wright and Jerry Rosalie. These guys were probably citing Little Richard as the greatest ever - just like I would.
Who are the new Brisbane bands worth checking out?
Screamin' Stevie if you like a good old rock show!
I've been meaning to ask you about the cape. That's something of a trademark for you. What's the origin? Did you watch a lot of Batman as a kid?
Originally I got into a band when Brett from the Booby Traps and James from the Hekawis said they were starting a group called The Bluebirds of Happiness. We were 17. They wore all kinds of crazy furs and wrestling masks and chains and stuff. They wanted to be like the Psychotic Turnbuckles whom they used to go and watch. They were recruiting me as I was a big guy they said and would make an excellent frontman/wrestler.
When I inquired what I would have to do in this band they said you have to wear a cape and women's sunglasses and put this chain around Brett's neck and then get him in a figure four leg lock, which they had written a song about. I thought that sounded like fun and i have never looked back.
If you could put a dream festival line-up together from bands living or dead. what would it be?
Little Richard, Larry Williams with Johnny 'Guitar' Watkins, the Beatles, the Yardbirds, Wilson Pickett and me so I could watch.
Since we're in a bar, what are you drinking?
I drank a half a bottle of Old Virgin bourbon and half a carton of Pure Blonde cans the other night and woke up with a sore head and an angry wife.
Screamin' Stevie plays the Beetle Bar in Brisbane, Queensland, on July 25.