Flashback: King Khan caught in conversation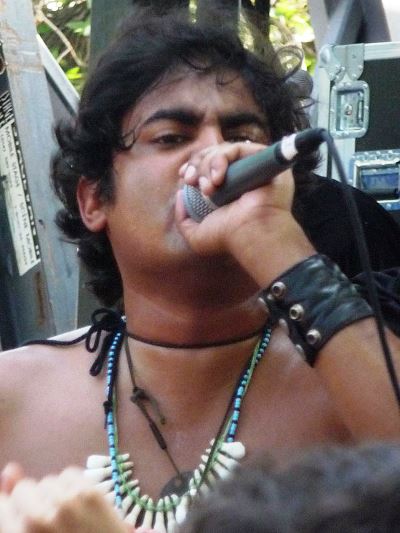 Garage rock royalty, King Khan and BBQ, are heading back to Australia in July, to play the sold-out Splendour In The Grass festival and sideshows in Melbourne and Sydney.

They'll have a new album, "Bad News Boys", in tow and it will be their first appearance on these shores since their chaotic show at Vivid in Sydney in 2010, after which they were declared by organisers to be "a security threat" and promptly broke up.
Canadian-born King Khan (guitar-vocals) and BBQ aka Mark Sultan (drums-vocals-guitar) have a string of solo and collaborative records to their name and years of touring their off-the-wall show.
Their reformation and new record are as good an excuse as any to take a trip back in the time tunnel to 2008 when Patrick Emery cornered King Khan on the eve of him touring his band, The Shrines...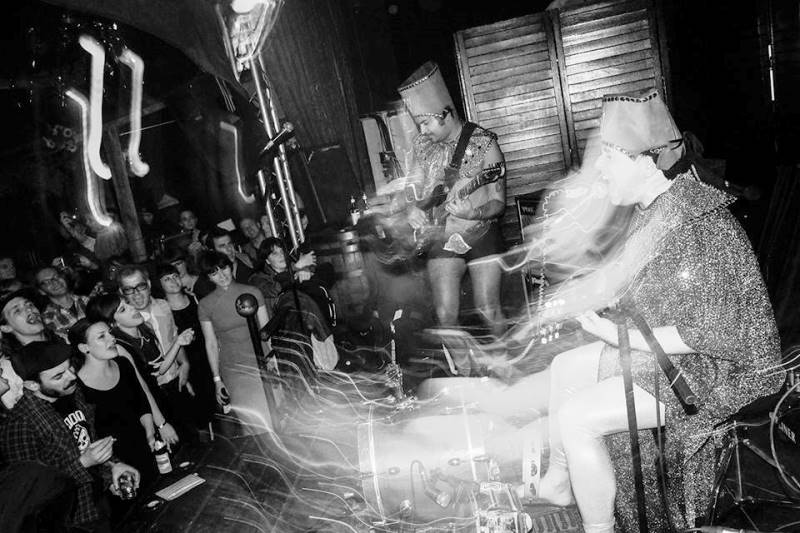 King Khan and BBQ in action. Credit: Rob Rouleaux from the band's Facebook page
Arish ("King") Khan is a man of passion, intensity, the occasional surprising contradiction and an irresistibly affable demeanour.
Born in Montreal, Khan burst onto the Canadian punk scene with his manic-punk outfit The Spaceshits before packing his bags and heading across the Atlantic to the vibrant artistic environment of Berlin.
Picking up a motley collection of like-minded musicians under the collective moniker of King Khan and the Shrines, they're an intense blend of soul, gospel garage, rock and punk. Khan has also found time to playing (with Mark Sultan, aka BBQ) with his two-man garage band, King Khan and his BBQ Show.

Somewhere in the midst of his artistic pursuits, Khan met and married his German wife, with Khan now the proud father of two young children – hardly a typical lifestyle choice for the average rock'n'roller. With Australia having narrowly missed out on seeing King Khan with his BBQ Show late last year, King Khan is finally heading to our fair shores with his Shrines in tow.
"What's it like in Australia at the moment?" Khan asks down the phone from his parents' home in Montreal where he's attending a large wedding ("We just had the Black Lips, Barbeque Show and The Dirtbombs playing," Khan says proudly).
"Is it true that the toilets flush the other way?" Khan asks. He then re-caps the events in his life that have brought him to his current cult status.
"It was really wonderful growing up in Montreal," Khan says. "I left home when I was 17. Growing up in downtown Montreal was like being in a riot city – there was a really big anarchist scene. I remember when The Exploited came to town and they weren't allowed in to the venue," Khan says.

"Some punks tore the toilet bowl out of the bathroom and threw it at the window of the police station," he laughs. Khan summarises such events as "improbable moments of pure chaos". "I remember the crowd at a Guns'n'Roses show burning seats. There was a very good delinquent scene," Khan says gleefully.
Khan says his interest in music can be traced back to his parents' influence in Montreal. "I always wanted to play music," Khan says. "Apparently when I was a kid my parents used to put headphones on my head and make me listen to sitar music," he says. Khan credits punk rock as helping him establish his identity during his teenage years. "It was necessary for me to find myself," Khan says. "Punk rock and rock'n'roll saved my soul. But maybe without it I would've invented the Internet or I would've been curry champion," Khan laughs.
Khan was 17 and hanging around downtown Montreal "trying to find out a way to make some money" when he met the protagonists behind Vice magazine. It was an encounter that proved to be serendipitous to Khan's artistic career. "We were hanging out at this bar and I met the three guys who started Vice," Khan says. "I started hanging out around there and got to know them". Khan, at that time using the nom de plus Blacksnake as leader of The Spaceshits then found himself with his first journalistic assignment for the fledgling rock magazine.
"Me and Barbeque [Mark Sultan] asked if we could interview Napalm Death," Khan says. "In the interview I changed the name of the albums slightly. We just started taking the piss out of people," he laughs.
Soon Khan became a regular feature in the pages of Vice. "They'd give me $50 to interview bands that I really liked," Khan says. "I interviewed people like Jay Reatard, who I really liked. I stopped writing for the magazine after I moved to Germany," he says.
Khan's transformation from journalist to fully-fledged performer has given him a different perspective. "I suppose now I'm now sitting at the top of the mountain with my long beard looking at my crystal ball," Khan laughs.
Eventually Khan decided to leave his native Montreal for Berlin. "I fell in love with Berlin, not only physically but emotionally," Khan says. "I was sick of being in Montreal – I was proud to be there, but I had to move away," he says. Khan's affection for Europe was born out of the reverence with which it treated its artistic community – a significant deviation from the attitude Khan saw at home.
"I used to get a bit of disrespect from the club owners in Montreal," Khan says. "When we toured Europe I was really impressed with the way that they preserve rock'n'roll – they really know their rock'n'roll as well," he says. "I fell in love with the people, the food, the fact that you could jump on the train and 24 hours later you're in a different country."
For Khan, Montreal was vibrant, but Berlin was something else entirely. "Montreal is a huge melting pot of culture," he says. "But what was amazing about Europe is the way that they really respect musicians. I'm really happy that it's been a big positive step," Khan says. That said, Khan sees Berlin as a place to which to retire in the downtime between tours, rather than a place ofartistic inspiration. "I'm happy to be in the city but not because it inspires me," Khan says. "I like retiring there – there's so much history in the city, so much of which is not about rock'n'roll. My wife is German and I have two daughters growing up there, so it's home for me," Khan says.
Having moved to Berlin while still fronting The Spaceshits, Khan decided to change his artistic focus – and with it came the genesis of the multi-headed manic garage-soul hydra of King Khanand his Shrines. "My first baby was about to be born and I was looking to change my style," Khan says.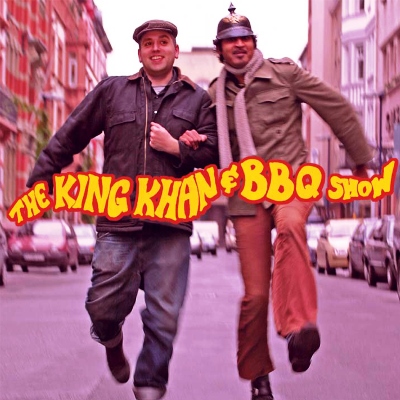 Living in the city where the Brothers Grimm wrote their classic stories was additional inspiration for finding the musicians who would become The Shrines (whose titles include Till Timm, Dream Jeans, Simon Says, Long Fred Roller and Fredovitch). "It wasn't anything to do with my career, it was more a labour of love," Khan says. Khan says it was a "bit of a challenge" to move away from The Spaceshits, though his childhood interest in The Saints' horn-filled latter material held him in good stead. "Know Your Product has been one of my hymns since my childhood," Khan says.
Initially joking that he made his backing band "out of mud, and then I put spells in their mouth," Khan says he looked for a supporting cast based on each members' potential for contributing to the collective energy of his fledgling outfit. "In the tradition of the Brothers Grimm I collected these people," Khan says. "It was based on their soul and the energy they gave. The drummer hadn't played in five years – he had this long beard and he looked like Charles Manson," Khan laughs.
For Khan, The Shrines is about celebrating the religious excitement with which the original incarnation of rock'n'roll was flavoured. "It's a religious ritual," Khan says. "We're trying to bring back the roots of rock'n'roll – it's like a speakeasy. It's rock'n'roll abandonment and bliss. We're trying to summons the beast," he says. "I'm really inspired by old gospel music – I'm trying to incarnate that sort of feeling," Khan says. "I want to create a religious, magical experience. It's like a Japanese monster with seven penises flying around your head," Khan laughs.
Khan's touring escapades have taken him throughout North America and Europe, allowing him to meet many of his favourite performers. Khan had the pleasure of meeting legendary LA performer Arthur Lee before Lee's untimely death.
"Arthur Lee is more important than Jim Morrison," Khan says. "I had dinner with him – he was really dark, like chocolate. I gave him a CD and said 'it's psychedelic rhythm and blues'. He looked at me and said: 'My daddy gave me a car and I just drove away'," Khan laughs. "We totally hit it off. I got him to sign my Tarot cards. I found the 'love' card and asked him to sign it. He looked at it and said 'This is the work of the devil', and I said 'So?' And he said 'Gimme the pen', and signed it 'Love, God and Arthur Lee'."
And then there was the time Khan had the pleasure of meeting Motorhead bass player and lead singer Lemmy Kilmeister. "I met Lemmy, and he had this Nazi knife – my wife hated it," Khan says.
"I'd found out that Lemmy was Jimi Hendrix's tour manager when Hendrix was playing, so I asked Lemmy about the stories that I'd heard about Hendrix," Khan says. "Like the story that Hendrix had soaked his headband in acid before he went on stage. Lemmy said 'Yeah, it's all true. Because I was the one I bought the acid for him'."
King Khan and BBQ in Australia
JULY
22 – Sydney, Oxford Art Factory
Supported by The Living Eyes & Los Tones
Tickets: $40.00 + bf
Online: Moshtix
Phone: 1300 GET TIX
24 – Melbourne, The Corner
Supported by The Living Eyes & The Pink Tiles
Tickets: $40.00 + bf
Online: Corner Hotel
Phone: 1300 724 867
In Person: Corner Hotel
25 - Byron Bay ,Splendour In The Grass
*SOLD OUT*