Forty years of X-treme doings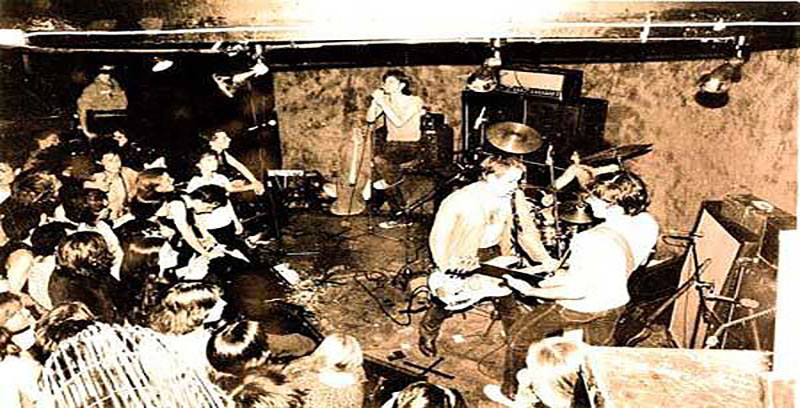 Before there was punk rock there was Ian Rilen. Then there was X.
X weren't punks in the sense of the term that the skinheads understood but they were primal, punk rock and roll in one combustible package.
Sydney had never seen a band like X whose wrecking ball power centred on Rilen's bass-played-as-a-lead-instrument, the massive backbeat of fellow veteran Steve Cafeiro, the slashing guitar of Ian Krahe and the shredding vocals of Steve Lucas, the latter two rookies.
Living a quiet life wasn't part of the X creed. Krahe's submission to a heroin overdose left the already outlawed X even more out on a limb, but they grimly continued as a trio and proceeded to record their debut album with legendary guitarist Lobby Loyde producing.
"X-Aspirations" became an instant classic, setting a benchmark for a whole legion of new, uncompromising and minimalist bands.
These words (and those that follow) were written for the liner notes for the 2009 re-issue of X's debut album "X-Aspirations" but were inadvertently shelved. We're reviving them to coincide with the 40th anniversary tour by the X line-up that lives on after the passing of all original members except guitarist-vocalist Steve Lucas. Lucas has crowd-sourced a Best of and Rarities collection ("X-Citations") on vinyl, copies of which will be available at the gigs. Read on.
You're about to buy into one of Australian rock and roll's great stories - and it just got a little better. Popular opinion has been that the process of recording "X-Aspirations"- one of the four or five landmark albums of the Australian punk era - took just five hours. The album's late producer Lobby Loyde's then-wife, Debbie Nankervis, was there...and her meticulous diary says it was done in four.
"It was a Saturday afternoon at Trafalgar Studio in Sydney," Debbie recalls from her Melbourne home, almost 28 years later. "The band just belted out 13 fantastic songs, one after another. Then we had falafels for dinner, That same night, Steve Cafeiro drove us in his big black Buick - they loved the cars, the boys - to see Rose Tattoo at Manly Flicks. Then we went back to Ian and his wife Stephanie's place - via another studio for some 'fine plant pickings'. Lobby and I were home by daybreak, after one of many all-nighters..."
But we're getting ahead of ourselves. Wind the clock back to 1977 when a band-less Ian Rilen - most recently bass-player for Rose Tattoo and writer of their hit single "Bad Boy For Love" - bumped into drummer Ed Fisher, emerging young guitarists Ian Krahe and Geoff Holmes, and singer Steve Lucas. Rilen, a veteran of the established music circuit with Band of Light, had quit the Tatts in search of a different direction and was up for a blow with the younger crew, who'd only played a handful of parties, under the catchy name Evil Rumours. The rehearsal was promising but came to nothing solid.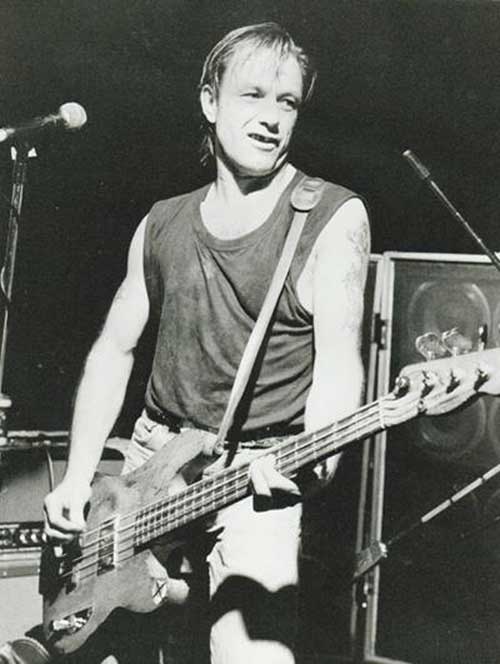 One of Ian Rilen's favourite shots of himself.
Not to worry. Rilen took Krahe with him, reconvening with another vet in well-travelled drummer Steve Cafiero. Krahe roped in his mate Lucas (by that time doing not much in Armidale ) by telegram and X was born.
X was a band of contrasts but there was nothing confusing or compromising about the music. Krahe's rudimentary guitar skills skidded over the top of the monstrous rhythm section that Rilen and Cafeiro quickly became, with Lucas' at times otherworldy and confronting vocals blazing away in the face of this wall of sound. Combining a love of traditional rock and roll with a raw edge and physically-compelling bass guitar downstroke, the likes of which owed nothing to anything else around at the time.
X instantly attracted a sizeable punk following after a moderately-attended debut at Bondi's Astra Hotel, just three weeks into their existence, and a showpiece of sorts at the Paris Theatre with Rose Tattoo and a nascent Cold Chisel.
"And it just went boom," Steve Lucas recalls.
The punks followed X from pub to pub, vandalising venues but breaking bar taking records in the process. The band went along for the ride, remaining conspicuously outside the straight booking agency circuit and forging their own way. Outsiders. Outrageously popular, but with a fanatical, soemtimes violent following that got them banned from 32 Sydney venues.
Then tragedy struck.
Ian Krahe went to bed after a packed Bondi Lifesaver gig and never woke, the victim of a heroin overdose, with asthma possibly a contributing factor.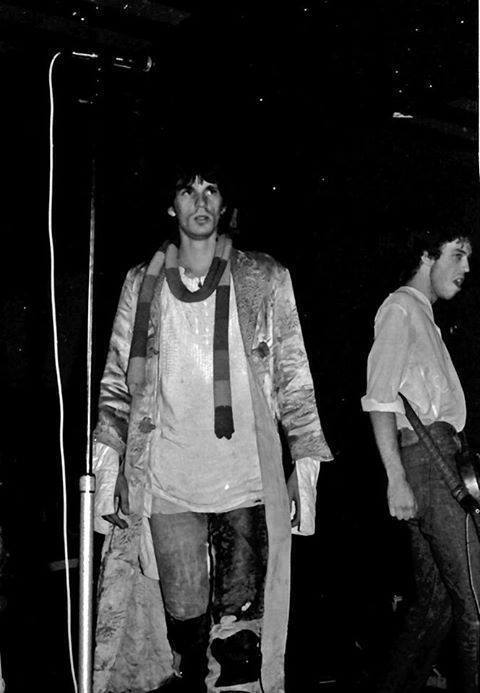 Steve Lucas and Ian Krahe at the Bondi Lifesaver, hours before Krahe died.
Many bands would have folded the tent after losing their guitar player less than a year into their existence. X continued, for a while with replacement guitarists Geoff Holmes or Peter Countache (from the Kamikaze Kids.) Neither line-up felt right, however. Despite strong crowd support and the backing of Radio Double-Jay (who broadcast a couple of live-to-air shows) the band could have petered out, had a couple of key things not occurred.
Firstly, Steve Lucas (bravely) made the move to guitar. His playing was rudimentary and many songs that Krahe had down pat needed to be cut from the set. The other event was the arrival in Sydney around the same time of Lobby Loyde.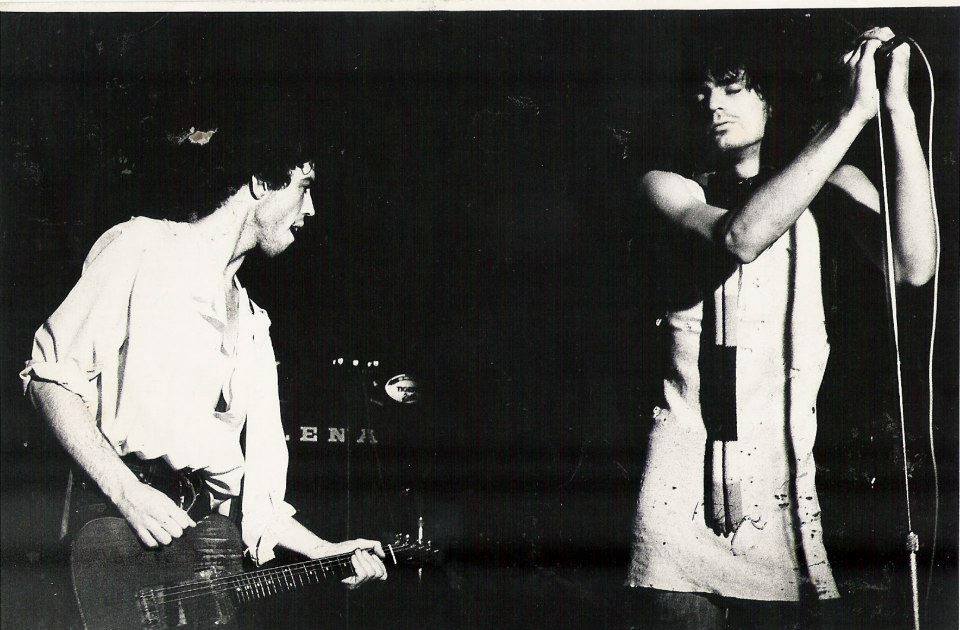 Krahe and Lucas.
Loyde was something of a maverick hero guitar, having cut his teeth in blues (The Purple Hearts), blues-jazz (Wild Cherries) and psych and hard rock bands (the Coloured Balls and Southern Electric.) He'd been an innovator in his own right and taught Billy Thorpe to play guitar while a member of his Aztecs, moving to England just as punk exploded. He never landed an English record deal but had produced and done front-of-house fora string of bands, experiencing the raw excitement of punk first-hand.
Lobby's ex-wife Debbie recalls the night they ran into his old mate Ian Rilen. "It was soon after we arrived back from London in '79. I'd spent the two years prior lapping up all the amazing music that came out of that punk explosion. We were at Chequers in Sydney - at a Ramones gig I think."
(It wasn't a Ramones show - they didn't hit Australia until the following year - but the irascible Rilen left a lasting impression, even if the Bruddas weren't around to do so.)
"Ian had that magic charismatic appeal of a Cary Grant or Sean Connery," Debbie continues, echoing words she used for a eulogy at Rilen's 2006 funeral. "I soon found out he was the Hunter S. Thompson of substances, the Jacques Chirac of politically-incorrect liaisons. He wrote songs that would make Leonard Cohen smile and had a voice that would leave Tom Waits in the Sunday school choir. He was our Keith Richards of rock - which makes Steve Lucas our Mick Jagger!"
Little wonder, too, that Loyde and Rilen hit it off. Both had a taste for rock and roll lifestyles. Loyde had also been something of an outsider as far as the Australian musical industry went, with the Coloured Balls copping loads of bad press in their final days due to a strong following among the suburban street gang underclass dubbed Sharpies.
The chance Rilen-Loyde meeting translated into Lobby joining X at a rehearsal soon after. "I'd been playing guitar for about three months," Steve Lucas recalls. "We were rehearsing at Day Street where our mate Bob Nimmo used to run a practice studio. One day, Lobby suddenly appeared. Ian was:' This is my old mate Lob'. Lobby heard us and said: 'This is fantastic, you should go into a studio and lay it down'." Fresh off the plane and still abuzz with the bands and sounds he'd experienced in the Old Dart, Lobby knew just the producer...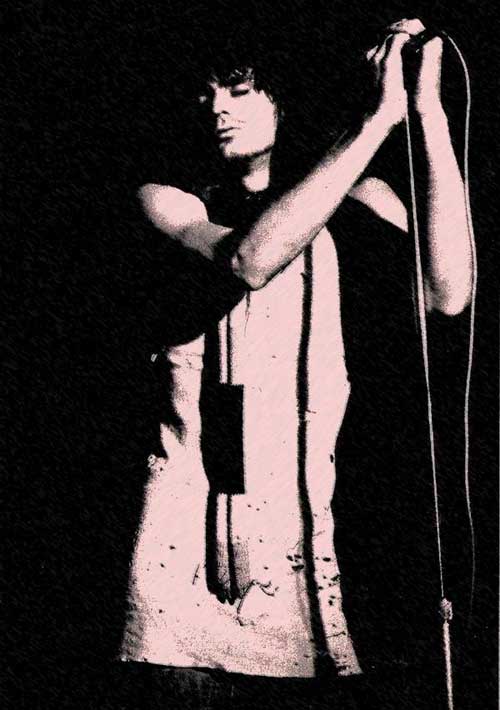 Steve Lucas
"We had did a whole lot of demos at the home of a guy called Irish John, a mate of Cafeiro's," Steve Lucas says. "Nobody thought there was a single there."
But it was with the intention of finding that elusive single that the band walked into Trafalgar Studio on the afternoon of October 20, 1979.
Steve Lucas: "It was all so new to me, I thought: 'What are we going to do?' We decided to throw everything down and pick the best song for the single. And work on it. I don't think Lobby had seen the band live at that stage."
Ian Grey engineered, with Lobby producing. Bob Nimmo filled a production co-ordination role and people seem to recall him being there on the day. In-house fixture (and future Savage Garden producer) Charles Fisher was keeping an eye on the studio and ventured an opinion.
"Charles Fisher's reaction was: 'There isn't a single here boys. Why don't you come back when you've got one'," is Steve Lucas' take. " We said: 'Fuck it, he's right. This is an album!' "
The band played the songs - in the same order as they appear on the album, as far as anyone can recall - virtually as you hear them here. Everything stayed on - from Steve Lucas' pre-emptive spit at the start of "Dipstick" to the guitarist ripping his strings off on "Batman".
"The only post-production was a little but of chorus on 'I Don't Wanna Go Out'. There were no second takes," Steve adds. "We just walked into the studio, played and that was that. 'I Don't Wanna Go Out' was the eventual single. We released that (after the album) with 'Waiting', but there was no real plan. How were we going to get a single in the Top 40 anyway?"
Spontaneity wasn't just the name of the game - it was the only fucking game in town. Debbie Nankervis: "I used to say to Lobby after that day that I wish he had put the same energy and effort into everything else he produced form that point on. Of course he did - he was always totally engrossed and involved in what was happening - but he couldn't stop...tweaking and adding this bit and that bit.
"Quite frankly, I used to think the first take was so crisp and clean and clear....the X album just came out as it was recorded. One song after another. I thought, that's the way to make a record. Sadly I don't think Lobby did another record like that."
X X X X X X X X X X
X records since "X-Aspirations" have been about the songs. Steve Lucas is the only surviving band member - Steve Cafeiro left the band in '84 and then died of complications during routine surgery, while Ian Rilen succumbed to cancer - so it's appropriate at this stage for him to take you through the songs.
SUCK SUCK
Ian basically kicked that one off with the bass line. I threw the lyrics over the top. I think I may have had the lyrics written before hand but had no idea what to do with them. I was very anti-establishment. Hated school or anyone telling me what to do. The lyrics are all about the dole office, what was expected of you as a young person at the time. The best way to do that was to suck arse.
PRESENT
I was sitting in my lounge room when this friend walked in with this giant garbage bag, playing the riff. He said: 'I've got a present for you'...It's in a garabge bag...Best you ever had.' It wasn't my birthday. 'But here's a present for you anyway'. It was a whole lot of second-hand clothes. Most people thought it was a garbage bag fo marijuana Just crappy old clothes. But it was a nice thought.
SIMULATED LOVERS
I was sitting on a front verandah with a 12-string guitar, trying to work out how to play it. I was practising barre chords - I thought they'd strengthen your hand if you played them on a 12-string - the lyrics was what I saw on TV the night before. Then an adult kind of movie came on. Traffc was outside going beep beep beep.
The whole thing of X is the stream of consciouness and the simple reality of the songs. They weren't just simple love songs - although we wrote some of them too. They weren't just denouncing or aggressive songs. X was observational music. There was one song that we never recorded - I'll have to remember it if we ever get around to recording again - and it went like:
We don't play for money
We play for fun
Ha ha ha ha ha
Just a simple observation, really.
POLICE
That's an Ian song. He had pretty much all of that in mind. He used to have a lot more trouble with the police that I did. We never had that much trouble with polikce at shows. It was more at home, playing music. The police would drag someone off sooner or later. I had no idea what to do with the guitar solo. Ian just said: 'Keep it simple'. That was cool.
REVOLUTION
I think Ian Krahe had that riff happening, maybe with Geoff Holmes before X even started., I remember Ian showing to me. The patter used to be a lot, Ian would have a basic idea. You make it make sense. So that's what I did. It's an Ian chorus, I fleshed the rest out. Revolutions never achieve anything, just install a new dictatorship. Like the Who said: "Meet the new boss, same as the old boss".
TURN MY HEAD
That's an Ian bassline. Bass-driven song. The lyrics were pretty spontaneous, most of them mine. I couldn't think of anything to do so I echoed the vocal line.
GOOD ON YA BABY
Definitely an Ian Rilen-Ian Krahe song. That was going to be two different songs. We joined them together. That's why it has that really cool middle eight thing.
DELINQUENT CARS
I borrowed an amp that had a tremelo on it. Ian liked the chords. There was a kids' party - one of Ian's kids or a street party - in Darlinghuirst, near St Vincent's Hospital. A friend of the band, Steve Loomis, wrote the words at home and we struck them over the top of the music.
I DON'T WANNNA GO OUT
Very much Ian. He had the first verse, half the second verse. By the time I got hold of it, I contributed the middle eight and the last verse about going to a disco. My friends liked drinking Old and my girlfriend and I liked drinking New. That's in the lyric. That song went through a lot of phases and changes.
LIPSTICK
A friend of Ian's came up with that line. The song evolved out of a couple of rehearsals. It typifies Ian. The guitaring was the best I could do as an interpretation of a song written well before I could play guitar. It was always part of the original band's set.
IT MUST BE ME
A rehearsal jam. It just happened.
COAT OF GREEN
That's Ian Krahe. That was based on when he used to walk home from school and there was a girl with a green coat that he used to really really fancy. I remember banging it around in Cafeiro's basement. The music was Ian Krahe and Ian Rilen. I don't know that she used to drive around in a sedan.
WAITING
Ian had that magnificient bassline. We'd been out looking for some mind-altering purchases, got back to Cook Road and wrote that. The lyrics were that whole bloody thing about waiting for people to deliver. Very simple. It's just a drug song. Where did the vocal come from? The band were making so much noise I had to shriek to get over the top of them. Ian had four 15-inch speakers and a quad box of 12s. Ian Krahe had a box with six or eight 10-inch speakers. Cafeiro had a big old Ludwig drum kit. All I could do was scream my fucking head off and hope someone could hear me.
BATMAN
We were just mucking around. Ian was doing a riff and it took off. The song found its own little path. It's a song that lightens thing up. It was a laugh. Leaving in the broken strings was cool.
X X X X X X X X X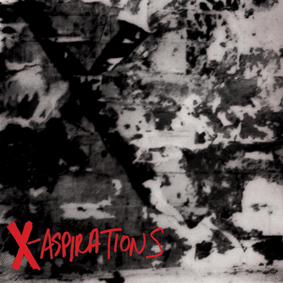 All that was needed were a name and artwork. Consensus is that Lobby Loyde came up with the former. Debbie: "I remember saying to Ian that he should call his new album 'Exasperating'. But there was a much better turn of phrase." Indeed there was; X-Aspirations could be read any way you wanted...
Steve Lucas can't remember who came up with the artwork - a weather-beaten X logo on a tattered, broadsheet newspaper wall poster - but he thinks it's perfect: "Someone found that wonderful photograph of a beat-up X poster that had been up for ages. All spattered and torn."
The session done, things moved quickly. Thanks to Debbie's diaries we know that Lobby spent November 6 overseeing cutting and mastering of the album for the pressing. While the album was being pressed, Ian Rilen, no doubt flush with his share of gig money, bought a 1958 silver-with-blue-streaks Pontiac for $2500 as an early Christmas present (on December 8.)
On December 12, 1979, a crew convened at the Cook Rd, Moore Park, squat that Ian Rilen "managed", to listen to the final product.
"Bob Nimmo, Steve Lucas, Steve Loomis, (teenage fan) Lizzy Wertheim and someone called Neville (possibly the band's front-of-house mixer at the time) were there for Tequila celebrations at Cook Road. We were in such a great mood we went out and saw Rose Tattoo somewhere afterwards," Debbie says.
Critical reaction was over-the-top with everyone from Double Jay to national magazine RAM laying praise on "X-Aspirations". X's actual aspirations for the album being modest; they put ran distribution out of the back of Steve Lucas' girlfriend's utility truck.
"My girlfriend at the time Lynne had an old FB Holden ute. We'd load it up, scoot around town, call into places like Anthem where Rob Younger would always buy a box or two. There were only a few shops around. That was that."
Almost 40 years later, Lucas is clear on the album's merits.
"It got rave reviews for its difference. There's not been another album like it that I've heard, anyway.
"The genuine spontaneity is what sets it apart. All the songs were pretty good, pretty funny."
The circumstances of the band - what was around them - not only informed their songs, but added a touch of desperation to the music that's hard to define.
"Steve Cafeiro was into renovating houses. Buying them, doing them up and selling them. Ian and I were on the dole. Subsidised by the government to create music. Cos that's all we were good for.
"There were bands around like Midnight Oil making huge political statements. We were making political statements too - but they were based closer to home. We were more interested in the politics of survival than the politics with world implications.
"We were more worried how we would going to get from one day to the next without starving."
As to the band's punk tag, Lucas looks back ruefully: "I thought I was a hippie, playing rock and roll. We were a rock band. We played rock songs, taking the piss out of us and the industry at the same time."
There were many twists and turns to come for X. Break-ups and reformations, acts of career suicide in the face of major label interest, loads of drink and drugs, plus enough inter-personal relationship dramas to sustain a year-long marathon of back-to-back TV soap opera re-runs. The 1980s saw X move to Melbourne, Cafeiro bail out and Lucas and Rilen recruit a female drummer in the stunningly talented Cathy Green. There were more break-ups, two more studio albums, a couple of live LPs, an EP and innumerable live gigs before the story reaches contemporary times.
As the "last man standing" from the original days, Steve Lucas is entitled to the final word. Fittingly, it's about one of the departed, drummer Steve Cafeiro:
"Steve had a wonderful history. He played on Ray and the Whispers' hit "20 Miles". He was also a drum roadie for Easybeats. Knocked around with Hush. Played with The Creatures. At one stage he was associated with Alan Lancaster of Status Quo and they were going to form a band together.
"Anyway, he was a wonderful, wonderful storyteller. He'd have Rilen and meI in fucking tears. A remarkable bloke and a top drummer. He was as experienced as Ian Rilen - and that's why they locked together so well.
"That experience was complimented by this naive energy of Ian Krahe and myself. That juxtaposition was Ian Rilen's dream come true...these kids with no preconceptions of what things were about. And he'd blow our minds because he was such a fucking great player.
"It was a case of the old school and the new school coming together... and something very special happened."
X-Citations 40th Anniversary Tour
(Steve Lucas, Doug Falconer and Kim Volkman)
Prince of Wales, St Kilda - July 14
Factory Theatre, Sydney – July 21
Transit Bar, Canberra – July 22
The Triffid, Brisbane – July 29
Mojo's, Fremantle – Aug 3
Rosemount Hotel, Perth – Aug 4
The Gov, Adelaide – Aug 5
Tags: ian rilen, steve lucas, lobby loyde, steve cafeiro, x band, x-aspirations, ian krahe