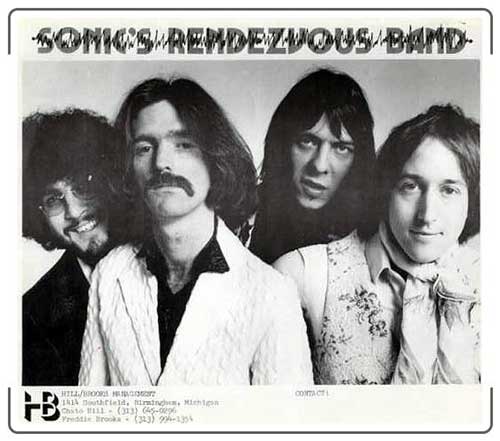 Much-traveled Michigan bassist Ron Cooke has passed away, his wife Pam announced on Facebook earlier today.
Although replaced by Gary Rasmussen before Sonic's Rendezvous Band's "classic" period (the one which produced "City Slang"), bassist W.R. "Ron" Cooke was there from the very earliest days, when Fred "Sonic" Smith was searching for a musical direction following the MC5's 1972 implosion.

Ron is pictured in an early publicity shot at right, and is second from the left.
Cooke was also a member of the Johnny Thunders-Wayne Kramer collision that was Gang War, an idea that the principals agreed looked good on paper but lost direction as old habits took hold.
And Ron had plenty of Detroit rock'n'roll history under his belt before then, most famously with Mitch Ryder's Detroit, whose killer version of Lou Reed's "Rock and Roll" was a classic slice of Motor City Rock Action that even the song's author agreed was "the way the song was MEANT to be played."
Ken Shimamoto talked to Ron from his home in Ann Arbor in early October 2000 as part of the research for this history of SRB. Here are Ron's verbatim recollections.