Australia: Just say Yes to Senor No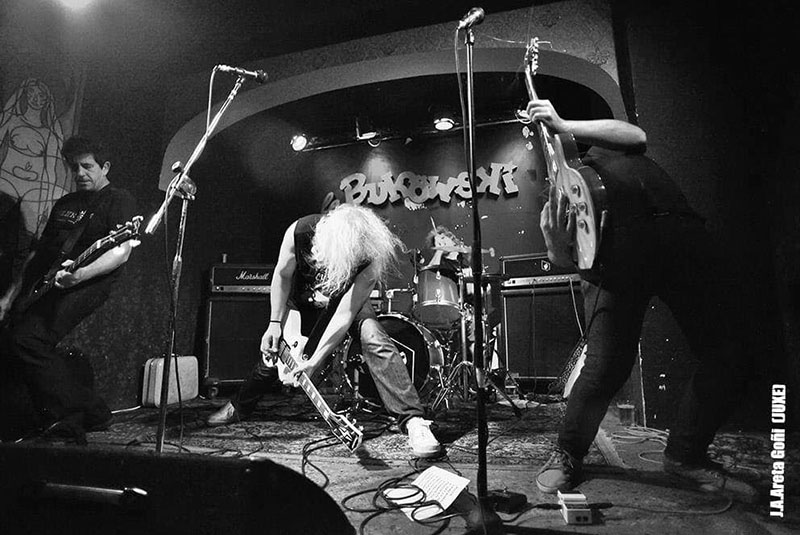 High-energy veterans Senor No from Basque Country (don't call it Spain) are embarking on their first Australian tour this month but their Anipoddean connection already runs deep.
Senor No was born in Donostia/San Sebastian, Basque Country in 1993, after the dissolution of the seminal Spanish group La Perrera. The band released their first LP with No Tomorrow Records in 1994 and toured Spain and surrounding areas relentlessly while recording five more albums and more than a dozen singles.
Senor No was the very first release for the seminal Spanish label Bang! Records which is a label responsible of releasing some of Australian best bands overseas.
Their Sound is a hybrid of Motorhead, the MC5, Dead Boys and a strong vibe of Australian influences like New Christs, Bored!, The Saints and the Celibate Rifles.
Twenty-five years after their formation, Xabi (vocals and guitar) continues leading the band's current lineup, which consists on Fumai (Bass) Fosy (Drums) and Jorge Colldan (Guitar).

It is this lineup that has recorded their latest album "No Cambies Siempre" (FOLC Records), which is considered their best work to date.
As an aside, they have two recordings with the legendary Roy A Loney from the Flamin´Groovies ( the LP "Got me a hot one!" and the single "Bottle of wine") and have been his Spanish backing band for many years and well as more recently being the backing band for Cheetah Chrome from the Dead Boys.
Don't believe you need to see them? LIsten to Juan Iturrarte, Bang! Records (CEO):
"Señor No are a real live act. Attending one of their concerts is a true rock´n´roll experience. No shit. You´re being ran over by a drunken bulldozer driving 100 miles per hour, song after song. Señor No are one of our favourite bands, an honest and sincere rock act, and we strongly recommend them and their concerts."



NOVEMBER
16 - THE TOTE, Collinwood (Melbourne, VIC)
17 - THE BARWON CLUB- RIVER ROCKS FESTIVAL (Geelong, VIC)
18 - THE METRO HOTEL (Adelaide, S.A.)
20 - THE OLD BAR, Fitzroy (Melbourne, VIC)
22 - THE LASS O'GOWRIE HOTEL, Wickham (Newcastle, NSW)

23 - MARRICKVILLE BOWLING CLUB, MarrIckville (NSW) - STEW LEADFINGER CUNNINGHAM BENEFIT
24 - DICEY RILEYS HOTEL, Wollongong (NSW)

25 - THE BOTANY VIEW HOTEL, Newtown (Sydney, NSW)


Tags: spain, bang! records, australian tour, senor no, basque